Project-Based Learning (PBL)
School Lunches Go Back to the Land
Schools overhaul food service to improve student health and the environment.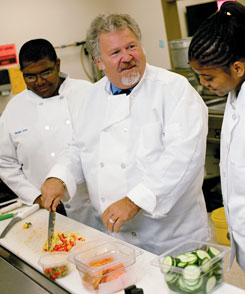 Credit: Dennis Drenner
The Future Food of Service: Great Kids Farm founder Tony Geraci works with students in the kitchen of the Great Kids Cafe. Geraci's field of dreams rose from 33 weed-choked acres outside of Baltimore.
One year ago, in a defunct orphanage on 33 weed-choked acres outside of Baltimore, Anthony Geraci found his field of dreams.
The city's public school district was wooing the former chef, restaurateur, food broker, and executive director of the New Hampshire-based culinary training/job placement program First Course at the time. School administrators hoped he would take on the mammoth job of running food services in the predominantly poor, urban district of approximately 82,000 students.
Someone mentioned a cluster of city-owned greenhouses on the edge of town, and Geraci, a preternaturally curious guy, went to take a look.
Geraci found three long-neglected greenhouses and deteriorating stone buildings on an overgrown expanse of land. After he envisioned rows of vegetables, flowers, fruit trees -- and children hard at work -- Geraci took the job. Today, the Great Kids Farm is all that he imagined and more: the centerpiece of a focused effort to transform school food service into a more sustainable, healthy, and educational enterprise. And to change it fast.
"It all has to do with getting off your butt," says Geraci.
Reams have been written about the highly processed food sold as lunch in too many public schools. Concerns about childhood obesity have mounted as the number of kids with type 2 diabetes and other weight-related conditions has soared.
Along with calls to improve the meals served five days a week, 180 days a year, to nearly 30 million schoolchildren across the nation has come the idea that exposing students to gardening and cooking also helps inspire healthier eating. And that's how the farm-to-school movement, which brings locally grown fruits and vegetables to the lunch line, was launched.
At the same time, environmental concerns, particularly about climate change, are propelling more schools to reduce waste and conserve energy in the cafeteria and kitchen, both of which contribute significantly to the costly Dumpster loads and high electricity bills.
A growing number of aggressive, innovative food-service directors are combining both imperatives -- healthy kids and a healthy planet. And some, like Geraci, have added three of the most prized ingredients in education reform to the mix: hands-on learning, vocational training, and new revenue streams.
It Takes an Orchard
Geraci was once head of food services in the 3,000-student Contoocook Valley School District, in Petersborough, New Hampshire, and helped pioneer the farm-to-school movement. As he tells the story, he was driving one day, yelling on his cell phone at a Washington State apple distributor who was late on a delivery, when he came upon an apple orchard.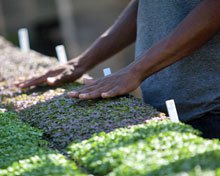 Credit: Dennis Drenner
Food for Thought: Kareem Adams runs his hands over flats of baby greens grown in one of the farm's greenhouses.
He stopped, approached the owner, and on the spot offered to buy as much as she could sell. He then worked with students to create meals cooked from scratch with fresh ingredients and to launch composting and recycling programs. (Every pound of waste diverted from a landfill saves 2.5 pounds of carbon dioxide.) Student participation in the meals programs doubled, sending the district's food-services department into the black after years in the red.
When Baltimore, a largely low-income district with 201 schools, recruited him, Geraci couldn't say no. "I wanted to do what I was doing in a big urban system to prove all these programs were scalable and transferable," he says.
He arrived in summer 2008 and promptly set about revamping food-service operations in the schools. Geraci dropped long-standing purchasing contracts for U.S. Department of Agriculture commodities, such as canned peaches drowned in syrup, and started buying fresh fruits and vegetables -- 430,000 pounds last year, all Maryland grown.
"There was just prepackaged crap when I got here," he says. "Not an apple to be found in the place. The very first day of school, I made sure there was a fresh peach on the plate of every kid. It was my little token of hope."
Geraci removed junk food from high school vending machines and is working with district educators to have special education students run the machines as vocational training. (He started a similar venture in New Hampshire's ConVal district, where he took vending profits away from athletic teams and spent them developing a sports-nutrition program and travel teams for kids with special needs.)
Geraci pilot-tested vegetarian meals in Baltimore as a prelude to instituting Meatless Mondays districtwide. He used grant money to purchase recycling bins for cafeterias and switched from milk cartons that got thrown away to recyclable jugs. Now, he sells the empties for half a million dollars a year.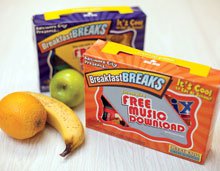 Credit: Dennis Drenner
Healthy Packaging: Geraci created free boxed breakfasts, in recycled cardboard with look-inside contests and go-to-college messages.
Geraci created health-box breakfasts in recycled cardboard packaging worthy of Madison Avenue, featuring photos of Baltimore Orioles and Baltimore Ravens athletes, look-inside contests, and go-to-college messages. Within 60 days, he says, the district went from serving 8,500 free breakfasts a day to offering 40,000 -- a win not only for student nutrition but also for his bottom line, because school food services get federal reimbursement for every meal they dish up.
Geraci isn't simply changing food service. He's trying to reinvent it as an integrated, sustainable farm-to-fork enterprise, and his initiatives extend well beyond the traditional realm of school food-service director.
He got the Great Kids Farm up, running, and selling produce through a Community Supported Agriculture (CSA) project and a farmers' market. In July, he opened the first of three Great Kids Cafes, converting a bleak employee lunchroom at district headquarters into a plant-filled cafeteria dishing up organic foods from the farm. (The other cafés will be located downtown and open to the public.)
Students work on, and eventually will run, all these projects through various programs that provide stipends, class credit, community-service hours, internships, or a combination.
For the moment, the district's farm-grown food isn't delivered to school cafeterias. According to Greg Strella, a farmer and urban-agriculture advocate Geraci hired as supervisor of the farm, the district has to follow very strict procurement policies -- such as moving food at a certain temperature -- in order for that to happen.
The farm grows 20 or more varieties of tomatoes, five kinds of eggplant, and potatoes, beans, corn, squash, and herbs, as well as four types of berries, plus flowers for color and beauty. Students keep bees and have eight goats to clear the grass and chickens for fertilizer. They put in a pumpkin patch last fall and plan to plant an orchard with stone fruit and fig trees.
The day I visited, CSA members were picking up their weekly allotment -- green beans, an herb medley, eggplant, carrots, cucumbers, potatoes, peppers, and flowers.
The breadth of Geraci's efforts and his progress so far have inspired a lot of people who care about the environment and health.
"If they can do it in Baltimore," says Sean Miller, director of education at the Earth Day Network, in Washington, DC, "then they can do it anywhere."
Solving the Problem, One District at a Time
Growing, processing, shipping, and preparing food -- particularly the kind Americans typically eat (and schools typically serve) -- requires huge amounts of energy and produces tons of waste: Animal agriculture contributes nearly one-fifth of the greenhouse-gas emissions responsible for climate change -- 1 pound of beef generates the equivalent of 36 pounds of carbon dioxide, according to researchers. Long-distance produce hauling -- fruits and vegetables in the United States are transported an average of 1,500 miles -- emits greenhouse gases, spews diesel exhaust, and consumes fossil fuels.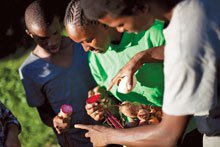 Credit: Dennis Drenner
Food for Thought: Kareem Adams, Theresa White, and Kevin Shedrick (left to right) inspect a fresh beet pulled from the Great Kids garden.
The pesticides and chemicals used in industrial agriculture and food processing contribute to air and water pollution. Refrigerators and other kitchen appliances, especially older, poorly maintained models found in many cash-strapped schools, soak up electricity, which consumes large quantities of water and enlarges a school's carbon footprint. Landfills are filling up, and much of a school's waste comes from the food and packaging chucked in the garbage at lunch.
These issues can seem almost too enormous to deal with, but schools are chipping away at them all along the food chain. Last spring, the Alexandria City Public Schools, in Alexandria, Virginia, announced plans to replace polystyrene trays with compostable paper "boats," which cost 1.5 cents apiece less.
The switch is projected to keep 500,000 trays out of landfills and save the district about $7,000. All schools in the district already compost food waste, recycle aluminum, paper, and plastic bottles, and distribute nonbleached napkins that are 80 percent postconsumer waste.
Four out of the eight schools in the 4,300-student Austin Public Schools, in Austin, Minnesota, got rid of old appliances and installed high-efficiency ovens, hot-food holding cabinets, refrigerators, and steamers (one of which replaced a high school kitchen's deep fryer). The annual savings: 340,000 gallons of water, 3,200 kilowatt-hours of electricity, 400 therms of natural gas, and $3,500 in utility costs.
The Santa Barbara School Districts, in Santa Barbara, California, stopped ordering from distant suppliers to buy local. The area is surrounded by rich farmland, and all schools now have generous seasonal salad bars all year long. "You could call them sustainable bars," says Nancy Weiss, the districts' director of nutrition services.
Even districts that don't enjoy California's convenient agricultural bounty are starting farm-to-school programs. The idea of bringing locally grown produce to the lunch line barely existed a decade ago. Now, 19 states have passed laws relating to the purchase of fresh fruits and vegetables, and the National Farm to School Network counts more than 2,000 programs across the country.
Seven recent evaluations have demonstrated that children participating in such programs eat more fruits and vegetables at school. An evaluation of the Burlington, Vermont, program found that participants also eat healthier snacks and fewer sweets outside school.
The environmental benefits are more difficult to measure, but champions of the changes say it doesn't take research to know that fruits and vegetables from a nearby farm are more eco-friendly than highly processed precooked foods wrapped in wads of plastic and shipped from distant industrial suppliers.
While kids get fresher foods, independent farmers get large, stable contracts -- no small benefit in a nation losing 2 acres of farmland to development every minute. Schools can save money, too. The federal government pays districts a set amount for each meal they serve -- $2.68 for a free lunch, $2.28 for a reduced-price lunch, and 26 cents for a paid lunch.
Food-service administrators do have leeway to purchase what they want.
"I can buy Maryland-grown apples for $6 a bushel or commodity apples from Washington for $56 a bushel," Tony Geraci says. "What do you think I'm going to do?"
Reading, Writing, and Cultivating Eggplant
The creation of the Great Kids Farm began in earnest in November 2008, when Geraci hired Greg Strella as farm manager. There was no budget to clear the land, repair the buildings, renovate the greenhouses, or plant crops.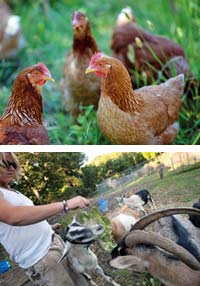 Credit: Dennis Drenner
Creatures Big and Small: The Great Kids Farm now raises chickens for fertilizer (and the occasional egg), along with goats to munch the grass. Volunteer Doug Robinson helps feed the herd.
Geraci and Strella scrounged up donations of tools, equipment, grass-munching goats, and a few thousand dollars. Area universities provided seeds, technical assistance, and graduate students. Geraci brought plant cuttings from his grandfather's garden in New Orleans.
Community volunteers pitched in, and so did students on class trips. On March 14, 2009, Strella broke ground for the first planting. By late spring, the farm was self-supporting, supplying microgreens to area restaurants, selling vegetables at a farmers' market, and supplying weekly produce and flowers to 25 households that paid $450 each for the season through a CSA. Last summer, the farm provided jobs for 50 teens and service opportunities for dozens more.
Timothy Wright and Marcus Mosley, seniors at Baltimore City College High School, both learned about the farm through their schools. Neither knew a thing about growing food, but both were inspired to learn. They worked at the farm all summer, earning community-service credits, and Mosley has started an urban farm in his neighborhood. (Wright plans to start one where he lives as well.)
At the Great Kids Farm on a July afternoon, where the temperature and humidity both hover around 94, Wright and Mosley describe their work in the fields, repeating one delicious word: "cool."
"It's so serene and quiet," Wright says.
Geraci is developing plans to launch a high school at the farm -- the first "agrohospitality" school in the country -- to train students on every aspect of healthy, green-food production, marketing, and service. Meanwhile, this year, thousands of Baltimore kids will take field trips to the farm.
Each group of students will plant seedlings for a class that will come later, and they will carry back to their school plants that an earlier group of visitors started for them. The cycle -- a stranger makes something for me; I tend it and make a new one for someone else -- turns a simple field trip into an experiential lesson in the meaning of sustainability.
"The kids understand they're making creation happen," Geraci says. "Food is no longer just consumption to them. It's stewardship. It's responsibility. It's community. It's a lot of the things we've stopped teaching."
Fran Smith is a contributing writer for Edutopia.