Project-Based Learning (PBL)
Creating "Sustainability Natives": Schools Build Green
To improve learning as well as the planet, K-12 schools have become front-runners in greening a new generation of school buildings.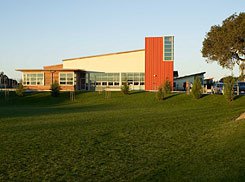 Credit: Michael David Rose Photography
Bathed in Light: Chartwell School, home of America's greenest campus.
More and more of America's K-12 schools are embracing green building design and construction. Armed with a host of data showing that students learn better in environmentally friendly spaces and that schools can save significantly on operating costs by building green, districts across the nation are constructing hundreds of new facilities according to sustainable principles. But what does that really mean -- and how does it benefit educators?
Why Build Green?
"Building green" is an umbrella phrase that encompasses numerous small but interconnected decisions we can make about materials, design, and building methods that collectively reduce energy use, improve health, and achieve other environmental goals. In educational buildings, green builders pay particular attention to natural daylight, air quality, and improved acoustics, which leads to reduced sick days for both teachers (strained vocal chords are a primary reason for absenteeism) and students.
If there is one overriding reason to go green, it is the proven effect of natural light on students. The Heschong Mahone Group, a green-building consulting firm, has conducted numerous studies over the last decade that indicate that lighting and other aspects of physical comfort can lead to improved test scores. Researchers have found similar results for retail and office environments, where natural light from skylights, windows, and other sources also bolstered wakefulness and productivity.
"Our project started out not with a vision of being green but with the intent to build the strongest educational experience," recalls Douglas Atkins, executive director of the private Chartwell School, in Seaside, California. "But we knew there was a link between providing full-spectrum daylight and learning things such as language or math. That took us to the U.S. Green Building Council's LEED protocol."
The council, a nonprofit organization, administers the Leadership in Energy and Environmental Design protocol, the country's principal rating system for green buildings. Earlier this year, the Chartwell School became the first complete educational campus to earn the highest LEED rating.
Green schools can also become a way to connect learning to the outside world and to bring environmental issues to life in the classroom. "It's teaching lessons we've historically left out of curricula," says Rachel Gutter, who oversees the Green Building Council's schools sector. "You're up on the roof measuring the solar-panel generation. You're in the organic garden on the roof getting vegetables for lunch, or in the adjacent wetlands studying bees. It's one big teaching tool."
Atkins echoes this idea. "Green design is really integrated design," he points out. "That's a huge opportunity for learning in the curriculum, because kids really benefit from seeing how things become interconnected and why doing something to one item can have an effect on others. It's a common refrain from a cynical middle schooler in math class: 'Why do we need to know this?' Well now, we've got a thousand examples."
Spend to Save
Green buildings require more upfront investment, as architects, engineers, and builders work together much earlier in the process and more often, which is a potential concern for cash-strapped schools. Still, more and more sustainable-schools projects demonstrate that savings in energy and other resources offset the extra cost over the life of the building -- usually within a few years. When the design better uses natural ways to control temperature, such as high-quality insulation and putting the building in a good site, the reduced operating costs can mean substantial energy savings.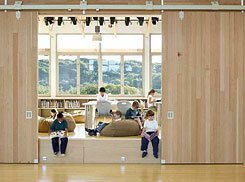 Credit: Michael David Rose Photography
Framework for Learning: Natural daylighting, sustainable flooring, and salvaged wood designed for disassembly combine to create an optimal educational environment.
Atkins cites such savings as a surprise benefit that came after his school decided to go green for academic reasons. "We dropped our electrical needs by 50 percent," he reports. The school boasts a solar electricity system in addition to ample natural light, water-saving features, and indoor air-quality measures.
In one study, consulting firm Capital E. determined the average energy-savings return on a school's green building investment to be about $70 per square foot. That's more than twenty times the average additional cost of going green, which is $3 per square foot. And the Green Building Council says green schools save $100,000 per year in energy costs -- enough to hire two new teachers, buy 200 new computers, or purchase 5,000 new textbooks.
Take Benjamin Franklin Elementary School, in suburban Kirkland, Washington, named to the American Institute of Architects's prestigious Top Ten Green Projects list in 2006. Nestled beside a 10-acre forest, with ventilated classes lit 100 percent naturally, it saves 35 percent more energy annually than building codes require.
"It's a regional building," states architect David Miller, a juror for the AIA list. "Natural light is precious in the Pacific Northwest, and this building reaches to the light. It uses the forest as a sun-shade device, and those large windows create a strong connection to the outdoors."
Similarly, Philadelphia's newly opened School of the Future, funded and planned through a partnership between Microsoft and the city's school district, incorporates the latest advances in environmental design. A water-catchment system on the roof collects rainwater for nondrinking uses, while solar panels in the glass windows and on the roof both reduce heating and cooling costs and transmit real-time data so students can see the positive impact on the environment.
Building Boom
Growing Gardeners:
Fifty students attend classes at Chartwell's Organic Gardening Instructional Center, which also serves as a resource for science, math, and language arts classes.
Credit: Randy Tunnell
Such schools are still the vanguard, however, and most new schools still aren't green, notes Rachel Gutter of the Green Building Council. "But I think we're headed soon for that tipping point, and before long, we'll build them all that way." She adds, "I really do think it's a movement. Once you understand the benefits, you won't say no."
Today, LEED-certified school projects exist in forty-six states, and school districts are building more than 550 additional schools according to the standards. In states such as Ohio, that number will only increase as new laws mandate LEED ratings for all public K-12 schools. Similarly, Chicago plans to retrofit all of its schools to meet LEED specifications. Such legislation has become more common as environmental organizations now have added representation on Capitol Hill with the bipartisan Green Schools Caucus in Congress.
Green schools exponentially help in reaching the Green Building Council's ambitious goal that within a generation, nearly every American commercial or public building that's retrofitted or newly constructed will meet green standards. That's because each green school creates what Gutter likes to call "sustainability natives." She explains, "We adults have to modify our behavior. For kids in green schools, this environmentally conscious behavior just comes naturally."
Gutter recalls the principal of a green school in Maryland detailing how he knew the building affected his students. The principal said, "It's the parents. They keep coming back to me and asking, 'What the heck's going on at your school? My kids are turning the lights off. They're scolding me for taking longer than a five-minute shower.'" Gutter says, "When you think about it, these are the kids who have to solve the problem with global warming that we're going to leave in their laps. And the kids at green schools are going to be the best equipped to do that."
Brian Libby is a freelance writer living in Portland, Oregon. He has written for the New York Times, the Oregonian, and Salon.com.
Let the Sunshine In: Illumination Without Electricity
Studies reveal a correlation between daylight in school classrooms and the performance of students on standardized tests, and more and more new K-12 design plans have sought to distribute as much natural light as possible. Traditionally, this happens in one of two ways: by equipping windows with special awnings called light shelves, designed to bounce the light off ceilings and further into interior spaces, and -- in single-story buildings -- by building skylights or a slanted roofing systems that let in additional light on one side.
Besides simple shading devices, though, until recently only limited means of modulating light levels without incorporating electric lights have been available. But a new natural-lighting system, created by a trio of Oregon designers, is changing that.
Spearheaded by University of Oregon professor G.Z. Brown, the High Performance Classroom is a prototype for classroom design that omits the use of electric lighting altogether. Light pours in from a central skylight, and sensors constantly monitor light levels. They direct an automated series of thin blinds, or louvers, that move back and forth to maintain consistent light levels inside.
"It doesn't get overlighted or underlighted," Brown says. The system is in use at a seminary school at Mt. Angel Abbey, in St. Benedict, Oregon, and also in a new classroom under construction at Portland's da Vinci Arts Middle School, which will generate all of its own energy. "You can watch this building respond to the light outside," notes Brown. "From a teaching standpoint, that's very powerful."
Part of Brown's approach is controversial: Schools must be willing to reconsider, for example, what time of day classes start in order to take advantage of when it's light out. But, as studies have demonstrated, students work better during daylight anyway.
Once school planners actually see the concept in action, Brown contends, it's easy to convert them. "Whenever educators have come into either our prototype or the classroom at Mt. Angel, they all gasp as they enter the space," he says. "It's so dramatic what natural light can do." -- BL
This article was updated on 3/20/08 to correct that the U.S. Green Building Council is a nonprofit organization.