Project-Based Learning (PBL)
Green Scene: Students Appreciate Sustainable, Eco-Friendly Building Design
Students at this Texas elementary school don't just study textbooks to learn about the environment and sustainability. They're surrounded by it.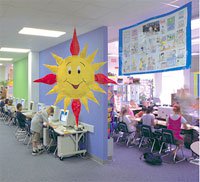 Credit: SHW Group LLP
As you approach Roy Lee Walker Elementary School in McKinney, Texas, you quickly notice that something is different. Instead of the concrete-and-glass sameness that often passes for modern educational design, six large stone cisterns squat near the building, each brimming with nearly 10,000 gallons of rainwater that has rolled from the school's roof during the region's window-rattling thunderstorms. Nearby, a 30-foot windmill twirls languidly in the breeze, powering a filtering system that removes sediment from the collected water, which is used to irrigate the buffalo grass and other native vegetation that fill the grounds. Slanted solar panels poke up from the roof of the single-story building, and inside, the classrooms are lit not with the cold gray glare of fluorescent lights but with the warmth of natural sunlight.
Credit: Roberta Furger
By the time they complete fifth grade, students at Roy Lee Walker won't just have mastered the three R's; they will also have become young authorities on sustainable, eco-friendly building design, having developed a deep appreciation for the way their everyday actions affect the immediate environment.
Environmental awareness and stewardship go hand in hand with being a student at this four-year-old school, located 30 miles north of Dallas. Recognized by the American Institute of Architects as one of the top ten "Most Environmentally Responsible Design Projects" in the nation, Walker Elementary is at the forefront of an international movement to build what are known as "high-performance schools." These state-of-the-art facilities feature more than just environmentally sound design. They're 360-degree science projects, in which the students do more than learn about sustainable building design; they live in the midst of it.
Credit: SHW Group LLP
"We're creating experiences through design, architecture, and landscaping," says Mike Nicklas, whose firm, Innovative Design in Raleigh, North Carolina, was the daylighting and sustainable-design consultant on the project. "It's a wonderful way not only to teach, but to communicate values as well."
Nicklas recalls having an epiphany while attending a conference sponsored by the National School Boards Association. He was sitting in a session on how students learn, when the speaker shared some thought-provoking statistics: "If you hear something, you retain 10 percent of the information. If you read something, you retain 20 percent. But if you experience something, you retain more than 70 percent of what you've learned."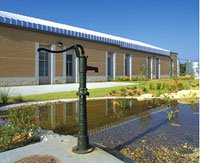 Credit: SHW Group LLP
That comment sparked a dramatic shift in the way Nicklas and his colleagues at Innovative Design approach school projects. In the past, says Nicklas, they emphasized exposure to environmental issues and concepts through "pretty pictures on the walls or compasses on the floor." Now, however, he realizes the school's intrinsic design must include more than just an environmentally themed mural if it is going to have a lasting impact on the students.
The one change that has affected school environments most powerfully is the use of daylighting throughout the building. Electronic light monitors collect and distribute the natural light throughout the classrooms, and light-level sensors make sure the rooms are adequately lit, with both natural and, when necessary, artificial light. On sunny days, natural lighting alone is sufficient. When it's cloudy, the light-level sensors trigger a set of dimmable fluorescent lights.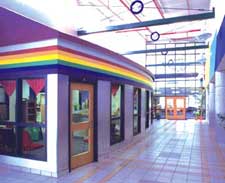 Credit: SHW Group LLP
"Daylighting has a dramatic affect on attitudes," says Walker Elementary's principal, Deb Beasley. On many days, the building is lit almost exclusively with natural light, she says, and teachers report that students are more upbeat and attentive in class.
Other innovations are more subtle. The solar panels, for instance, generate enough energy to provide hot water for the bathrooms and the school cafeteria. Even the carpet is environmentally friendly: It was designed to be reused as padding when it needs to be replaced, instead of being tossed in a landfill.
Walker Elementary's sustainable design supports the school's year-round focus on environmental education. Every year, the school hosts a sustainability fair, with each grade level responsible for creating projects around the school's many eco-friendly design features, such as solar or wind power, water collection and reuse, or recycling. Students create and present their information through videos, artwork, and experiments. "By the time they're out of fifth grade, our students have explored all the aspects of the building," says Beasley.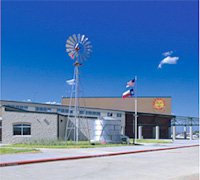 Credit: SHW Group LLP
Many building features are also incorporated into classroom lessons. The pond, for example, might be used by students in a science class to test the pH level of water samples, or as a colorful subject for young painters in an art class who are learning to mimic the lush brushstrokes of French impressionist Claude Monet. With the school's two sundials, students use the location of the sun to tell time, as well as to identify the solstices. In the main hallway, a huge gauge monitors how much rainwater has collected in the school's cisterns, and math teachers use the information during lessons in graphing.
Designers also took care to make obvious several building features that are typically hidden from view -- yet another way the facility has become a teaching tool. For example, fourth graders studying the role that individual components play in whole systems need look no farther than the school's main entrance, where they'll spot the fire-sprinkler system's main piping, painted bright red and exposed for the students to see and study.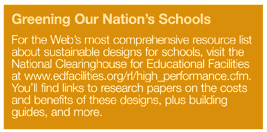 Credit: Roberta Furger
One of the school's most impressive features is a glass wall along a central hallway that provides a clear view of the building's mechanical room. This observation area is also home to a weather station, which tracks wind speed and air temperature, thanks to a series of sensors on the roof of the building.
The Walker Elementary facility represents an evolutionary approach to school facilities. "My view on eco-friendly design has changed over the years," admits Nicklas. "We used to focus just on energy efficiency. Now it has to be educational for the kids."
Roberta Furger is a contributing writer for Edutopia.