Assessment
Grade-a-Matic: The Red Pen Goes High Tech
Students no longer have to agonize while waiting for test results.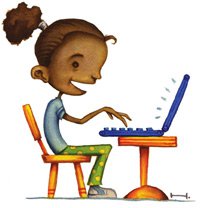 Credit: Hugh D'Andrade
Envision this: A computer tells students that their latest literary concoction doesn't connect ideas logically. At Warren Central High School, in Indianapolis, English teacher Kathy Paris doesn't have to imagine. She uses Criterion, a Web service that scores essays and shoots feedback out to students within seconds.
Can an automated grading system score human articulation and reason? The tool Paris uses compares student work to "training" essays, or models of the class assignment, at each scoring level. SAGrader, software developed by Ed Brent, a sociology professor at the University of Missouri at Columbia, works similarly. His students type a sociology essay about community, for example, into an input field on the assignment's Web site. Moments after students click on the Submit button, SAGrader assesses whether they have identified concepts such as urban renewal or gentrification and have used appropriate examples.
How does all this work? When using SAGrader, teachers decide on an assignment. Next, they create the knowledge base, a semantic network of information SAGrader will later detect in each essay. Essentially, the software -- loaded with both outside expertise and the teacher's own knowledge -- finds patterns between the theories and arguments in a student's work.
If their teacher allows it, students can resubmit work based on the feedback. "To become good writers, students need to write and write and write some more," says Marcia Barton, a technology-integration specialist for the Portola Valley School District, in Portola Valley, California. Often, teachers assign fewer papers -- each of which counts for more in determining course grades than if assignments were more frequent -- to avoid mountain-high stacks of work to correct. "This guts the entire effort and translates into less writing practice for students," says Barton.
Tools such as SAGrader expose students to a variety of writing styles such as persuasion and the compare-and-contrast format more often, says Paris, and allow teachers to delegate some dirty work to these high-tech teaching assistants. But the programs have their limitations. Criterion, for example, can't catch plagiarism or a simple cut-and-paste of a classmate's work.
"It is not a cure-all," Paris says, "but it is a great adjunct to our writing program." And the red pen.