Social & Emotional Learning (SEL)
How to Build Intergenerational Opportunities for Learning
Closing the generation gap with community partnerships.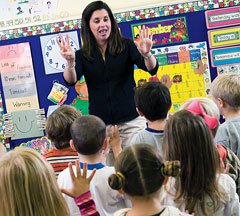 Credit: Darren Parker
This how-to article accompanies the feature "Senior Citizens Help Young Children with Reading -- and Relationships."
Your classroom needn't be based in a nursing home, an assisted-living facility, or a retirement home for your students to make great academic and social connections with community elders. Grace Living Center (GLC) president Don Greiner's nursing homes in Oklahoma City partnered for several years with Oklahoma City Public Schools, regularly busing kids from school to the homes for reading activities. To schools contemplating such partnerships, he says, he encourages a focus on building relationships, "not just community service. The kids will get a whole lot more out of it if they really get to know one elder."
Start with a Project
Is there a nursing home, a retirement home, a veterans' hall, or a senior center near your school? Come up with a specific classroom project, and introduce yourself to the manager. (Take this article along, too.) See whether there might be points of connection between the organization and your classroom. Elaine Arnold, the GLC's community liaison, says, "Go in with a focused need for the class, and ask the manager if residents might be helpful in meeting that need." Shan Glandon, director of curriculum and instruction for the Jenks Public Schools, concurs, especially given the range of nursing home residents' cognitive and physical abilities. "If the teacher can convey what's involved in a project or lesson," she says, "the nursing home can invite the appropriate residents to participate."
Kindergarten teacher Mindy Fleming suggests inviting the grandparents of your students to volunteer in class (though she recommends not having kids work with their own family members). Even easier: Check out Foster Grandparent programs in your community. For more than 40 years, the Foster Grandparent Program has provided mentors for children and teens, with a specific focus on children with special needs. Seniors receive training -- and sometimes a stipend -- for their work.
Prepare Everyone
Before you approach an elder organization, have a purpose and clear learning goals. Prepare students -- and residents -- for the partnership, says the GLC's Elaine Arnold. Think carefully about the number of kids involved, talk to students about the diverse ages of residents they might meet at a nursing home, and prepare them for possible dementia or for physical limitations of the people they'll work with. Also, make sure there's an appropriate space for your planned activity to take place in.
The most successful partnerships, Curriculum Director Shan Glandon says, are those in which the school or the teacher has developed a relationship with nursing home staff. She suggests building in a feedback loop with the site manager, students, and elders so the teacher can get specific suggestions about how to shape the partnership in the future.
And even if the partnership involves only occasional meetings, it's most important that the nursing home have an appropriate staff person on hand at all meetings with children, monitoring the safety and participation of the elders. "The teacher," Glandon points out, "is responsible for the students."
Adopt What Works
Jenks Public Schools staff believe that many elements of their partnership with GLC residents can be modified for a more traditionally located classroom. For book buddies, they say, take small numbers of student/elder pairs and provide books of different levels in a space that offers some privacy and a library-like environment. For dramatic play, have lots of props, think about the words or curriculum objectives you want to reinforce, and encourage students and elders to get into their roles. And bring in older people when you're reading books to the whole class; by telling their own related stories, elders can give the literature much more context.
Ideal activities involve small intergenerational groups. Kindergarten teacher Mindy Fleming likes projects where students and elders build something together, like the terrariums and aquariums built at the GLC. "Kids will really listen to elders when there are specific, important steps to putting something together," she says. Glandon likes having elders as mentors at tables during science investigations, asking questions and helping students follow directions.
For partnerships between older students and elders, GLC staff members suggest interviewing and oral history activities. "Elders don't get much opportunity to talk," Glandon says, "and interviewing takes students through an experience where they really have to listen." Elaine Arnold suggests having students bring tape recorders and work in teams. Glandon says teachers should help students develop one key question and teach them how to listen and ask follow-ups. After writing a first-person narrative, students should go back to the interview subject and share what they wrote, letting the elder edit the work; then the students can revise. Elaine Arnold emphasizes that students should bring the finished stories back to the residents as gifts, and Glandon loves the idea of working with theater teachers to dramatize the oral histories.
Lisa Morehouse taught secondary English for twelve years in San Francisco and rural Georgia. She is now a public-radio journalist and an education consultant.