Project-Based Learning (PBL)
Worldwide Rides: The One-Planet Schoolhouse
For one veteran photographer, all the world's a learning experience.
"I believe in the power of story," says Joan Klatchko, an award-winning photojournalist who lived abroad for twenty-one years. And no wonder: Everywhere she goes, she encounters children whose lives make for great stories. Ian, for instance, lives in a cave in the arid Australian Outback, and Lanau gets to school in Borneo by boat.
When Klatchko began giving presentations to kids in elementary schools and middle schools near her hometown of Philadelphia, showing students toys she'd collected (such as handmade Malaysian kites) and telling the stories of the children she'd met, the response to her global show-and-tell was enthusiastic. The ordinary details in the lives of children across the world -- what they eat, wear, and value, what their schools are like and how they get there, accompanied by her evocative photographs -- inspire U.S. students to appreciate the complexity and interconnectedness of life on our planet.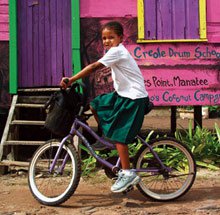 Credit: Joan Sara Klatchko
You'd Better Belize It: Indira rides her bike to school each morning.
Inspired herself, Klatchko developed Photography and Literacy, a program that couples cross-cultural explorations with cross-curricular ones. Her photo stories spark curiosity not only about the world but also about such academic subjects as language arts, environmental science, and math. Big lessons for little tykes? Perhaps. But listen to Donna DeGennaro, an educational-technology professor at New Jersey's Montclair State University: "The students were literally jumping out of their seats to ask -- and answer -- questions."
Klatchko developed the PAL program over the past two years in conjunction with Melissa Barrett, a graduate student at the University of Pennsylvania's Graduate School of Education. Designed for grades K-8, it combines a series of photographs with specific questions that guide students through kid-focused photo stories, asking them to decipher visual cues, differentiate assumption from fact, and draw conclusions based on what they see. Students become shrewd photo detectives, finding a wealth of information in the details. Insight into a region's environment, economy, and culture may be found in the color of a river, a mode of transportation, a gesture or facial expression. This process also connects seamlessly to the curriculum-based classroom activities suggested at intervals throughout Klatchko's digital guides, which are now available for educators to download from her Web site, Kids Across the World -- A Photographic Journey.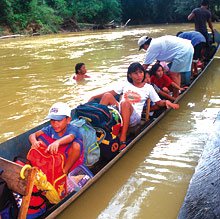 Credit: Joan Sara Klatchko
No Tires: In Borneo, where roads are rivers, children ride to school in a boat.
Though PAL participants learn to think critically about other countries, they also learn to do so about their own. Part of the program invites students to take pictures and tell their own stories. Connecting the global to the local is one of Klatchko's primary goals, which she pursues through digital guides, school assembly presentations, a videoconference series, a professional development class for educators, a museum exhibit, and international school partnerships.
When Klatchko journeyed to the Galapagos Islands in fall 2005, she brought two middle schools with her -- via the Internet. Students at Pennsylvania's South Brandywine Middle School and Tredyffrin/Easttown Middle School met two students from the archipelago's Santa Cruz Island. Through the eyes of these two boys, sons respectively of a fisherman and a tour-boat operator, students in the United States were able to understand the difficult balance between the livelihood of individual families and the need to preserve the unique habitat of the Galapagos.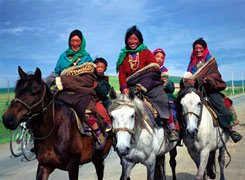 Credit: Joan Sara Klatchko
Mom's Taxi Service: Tibetan mothers give their children a ride to school the old-fashioned way.
"The Galapagos are one of the last untouched habitats in the world," says Klatchko. "Once that balance is upset, it's gone forever, but it's almost an abstract issue" unless kids have something to latch onto. Now, when students learn -- and learn to care -- about one another's worlds through pictures, letters, and twenty-first-century technology, "it's not just about rules and regulations and plants and bugs; it's about how this affects real kids just like them." Participating schools were so encouraged, in fact, that not only did they develop class projects about environmental conservation, but one school even organized a community fundraiser for its sister school.
Klatchko will travel to Thailand this winter, and plans to make the same kind of virtual connection among schools in the United States with schools and individual kids in Thailand, particularly those affected by the 2004 tsunami. Doing so will give some U.S. schools and students who may have donated to tsunami relief a close look at how they helped.
"How can you care about the world if you don't know that much about the world?" Klatchko asks. If global education is paramount, she adds, personal connections such as these are priceless. "What a wonderful way of showing kids that they can make a difference."
Sara Bernard is a former staff writer and multimedia producer for Edutopia.