Professional Learning
Get On the Bus: A Political Unit on Wheels
An eye-popping mobile civics lesson arrives just in time for election-year politics.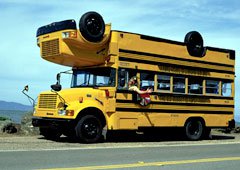 Credit: Harrod Blank
If a school bus with its twin welded upside down to its roof pulls into your school parking lot this autumn, don't be alarmed. It's not your vision that's gone topsy-turvy; it's the budget priorities of the U.S. government.
So claims political activist and Ben & Jerry's ice cream cofounder Ben Cohen, who commissioned the construction of this startling art car to be what he calls "a three-dimensional, mobile billboard" in colorful protest of our nation's inverted budgetary priorities: The U.S. government spent more than $500 billion on military spending in 2006, ten times more than it allocates for the nation's public schools.
Cohen, who dreamed up the Topsy-Turvy Bus (or Topsy, for short), sees it as a quick lesson in politics and a visual reminder that politics can be not only powerful but also fun.
The bus was designed by award-winning artist Stefan Sagmeister, and built this past spring in the San Francisco Bay Area by art-car builder Tom Kennedy and his ten-person crew. Alongside the bus's stenciled slogan, "The U.S. Budget Is Topsy-Turvy," flip-out pie charts depict the current distribution of federal funds: Though a whopping 50 percent is handed to the Pentagon, other basic needs -- such as education, health care, and world hunger -- each get a sliver.
"America's budget priorities are topsy-turvy based on what the American people want," says Cohen, who heads the nonprofit organization Business Leaders for Sensible Priorities, for which the bus is a campaign tool.
The goal of the organization is to get this glaring incongruity into the national dialogue in time for the 2008 presidential election. To jump-start the process, Kennedy and his partner, Haideen Anderson, drove the biodiesel-friendly bus from its birthplace in northern California to New Hampshire, where its next round of volunteer drivers were lined up. Along the way, they visited schools, city halls, mayors, and main streets, handing out pie-chart Frisbees and pens and screening an onboard video explaining its mission. From now until the New Hampshire and Iowa presidential primaries in January 2008, volunteers in these states will use Topsy's message to gather signatures for a petition urging candidates to take a stand.
"We're trying to frame the issue so that everyone can get behind it," says Kennedy, who, along with Cohen, refers interested parties to "The Korb Report: A Realistic Defense for America," by policy analyst Lawrence Korb. The report suggests that the federal government could safely save $60 billion a year by reducing its overgrown and unused nuclear arsenal and weapons systems and canceling research and development funding for weapons now considered obsolete.
The response so far? "Pretty phenomenal," says Kennedy. From turning heads in Reno to headlining at a school-funding protest just outside Philadelphia's city hall, there's no doubt Topsy is a conversation starter.
When the bus paid a visit to Scavo Alternative High School, in Des Moines, Iowa, Principal Kittie Weston-Knauer was pleased to see it. "I think it's imperative for me to provide information to my students about the workings of the world," she says. "Their understanding of what it costs to fund education, and of the small piece that we truly get, prepares them to go out and say, 'Hey, this isn't right.'" When the bus showed up before lunchtime, her students had the opportunity to engage in conversations with the organizers. "It's a great way to key them in to the political process," Weston-Knauer says.
Though this is not the first art car Cohen has commissioned for the Priorities Campaign, he says, "it's very significant that this one's a school bus."
"The physical condition alone of many U.S. public schools is in such need of repair that it would take $120 billion to get those schools back into shape," Cohen adds. "We're proposing $10 billion a year for twelve years," he says -- a mere dribble of the U.S. military budget.
The money is there, notes Cohen. It's just a question of priorities.
School for Citizens
You'll find a wealth of lesson plans for civics education at these Web sites:
Teachnology: Civics Lesson Plans, the "one-stop teacher shop" for lesson plans on a variety of topics.
The Educator's Reference Desk: Civics Lesson Plans, for lesson plans on topics ranging from religious tolerance to conflict resolution, plus ideas for educational games and activities.
New York Times: Daily Lesson Plan, a comprehensive site with lesson plans that are updated daily throughout the year. The site also includes ideas for ways teachers can explore current events with their class; exercises for students, such as how to submit a letter to the editor; "conversation starters" for parents who'd like to study the Times and then discuss the news with their children; and more.
Sara Bernard is a former staff writer and multimedia producer for Edutopia.