Social & Emotional Learning (SEL)
Paean to Poetry: An Island of Sanity Amid the Daily Media Storm
Garrison Keillor brings stanza and sonnet to life with the Writer's Almanac radio show.
The deep, deliberate cadence of Garrison Keillor's voice reading Elizabeth Bishop or Robert Frost is just part of the joy listeners get from The Writer's Almanac, a brief morning radio vignette broadcast seven days a week by American Public Media. Each show also includes a significant who's who and what happened in literature on that date. For instance, on September 24, F. Scott Fitzgerald's birthday, I learned that The Great Gatsby was a flop that never sold out of its first printing. A few days before that, I heard that 1,533 years ago on August 28 was probably the day the western Roman Empire came to an end when Emperor Romulus Augustulus was deposed by a victorious barbarian. Thanks, Garrison.
Airing regularly on a public station near you (or emailed or sent as a podcast to your computer), the show is not only a valued resource for writers, teachers, and students but also an island of sanity amid the usual Monday-to-Friday media onslaught. Poetry being the lingua franca of the soul, perhaps it's no surprise the Almanac recently became a daily program on Norwegian radio.
"With the declining importance of poetry in modern life, it's refreshing for many people just to get any regular exposure to poetry at all," says Robert McGinley Myers, the show's producer. "For some, the show and the sunrise are inextricably linked."
McGinley Myers takes on the major research task of finding biographical facts on the authors of the day, as well as other historical material of note. He says the hunt has recently evolved to finding "new things to cover that we've never covered before: more contemporary writers, lesser-known aspects of writers' lives, and obscure historical events. We're particularly interested in the human details of the writer's life -- the struggle to become a writer, and what made his or her work stand out."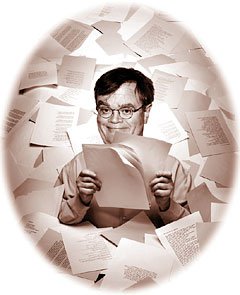 Credit: William Duke
The Poem Picker
"I like poems that talk straight to you," says Keillor, who finds the poetry himself. "I like picking up a little skinny book of poems that's written by somebody I've never heard of." Keillor also enjoys flavoring shows with quotes from writers about the act of writing itself, which can provide insight and encouragement for aspiring writers in the radio audience and in the classroom, and help make literature more accessible.
"Don Quixote can be a very intimidating book," McGinley Myers says, "but when you learn about Cervantes's life, how he fought in a war and was captured by pirates, and then couldn't find a job and then worked for the government and then got thrown into prison -- and that it was only then he got the idea for his book -- it gives you a different understanding. We emphasize the fact that writers are interesting but ordinary people, not people to worship or be intimidated by."
The Writer's Almanac was born in 1993, when Keillor was broadcasting a radio show from the Minnesota Public Radio state fair booth. It was an annual event, and a standard feature was a trivia contest. At the last moment, the host decided to scrap that idea and instead went into the crowd to ask people to recite a favorite poem. The spontaneous event worked, and a show evolved out of it.
"Stickiness, memorability, is one sign of a good poem," Keillor wrote in the introduction to Good Poems, a collection of compositions read on the show. "You hear it, and a day later some of it is still there in the brainpan."
The quality of accessibility, something any teacher can appreciate, matters, too. As the creator of Prairie Home Companion puts it, "You should be able to get the poem on one hearing, while small children are tugging at your pant leg, and while you're trying to fry bacon."
A poem written in praise of The Writer's Almanac
by Joyce Sutphen
The Day
I like hearing this was the day someone
was born in one of those years not so long
ago and in a city that I lived in once. I like knowing that on this day
a war ended or a book was published,
and though the author thought the book had failed,
we all know it as one of the great works of American literature. I like
listening to his voice, how he always sounds slightly surprised at
what he's telling us, and I like imagining him say:
On this day in nineteen forty-nine, you
were born, and though it took you many years
to do good work and keep in touch, you did.

Damien B.M. English is a writer living in San Francisco who contributes frequently on culture for Edutopia.