Project-Based Learning (PBL)
Take It to the Bank: Students Learn to Manage Their Money
Student-run credit union branches teach career skills and financial independence.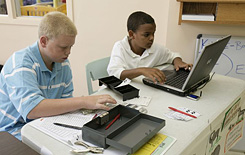 Credit: Duane Burleson
Funds for the Future: Jacob (left) adds up banking deposits while Ray enters the amounts into the computer at the student-run CP Federal Credit Union in the Jackson, Michigan, YMCA.
Ray, a seventh grader from Jackson, Michigan, is about to open a savings account -- and he's pretty sure about what he's saving his money for. "I'll be saving up to pay for college, if they don't give me a scholarship," he says matter-of-factly. "But if they do, I'll be saving up for a car or my own house."
He's seated behind a laptop at the Jackson YMCA, recording client transactions for a student-run branch of CP Federal Credit Union. The teller, an eleven-year-old named Jacob, greets members (many of whom are barely tall enough to hand him their fistfuls of coins), counts the cash, runs a calculator tape, and fills out receipts. Though client interest lies mostly in the plastic frogs and bouncy balls offered as prizes for correctly answering credit union trivia, these young savers -- and bankers -- have an impressive head start on personal finance.
"It's very important to start early and start young," says Kelly Hatler, a credit union development educator and CP Federal financial-education specialist. "Our savings programs don't revolve around a dollar amount. What we want is to establish the habit of saving."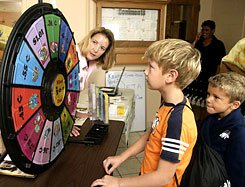 Credit: Duane Burleson
Counting Cents: Isaac (left) and his brother Oliver (right) watch to see where the spinning wheel will stop. Amy King, a financial-education representative for CP Credit Union, will give him play coins to count the exact amount of change the wheel stops at. If Isaac counts correctly, he gets to pick a prize.
CP Federal, which hosts one of the most extensive programs in the nation with 42 student-run credit union branches and counting, is one of nearly 200 credit unions that operate more than 700 of these branches in more than thirty states, according to Philip Heckman, director of youth programs at the Center for Personal Finance at the Credit Union National Association (CUNA).
Many commercial banks have followed suit. In 2005, Park Federal Savings Bank opened a full-service branch at Chicago's Marie Sklodowska Curie Metro High School, for instance. Wells Fargo has been running a similar program at East High School, in Anchorage, Alaska, since 1998.
Although some branches open at high schools as part of career-training academies -- some models feature cash-stocked safes and paid student interns -- CP Federal's program casts a wider net. By keeping things simple and operating each branch just a few hours a week, just eight full-time financial-education employees are needed to lead nearly four dozen programs in central Michigan elementary schools, middle schools, and high schools at no cost to the schools involved.
"We can make do with the minimum," explains Susan Young, CP Federal's financial-education supervisor and credit union development educator. Some CP Federal branches aren't much more than a few tables with metal folding chairs in a school hallway, but they still provide a variety of savings account and checking account services. "What we've found is that the kids aren't necessarily into all the bells and whistles; they just want the basic knowledge."
Started in 1991 at an elementary school in Parma, Michigan, the program "goes back to what credit unions are all about, the social mission of taking care of the underserved," says CEO John Crist. Naturally, this mission goes hand in hand with building the next generation of financially aware and independent adults. As Young tells her students, "You can't count on anyone to take care of you the rest of your life. You have to take care of you."
Prime Banking at a Prime Time
Because all students are required to fill out a job application, provide references, and interview to work at a CP Federal branch, the experience is "a great opportunity for kids to get some skills in the adult world," says Young. Not only do they learn the basics of bank management and credit union philosophies, "they're also getting that mentoring experience by helping their fellow students, teaching them, and encouraging them to save," she adds.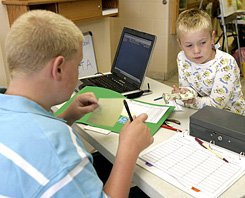 Credit: Duane Burleson
Adding Up: Max hands over his deposit to student banker Jacob to add to his savings account.
In addition to hiring and training students as branch volunteers, CP Federal educators lead hands-on, state-standards-based activities about banking, credit, and general money-management skills, with an overarching emphasis on healthy spending and saving habits. The younger students read and follow savings-related books such as A Dollar for Penny or A Chair for My Mother, and they play budget bingo and other coin-counting math games. In high schools, CP Federal uses the National Endowment for Financial Education (NEFE) High School Financial Planning Program, which helps young adults master budgeting, investing, insurance, and debt-management skills.
CP Federal program leaders also take pains to make banking fun through savings challenges, skating parties and other outings, and multiple prizes awarded at an annual teacher- and administrator-appreciation dinner. (If a student wins the "Millionaire for a Day" prize, for example, the credit union deposits $1 million into that lucky child's account for twenty-four hours. Though the student cannot make any withdrawals, he or she gets to keep the interest, guaranteed to be at least $100.) Building that kind of community, say CP Federal employees, is key to the program's long-term success.
Investing in Real Life
"What's neat is that a lot of the kids stick with it," says Hatler. "They want to work and be involved, and they end up keeping their accounts and saving, and they come back to us for their first loan." And sometimes, they even come back for their first job: A number of participating students have worked as tellers to put themselves through college.
Although financial education isn't yet a requirement in Michigan, student participation in the credit union program can qualify as the fourth math credit required for high school graduation. As part of this push, CEO John Crist sits on a three-year CUNA committee designed to evaluate student-branch programs and develop ways to measure their impact as part of an integrated-studies curriculum.
In the meantime, for schools interested in starting student branches, Young and Hatler contributed to the Credit Union School Branch Handbook, which provides expert advice and training materials.
Promoting financial independence is more vital than ever, Young says, and she offers as proof the recent gloomy turn of economic events: Nearly 30 percent of families at one Jackson-area school have lost their homes due to recent mortgage foreclosures. Those families know firsthand what it means to run into financial trouble. She notes, "They find the credit union program very valuable, because they don't want to see that happen to their kids."
Of course, the majority of students aren't thinking about mortgages quite yet. Still, Young hopes the program will remind them that the road to self-sufficiency can, in fact, start in kindergarten. "Even if it's only a penny or a nickel," she says, "it's going to add up eventually."
Sara Bernard is a former staff writer and multimedia producer for Edutopia.