Social & Emotional Learning (SEL)
Tim Grant and Gail Littlejohn: Continental Conservation Advocates
Two Canadian teachers, on a quest to infuse environmentalism into today's teaching programs, launched Green Teacher magazine.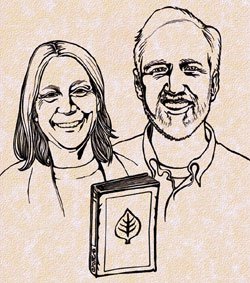 Credit: Indigo Flores
Since 1991, Tim Grant and Gail Littlejohn have published Green Teacher, a Canadian-American quarterly that scouts the leading edge of green education and provides a framework for incorporating environmentalism into today's teaching programs.
Grant, a Canadian, and Littlejohn, from the United States, live and work in Toronto. Their quest to bring environmentalism to the classroom began in 1991, when, Grant recalls, the two then high school teachers "decided to give up our paying jobs" to publish a North American edition of a British environmental magazine. Though the British venture folded in 1993, they believed the message important enough to go it alone.
In 1991, Green Teacher began dispensing its eco-educational wisdom to Canada and then rapidly expanded into the States. Today, their network of regional editors stretches from Newfoundland to Los Angeles. This group of paid and volunteer staffers, Grant says, "helps keep our ears tuned to changes in education to better teach environmental subjects."
Green Teacher presents a mix of stories ranging from edgy ("What If Teaching Went Wild?") to practical ("Environmental Service Learning Projects: Developing Skills for Action.") The magazine covers subjects about all things environmental, from global warming to visual pollution.
It also provides a well-stocked virtual larder of environmental-educational seminars and training projects across the continent. Philosophically, according to Grant, Green Teacher is "not just about getting kids more environmentally literate, but also about enabling them to do things that meet community needs in an era of funding shortages."
Moving away from simulated exercises and tests and toward programs that "get all of a kid's senses involved," the magazine preaches the replacement of the current standards movement, which Grant believes has just about run itscourse. He cites a 1998 study by the State Education and Environment Roundtable (SEER), a consortium of 16 U.S. state departments of education, suggesting that instruction using the environment as the foundation for interdisciplinary teaching consistently produced higher standardized-test scores than programs in which students were essentially taught to the tests.
Grant and Littlejohn cite Seaside, a town on the central Oregon coast, as an example of this new eco-educational philosophy. In the late 1990s, Seaside's city council, concerned about the potential damage from a Pacific tsunami, could not raise the $700,000 necessary to pay experts to complete an environmental study.
Hearing about the problem, a local math teacher made a modest proposal: Why not let his 11th-grade advanced trigonometry class do the study and make the calculations? Their data was so solid, according to Grant, "that the city manager now no longer thinks about environmental projects without taking the town's students into account."
As the lessons of Green Teacher gain popular acceptance, what Grant refers to as "our perennial unprofitability" has turned around, thanks to a series of popular books called Teaching Green, sold in separate editions for elementary, middle, and high schools. There's a planet full of environmental topics yet to be covered, and Grant and Littlejohn say they are working hard "tilting at windmills" and, as Grant adds, "pushing environmental education from the margins to the middle."
Richard Rapaport is a political and architectural writer who contributes regularly to Edutopia.