Social & Emotional Learning (SEL)
Laurie David: Celebrity Author and Environmental Activist
In a new book on climate change, a celebrity champion of sustainability inspires kids to teach their parents.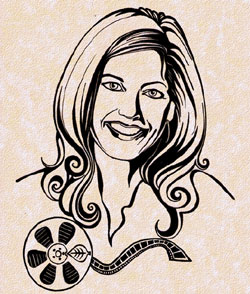 Credit: Indigo Flores
"We need kids in America tohelp educate their parents," Laurie David says about the target of her book The Down-to-Earth Guide to Global Warming, published last monthby Scholastic Books. David, until recently married to Larry David, creator and star of the HBO television series Curb Your Enthusiasm, has become one of America's most vocal celebrity proponents of sustainability.
After coordinating guest talent at the David Letterman Show and managing a stable of nationally known comedians, David found a new and passionate focus in the growing concern over global warming. As her ex-husband once described her transformation, not entirely facetiously, "I meta materialistic, narcissistic,superficial, bosomy woman from Long Island -- the girl of my dreams. But then, after a few short months, I began to sense that something had changed. She began peppering her conversation with words like 'ozone layer,' 'sustainable forestry,' and 'toxic runoff.' What was now all too obvious was that I, Larry David, the shallow estman in the world, had married an environmentalist."
Laurie David began working on the Natural Resource Defense Council in the mid-1990s and served as a producer for former U.S. vice president Al Gore's 2006 Oscar-winning documentary, An Inconvenient Truth. She also was executive producer for the 2006 HBO global warming primer Too Hot Not to Handle and helped create the 2005 Stop Global Warming Virtual March. Last spring, David went on the road with musician Sheryl Crow for the Stop Global Warming College Tour.
For her efforts, David has been named Glamour magazine's 2006 Woman of the Year and one of Rolling Stone magazine's "25 global warming heroes and warriors." She also guest-edited Elle magazine's May 2006 green issue and has been interviewed on Oprah and profiled by the New York Times, Vanity Fair, Outside, Vogue, House & Garden, and other national publications.
David's determination in recent years is to bring the facts about global warming into America's schools as early, as often, and as powerfully as possible. She emphasizes that kids need to be mobilized as the "true agents of change," because they are "the ones most readily empowered to spread the word about the threat to the world that they are going to inherit."
The road to mobilizing America's students has had more than a few speed bumps for the activist-producer. Following the unexpected success of An Inconvenient Truth, David offered 50,000 free DVDs of the documentary to members of the National Science Teachers Association. She was shocked, but not surprised, when the NSTA refused to distribute the work. As she later complained in a 2006 Washington Post op-ed piece, the NSTA "didn't want to offer political endorsement" to a work coming from what they labeled "a special interest."
David, with two school-age children of her own, was motivated to write a book addressing what she sees as "the anxiety kids have for this huge problem." According to David, The Down-to-Earth Guide is designed to "de-wonkify" the issue of global warming. The book uses colorful graphics and compelling text to inform kids, for example, about the huge energy drain caused by leaving battery chargers for their electronic gadgets and toys plugged in. To press home the point, she writes metaphorically that "every plug is connected directly to a coal-driven power plant."
Schools need to become centers of sustainable thinking, David says. At her children's southern California school, for example, no-idle zones were mandated in drop-off and pickup lanes to prevent pollution and save fuel. Other school-based activities she recommends involve developing no-waste cafeteria lunches, utilizing recyclable containers, and using "nonvirgin" paper for both cleanup and classroom uses.
David's avidity for the issues surrounding global warming have had an effect not only on schools around the country but also on those she's associated with. In Curb Your Enthusiasm, Larry David drives a very un-Hollywood Toyota Prius. And she convinced her publisher to print her book on recycled paper using soy-based ink. Not bad for a once-superficial girl from Long Island.
Richard Rapaport is a political and architectural writer who contributes regularly to Edutopia.