Social & Emotional Learning (SEL)
Jessica Assaf: Makeup Militant
A teen activist takes on the cosmetics industry and California governor Arnold Schwarzenegger.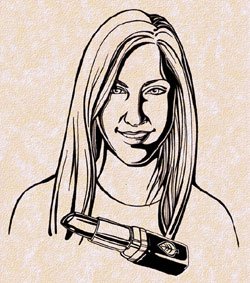 Credit: Indigo Flores
Waiting outside Governor Arnold Schwarzenegger's office in Sacramento, California, for three hours one day in late 2005, Jessica Assaf, a student at Branson High School, in Ross, California, was gloomily suspecting, as she recalls "that teens simply couldn't change laws."
Earlier that year, Assaf and fellow members of her organization, Teens for Safe Cosmetics, had become convinced they could have a legislative impact. They were, in fact, on a roll. Working with other public health and cancer-awareness organizations, the group had helped move Senate Bill 484 through both houses of the state legislature. The bill was designed to require manufacturers of body-care products and cosmetics to label those products that contain cancer-causing and reproductive-toxicity ingredients. To pass, it had to overcome a bruising lobbying effort by an industry that, as Assaf had come to feel, was quite content to market products with a minimum of supervision and a maximum of toxins.
For Assaf and her organization cohorts, the effort to pass SB 484 was a revelation. During summer 2005, she and others in the group had commuted to the state capital tolobby and testify. They were savvy enough to realize they had a certain advantage, despite the professional firepower arrayed against them. "We were even more effective because we were so young," she says. "Lawmakers see adult lobbyists all the time, but a group of teen girls arguing passionately for a law was something different."
She was right. After standing around outside the governor's office for hours, Assaf and her group finally received a hearing from his staff. The governor ultimately signed SB 484. The passage of the California Safe Cosmetics Act of 2005 was not only a legislative triumph, since copied by states such as Maryland, Massachusetts, and New York, but also a personal turning point for Assaf.
Her passion for safe cosmetics and body-care products grew out of an involvement with the Marin Cancer Project (now called Search for the Cause), a group of local women determined to track down risk factors behind unusually high incidents of breast cancer in one of the nation's most affluent counties. As part of her school-required community service, she had distributed questionnaires door-to-door in Marin County. One of the questions, about the use of personal-care products, stopped her cold. "I had been using cosmetics sinceI was thirteen," she says, "and it never crossed my mind to look at the ingredients."
When she did, Assaf was stunned. "I found out that one of the ingredients in my mascara was also used to clean airplane wheels,"she recalls. Working with Marin Cancer Project founder Judi Shils, she met with high school classmates for a "label reading." This activity led to the compilation of a Dirty Dozen-Plus list of cosmetics that contain known carcinogens and a Green Alternative list of those that do not. The group discovered that though the European Union has banned more than 1,000 chemical substances for cosmetics, only nine are forbidden in the United States.
Teens for Safe Cosmetics began a series of attention-getting events including Project: Prom, an informational fair in San Francisco's Union Square last spring. There, high school girls could try safe cosmetics and prove, according to Assaf,"that you can use green products and still look great." Earlier that day, she had led a group of young women to demonstrate outside downtown department stores, where they presented letters to managers asking stores to provide safe makeup and body-care alternatives.
Upcoming TSC events include Turning Green, a meeting in San Francisco of business owners, politicians, and teen campaign members to discuss the problem of unsafe cosmetics and the concept of what Assaf calls "greening it." In March 2008, the group will hold a Green, Glitz, and Glam fashion show in New York City sponsored by Whole Foods.
For Jessica Assaf, that day in 2005 waiting outside the governor's office was pivotal. Where she once intended to pursue a career in medicine, she now has a new plan: Apply to Brown University, earn a law degree, and undertake a career in public health.
Richard Rapaport is a political and architectural writer who contributes regularly to Edutopia.