Technology Integration
Sustainability-Themed Computer Games Come to the Classroom
Educators hope gaming will animate pressing environmental issues.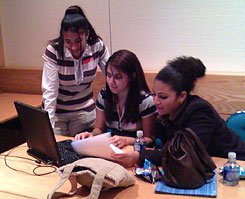 Credit: Courtesy of the Center for 21st Century Skills
Play for the Planet: Students from the Connecticut Innovation Academy review IBM's PowerUp game.
From global warming to pollution to vanishing wildlife, children face a world profoundly threatened by environmental catastrophe. Luckily, they have computer games to help them through -- sustainability games, to be precise.
These are a new generation of educational tools designed to help students learn about environmental issues. Ironically, this learning comes courtesy of technologies that many once believed would sap our attention spans and remove us from the very outside world that now needs rescue.
PowerUp, part of IBM's TryScience initiative, is perhaps the most sophisticated of these new computer games. The game charges players with saving the imaginary planet Helios from ecological destruction by carrying out missions to supply solar, wind, and water power before severe storms wreak havoc. Students learn engineering and science principles by building solar towers or searching junkyards for parts to repair wind turbines.
"When adults play it, they say, 'We need a lot more information.' When kids play it, they just take off," says Marylou Molina, former senior program manager for corporate citizenship at IBM, who spearheaded the project. "It's also amazing how many of our own employees were volunteering for the first time in order to play the game with the kids."
One reason for PowerUp's success, says Molina, is that it draws on concepts that today's children already know. "Even little kids have awareness about the environment," she says. "There was information about solar energy and other things that was new to me, but the kids didn't need it explained to them. When I was their age, we used to think it was a big deal just to recycle cans."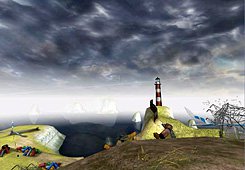 Credit: Courtesy of IBM
The Real Future: PowerUp is filled with images of environmental destruction that occurs on an Earth-like planet, as well as the sustainable ways to rescue the world.
PowerUp has earned adult fans, too. The Earth Day Network, which runs Earth Day festivals across the country, chose PowerUp as its official 2008 game; it was also a featured part of Engineers Week 2008. "Teaching through games and simulations is the way to engage tech-savvy students today," notes Michael Mino, director of the Education Connection's Center for 21st Century Skills. The Litchfield, Connecticut, organization, through its Connecticut Innovation Academy program, helped connect IBM with students to test out PowerUp.
"If we have any hope of saving the real world from real problems, we must embrace teaching students through computer games and virtual simulations. I've seen how kids respond to this." For instance, Mino recalls a tenth grader at Crosby High School, in Waterbury, Connecticut, who described the game this way: "PowerUp lets me save the world the way I want to."
Sustainability games aren't exclusively virtual. At Minneapolis's Bakken Library and Museum of Electricity in Life, for example, as part of last year's FIRST (For Inspiration and Recognition of Science and Technology) LEGO League competition, kids played PowerUp in pairs with volunteers who have professional expertise in related fields, such as engineering, science, or architecture.
"To be successful, an educational game needs to have a social piece," says Steven Walvig, director of education at the Bakken. "You get interested and you talk about it. We want people to take that experience home and talk about it at the dinner table or at school the next day. It's not just about spreading the word. When kids start explaining their experience, that's when they really get it. The learning is more effective when it's fun and social."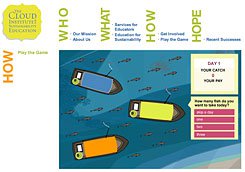 Credit: Courtesy of the Cloud Institute for Sustainability Education
Teach Me to Fish . . .: The Cloud Institute for Sustainability Education's fishing game teaches students about planning, conservation, and survival.
The Bakken features many sustainability and science-oriented displays, such as Electrifying Minnesota, an interactive exhibit that helps kids learn about electricity and conservation, and the Inventor's Club, where students reinvent machines such as record players and other old equipment into new tools as a way of harnessing creativity and enhancing interest in science through learning about adaptive reuse. Says Walvig, "Adolescents, as they develop their social selves, want to save the world. You're finally thinking you have some power in the world, and you want to use it. Today, kids are so much more informed that they're truly speaking to issues in a knowledgeable way."
The Cloud Institute for Sustainability Education -- which has helped develop curricula for, among other clients, the New York City Department of Education, the National Association of Independent Schools, and the U.S. Environmental Protection Agency -- offers an online game that's simpler than PowerUp: A player goes fishing over ten virtual days, using a simple graphic to point and click fish into his or her boat. The money earned from selling those fish supports the player's fictional family. But there are two other people fishing, and they always catch the same number of fish as the player. What unfolds is a vivid lesson in overfishing.
Jaimie Cloud, founder and president of the Cloud Institute, sees no reason why sustainability education can't continue to thrive in classrooms across the country. "The perceived obstacles are that education for sustainability might take away from the standards-based curriculum or that if it is not on the test, there is no time for it," she says. "These beliefs are simply not true. Educating for sustainability can enrich and make relevant learning that addresses those standards. It will increase students' critical thinking, systems thinking, and lateral thinking, and it will give them hope and a sense of place and purpose."
Brian Libby is a freelance writer living in Portland, Oregon. He has written for the New York Times, the Oregonian, and Salon, and he is the author of Tales from the Oregon Ducks Sideline.