Social & Emotional Learning (SEL)
Education, Off-Broadway: One Teacher, One Stage, One Big Message
Nilaja Sun's hit play No Child . . . brings the urban classroom to the stage — and leaves the old clichés behind.
The setting: the tough, crumbling Malcolm X High School, in the Bronx. The scene: a young teaching artist tries to get a class of tenth graders to perform a play. It's called Our Country's Good, and it's about convicts in eighteenth-century Australia who put on a play, she says. The playwright is Timberlake Wertenbaker.
"Yo," a student pipes up, "Justin Timberlake done wrote himself a play."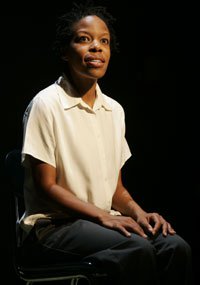 Credit: Carol Rosegg
Well, no, he didn't. But actress and teacher artist Nilaja Sun did, and it's become an improbable hit in New York. Called No Child . . . and set at the fictitious Malcolm X, the poignant, sometimes angry, funny solo show takes an unflinching look at the public school system and the transformative power of the arts. Sun, who has worked as a teaching artist in some of the worst schools in the city, inhabits seventeen characters easily recognizable to anyone who's spent time lately in an inner city school.
There's the hard-boiled principal, the nasty security guard, the janitor who has seen it all, and the idealistic teacher who won't survive the semester. There's the teaching artist, Miss Sun, and her roomful of teens. They're juiced on Red Bull and plagued by the self-sabotaging certainty that her play will end the way things always do in school, on the street, and at home: in failure.
No Child . . . succeeds because of Nilaja Sun's talents as a writer, storyteller, and comic performer. She nails each character and zips from one to the next as quickly and seamlessly as a shape-shifter; they require no props or costume changes, just a jut of the chin, a slouch, an index finger coquettishly twirling some hair. A scene will have a dozen kids yelling, shoving, and jiving while the homeroom teacher beseeches them to shush and Miss Sun expounds on drama. "From now on we are nothing but thespians," Miss Sun intones, provoking giggles and lesbian jokes. "Thespian!" she insists. "It means actor, citizen, lover of all things great."
Sun, who grew up listening to Robin Williams and George Carlin, says she initially intended to write a serious political play about public education. She changed course, she says, because great theater, whether you're teaching it or performing it, is more than pedagogy or a point of view. "I thought, 'Man, I want people to have fun,'" she adds.
Still, in just seventy-five minutes on a bare stage, Sun penetrates the day-to-day chaos and despair of impoverished schools: buildings in shameful disrepair, administrators who recruit naive do-gooders to the teaching pool and let them drown, kids who have never received respect and consequently don't know how to give it. "Pork-fried rice!" they heckle an Asian teacher who gave up a Wall Street job to try to make a difference in young lives. "Dumb in a can" they call a Dominican classmate.
Sun also addresses the Bush administration's solution for this hellhole: the No Child Left Behind Act, which inspired her show's name. This play, she suggests, may rank as one of the happier outcomes of the law, which emphasizes reading and math skills and penalizes struggling schools that don't meet federal standards of accountability. "Accountability," sighs the janitor, gazing wearily at a hole in the ceiling. "Now, who's accountable for that?"
Sun doesn't offer facile answers to his plea or to the larger question of how to fix a mess such as Malcolm X. "I know a million other people who can answer questions like that so much better than me," she says. "My goal and my job with this show are to show the humanity of the kids." But clearly she finds hope in the arts. The show is, after all, a play (The Recruiting Officer) within a play (Our Country's Good) within a play (No Child . . . . . .). Sun shows us what happens to the soul and the spirit (if not the test scores) of failing students who put on a play about Australian convicts who themselves find salvation by performing a play about British military conscripts.
Sun's story isn't half as convoluted as the description you just read, and the irony isn't ponderous -- it's a laugh line. The Miss Sun on stage practically whacks her head with chagrin at the realization that she has cast "a group of delinquents" as inmates. Nevertheless, No Child . . . creates an echo chamber on a theme: the power of theater to redeem people society has given up on and, yes, to humanize them in the eyes and hearts of the rest of us.
"Nilaja really tells the truth," says Eric Booth, a former Broadway actor on the faculty at the Julliard School and the founding editor of the Teaching Artist Journal. "This is not a romance. It's not To Sir with Love. It's a story of a passionate, somewhat skilled, very earnest agent of change who encounters a completely dysfunctional world and tries to transform individuals. It's not about a miracle. There is no miracle. But there is change.
"This is not every classroom in America, but this is the tough one," he adds. "And that's the acid test for a teaching artist. Is your art spirit strong enough to go into this really dark place humans have created and see if the arts can bring a little light?"
A Woman of Many Talents
Sun grew up on the Lower East Side and attended Catholic schools near Greenwich Village's Barrow Street Theatre, where she now performs. She is half Puerto Rican and half black, and her stepfather is Italian American. "Most of the kids I teach are raised by women who look just like me," she says. She has short, gravity-defying curls, an impossibly wide smile, a huskier voice than her onstage doppelgänger and a harder edge. "Miss Sun is a little less competent, slightly less awake," says Ron Russell, a founding producer of the Epic Theatre Ensemble, the nonprofit company that commissioned the show. "Nilaja would never walk in and be put off by student behavior."
"I do come on very strict in the first few classes," Sun says. "I want every single kid to feel like they have the freedom and safety to create. And I do not believe that kids have that freedom and safety if teachers are not in control of the classroom."
She enjoyed performing as a child but didn't get serious about acting until age twenty. In 2001, she started working with the newly formed Epic Theatre Ensemble, which produces plays by socially conscious writers and runs intensive drama programs in about a dozen schools a year -- all in an effort to encourage new voices, demonstrate the central role of the arts in a healthy democracy, and inspire civic engagement.
After Epic commissioned the play with support from the New York State Council on the Arts, Sun spent six weeks each at the Bronx High School for Communication and Writing Arts and Martin Luther King High School, on Manhattan's Upper West Side, getting students to read and perform Antigone and incorporate their own words into the classical text. She wrote No Child . . . in a thirty-six-hour burst. The show opened in May to glowing reviews and a sold-out, five-week run on Midtown's Theater Row, after which it moved downtown.
Sun acts in six public performances a week. In October, she added student matinees to the lineup. The kids clap and pound so loud "it feels like the theater is going to collapse,'' she says. She also continues to work in schools. Frequently after a performance, teachers will corner Sun in the lobby. Some complain bitterly that they hate their jobs, she says. Others say they've quit, and feel compelled to tell her why. A few say that watching her has made them think about returning to the profession.
But most of the teachers who have laughed through the show, clapped at the in-jokes, and misted up at the end will go to work in the morning to face scenes like the ones onstage. They approach Sun with gratitude, almost reverence. Not because No Child . . . will make their jobs easier or because it revealed anything they didn't know. It has simply, and remarkably, made them visible. Before Sun leaves the theater and hops the subway for home, she often hears this: "Thank you so much for shining the light on what we have to go through."
No Child . . . continues its open-ended run at the Barrow Street Theatre, 27 Barrow Street, New York. Tickets can be purchased online through Telecharge or at 212/239-6200 (and outside the New York metropolitan area at 800-432-7250) for $50-$55.
Fran Smith is a contributing editor for Edutopia.