Professional Learning
Editor's Note: Happy Anniversary, Edutopia
Positive changes abound as we celebrate the magazine's second year.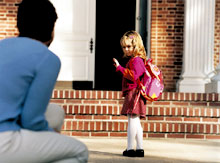 Credit: Getty Images
A magazine, like a child or a school year, is a continual work in progress. It readjusts as it matures, each evolution a subtle refinement of the last. Throughout the process, a core set of values remains, just as the young adult is inextricably linked to the newborn, or the last day of school is to the first.
On this, the second anniversary of the launch of Edutopia, we're doing a little evolving ourselves. You'll see the beginning of those changes in this issue.
Though the mission of the magazine remains grounded in the continual quest for innovative approaches to education, we've made some changes we feel better serve the depth of our readers' emotional and intellectual interests. Teaching, after all, is one of the few professions in which the whole sentient being is required. Many of the best educators regularly bring tales of personal experience and pursuits to the classroom, and we want to address the full person who also exists outside of the 8-3 school day.
As a result, we're adding a number of new lifestyle components to the publication, including sections on health, science, food, culture, and travel. It's critical that when we think "lifestyle," we do not equate this concept with fluff or throwaway content. This is not about simply adding articles about flip-flops or trips to Peru. It is about addressing the components that make up our readers' interests (which, in fact, may include the occasional article about flip-flops or trips to Peru). We will be as selective and as thoughtful with these choices as we are with those we make for existing sections, providing stories that are useful and/or entertaining to people for whom education is a priority.
These changes are the latest step in a long journey for The George Lucas Educational Foundation, which is now celebrating its 15th anniversary. Earlier this year, for instance, we introduced a revamped Web site, featuring new interactive features that come more alive when you contribute. We've added blogs, as well as a regular poll, and a new series of weekly e-newsletters addressing topics such as technology integration and project learning. So far, the feedback has been tremendous; Web site traffic has doubled in a year.
Just as we celebrate a new beginning, we also note a passing. This issue marks the appearance of the last of the 10 Big Ideas essays, which we began a year ago. The ideas, first introduced in toto in September 2005, are at the core of the Foundation's strategy for better schools.
We hope you enjoy our new features. Tell us what you think.
Welcome back.
Editor in Chief
James Daly