Social & Emotional Learning (SEL)
Tomorrowland Today
Be inquisitive today to keep the door open to tomorrow's possibilities.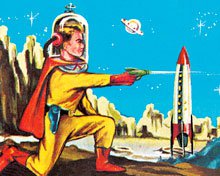 Credit: Veer
The young folks entering kindergarten over the next few weeks are a fascinating group. Born at the dawn of the twenty-first century, they will retire -- if they retire at all -- in 2073. Many could live into the twenty-second century. It's hard to imagine what the world will be like in 2013, let alone 2073 or beyond. No doubt their journey will be unlike anything we've ever dreamed about, filled with inventions and possibilities beyond our most creative fantasies.
I was reminded of this a few days before the school year ended this past June, when my nine-year-old son came to me in a funk. Earlier that day, his teacher had been free thinking with some other students and asked them what they wanted to be when they grew up. One kid said he wanted to be an architect; another, a pilot. My son, however, said he didn't know. He felt bewildered, even a little nervous.
"What do you want to be when you grow up?" remains one of the most enchanting and daunting questions of childhood. But in an age of endless possibility, it's no longer such an easy question to answer. When I was young, my friends and I would confidently predict our future jobs: fireman, pilot, policeman, cowboy, lion tamer. Never did we consider search engine optimization as a career choice.
So, here's what I told my son: The career you choose may, in fact, not even have been created yet. Instead, learn to be inquisitive and enthusiastic. Seek out new ideas. Debate. Suggest. Imagine. Challenge what others have told you. Follow what you love -- and, if you're lucky, you'll love what you follow.
Those are important goals for the upcoming school year, as well. In an age of accountability, we must keep the door open to possibility, both for our students and for ourselves. The beginning of an academic year is not only a chance to connect with a new class of students but also a chance for you -- the educator, the backbone of our public education system -- to grow in the job, show leadership, and speak up about your school's and district's direction. Also, it's a great time to learn from the best of your peers -- many of whom have joined us online at Edutopia.org, where they provide the percolating heart and soul of our online community.
In nearly every field, workers are encouraged to become more inventive and inquisitive. That is true of the best educational settings as well. This year, make a commitment to try something new. For one day each week, perhaps, maybe it won't be business as usual. Ditch your lesson plan. Turn the tables and let a student run the class. Flex your brain.
We are often so focused on the end goal -- hitting our test numbers, making sure attendance is up -- that we forget the rewards of the journey. We at Edutopia would like to keep you recharged and refreshed with new ideas and intriguing perspectives, so you don't feel like you're nodding off on the assembly line of public education. In this, our annual "What's Next" issue, we hope to help you rediscover the love of teaching that attracted you to this profession in the first place -- and help you be as inquisitive as the students you teach.
Welcome back. And hang on.
James Daly
Editor in Chief