Social & Emotional Learning (SEL)
Editor's Note: The Multifaceted Role of a Teacher
Teaching often includes a little bit of parenting.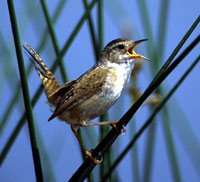 Credit: John Conrad/Corbis
Not long ago, I heard a radio interview with an ornithologist that contained a fascinating bit of information. It appears that some birds are hardwired with their calls, while others combine innate and learned singing. Songbirds, in particular, are learners, and because male songbirds do the singing, a young bird might be expected to obtain voice lessons from his father. Among a certain subspecies of wren, however, researchers found that young birds reject Dad's song patterns and instead take their vocalizing cues from other wrens in the neighborhood.
Anyone who has raised or is raising children will find something familiar about this tidbit. Sometime during the tempestuous twos, kids begin to put parental lessons on a par with, say, downing a plate of broccoli. In fact, on hearing about those refusenik wrens, I immediately thought of my own children, who seemed to prefer learning anything from anyone, as long as it wasn't me. And I remembered myself at about age twelve, absolutely sure there was very little my parents could teach me.
This phenomenon might be called anti-homeschooling, and is surely as old as the human family. Which is why, during the Middle Ages and the Renaissance, well-to-do families sent their adolescent sons and daughters off to learn proper behavior and the ways of the world from distant uncles and aunts, or family friends and associates. (Nowadays, we're more likely to let them park themselves in front of Grand Theft Auto.) If kids, like young wrens, don't want to learn from their parents, they'll find someone else to listen to.
Enter overworked, often underappreciated teachers, who, two months deep into the school year, are realizing for the first or the fifteenth time that they must often serve in loco parentis -- the modern equivalent of the medieval knight charged with instructing someone else's child in the rules of proper behavior (and swordfighting technique, of course). With too many kids in each class, and too many classes, too little time, and too many tests, the heavy lifting of being a surrogate parent can be an unwelcome task and one for which no pay is enough (especially not a teacher's salary).
Naturally, there are stubborn students who don't want to learn from their teachers any more than they want to learn from their parents. But others genuinely need from a teacher what a young squire needed from his knighted uncle -- or, to get back to the original analogy, what the young wren needs from birds in distant trees. The burden of being a parent substitute adds yet more weight to an already burdensome workload. Who needs the additional emotional stress? But if teachers don't assume the role of mentor and guide, students will find someone who will. And perhaps it will be someone very unsuited to the job.
Executive Editor
Owen Edwards