Professional Learning
New York Children Take a Google Lit Trip
An online tool lets kids travel virtually on a historical train ride.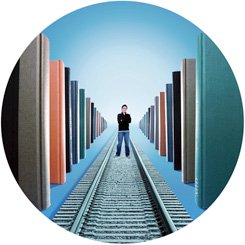 Credit: Thomas Reis
As a first-year library-media specialist completing a master's degree in educational technology, Anne Brusca is eager to share tech tools and resources with her colleagues. She's most successful at introducing new approaches when she can find a way to build on what busy teachers are doing already.
At Center Street Elementary School, in Williston Park, New York, Brusca teaches a library-research class for fourth and fifth graders. From talking with a fifth-grade teacher, she learned that students would be reading The Family Apart. It tells the story of the Orphan Train, which relocated homeless and abandoned children during the mid-19th century.
Brusca first thought about developing a traditional WebQuest around the narrative. Then an instructor in her master's program told her about Google Lit Trips, an online project that combines the satellite imagery of Google Earth with the instructional goals of literature study. "I was intrigued," Brusca admits.
Following the directions at the Google Lit Trips Web site, Brusca created a new lit trip for The Family Apart. She marked the path of the Orphan Train with a series of Google Earth "placemarks." Each one provides additional information, such as historical photographs, and poses a question for further student research.
In the school library, Brusca watched students virtually navigate the same journey the characters took aboard the Orphan Train. "I've never seen them so intent," she says. "This got them to deeper learning." The fifth-grade teacher had students create a newspaper to document the journey, which gave them another way to apply what they were learning.
Brusca's principal, impressed with the results, asked her to present Google Lit Trips at a bring-your-own-breakfast session for staff. But the best response to the project came from the fifth graders themselves: The last placemark in Brusca's lit trip is a photo of a local soup kitchen on Long Island. Brusca asked students to compare what is being done today for homeless children with what was done in the Orphan Train era. One class was so moved that students suggested doing a schoolwide service project to help the soup kitchen.
"I have to say that I was surprised by their enthusiasm -- and that of their teacher -- to get involved," Brusca adds. "I had thought of the questions I posed as rhetorical in nature. I didn't expect they would go the extra mile."
Suzie Boss is coauthor of Reinventing Project-Based Learning: Your Field Guide to Real-World Projects in the Digital Age. She also blogs for Edutopia.org.
This article is the second of four that describe how schools integrate technology without spending a lot of money. Next, read how a California school uses low-cost classroom tech tools.