Social & Emotional Learning (SEL)
Dropout Diplomacy: A Boston Initiative Reaches Out to Truants
The scramble to get kids to return to high school is on.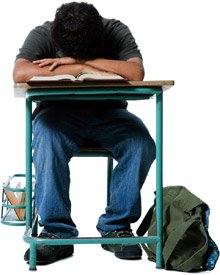 Getty Images
It's public education's dirty little secret: Three out of ten students who start high school don't finish it four years later. Among African American and Hispanic teens, on-time graduation rates can be less than 50 percent.
That's why a growing number of groups are rallying to not only prevent high schoolers from leaving but also convince those who have fled to return to the classroom.
In New England, the Boston Private Industry Council is partnering with the city's public school system on the Boston Youth Transitions Project, which is designed to track down high school dropouts and convince them to return. Point men on the project are outreach specialists Marvin Moore and Emmanuel Allen, self-described "street researchers." Both are former dropouts who later returned to finish their education, and both are blunt and realistic with dropouts about the limited economic opportunities for those without a complete education.
"We ask them what they want out of life," Moore says of their initial conversations with the dropouts. "We do not even discuss school."
The economic and social consequences of not completing high school have intensified, and Boston is particularly tough on people with no diploma. A high concentration of jobs in that region require college degrees, and newly arrived immigrants compete for the lower-paying positions. Today, dropouts are much more likely to be unemployed. For those who manage to get a job, though, the pay is low, advancement is limited, and health insurance is seldom available.
Students give many reasons for leaving school -- their classes are not interesting, they're failing, they're not motivated -- but the reasons for dropping out are not always academic. "I dropped out to work," Allen recalls. "I said, 'What is the use of school if there is nothing to eat at home?'"
"They aren't always slackers," Moore adds. "It could be a mother with two kids. We define a dropout simply as someone who is not in school."
Primarily, though, kids leave school for scholastic reasons. In one survey of dropouts completed for the Bill & Melinda Gates Foundation, nearly half of all high school dropouts said their classes were uninteresting. Almost 70 percent reported that they had not felt motivated to work hard. One-third said they had been "failing."
That's a huge motivational problem being addressed by Robert Balfanz, a research scientist at Johns Hopkins University. Balfanz helps run the Baltimore Talent Development Secondary School Project, which has helped transform ninety high schools and middle schools around the country, making the atmosphere and curricula more attractive and creating a more productive learning environment. Their primary goals: Keep kids in school, and raise student achievement.
"We concentrate on making school more personalized," Balfanz says. The key to retention, he adds, is a more supportive, participatory, and interactive educational environment. He describes the best school environment as one that is "calm, quiet, and purposeful."
But when students do leave, Moore and Allen are eager to convince them to return and close the gap between aspiration and attainment. In the past year, in collaboration with the Boston Public Schools, Moore and Allen have contacted 1,600 dropouts to begin the tough work of convincing them to return. It was hard from the outset. In many cases, the contact information the school retained is no longer valid. Ultimately, they were able to hook up with only 141 of the former students, and, of those, 81 reenrolled.
Moore and Allen are strong advocates of the former students returning for a high school diploma, as opposed to simply going for a General Educational Development, or GED, certificate. A high school diploma, they say, remains the gold standard for jobs that do not require a college degree.
The pair also arrange other forms of outreach -- partnering with social service and mental-health organizations to assist returning students. Moore and Allen have the option of guiding kids to smaller diploma-granting schools such as the Boston Adult Technical Academy.
Reentering school is just the start of a new beginning. A nineteen-year-old among fifteen-year-olds might decide he or she does not fit, or the factors that prompted a student to drop out may still be obstacles. "Some talk a good game," says Moore. "But, ultimately, the student has to buy in."