Social & Emotional Learning (SEL)
A Dropout No More: One Woman's Remarkable Comeback
A teenage Kimi Kean felt no connection with school. Now she runs one.
Picture this: A fifteen-year-old girl attending an overcrowded high school in a big city is struggling to stay focused. School seems dull, irrelevant, and, most of all, uncaring. No one seems to notice whether she's there or not, whether she understands the material, or whether things are unstable at home. While her overworked teachers and distracted administrators put out bigger fires, she silently disappears -- another high school dropout.
Kimi Kean, principal of ACORN Woodland Elementary School, in Oakland, California, understands this situation very well -- and not only because she can empathize. It was her experience, too.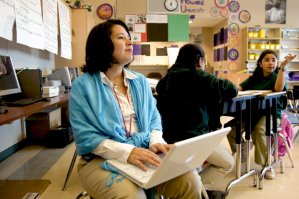 Photo Credit: Olivier Laude
"I completely fell through the cracks," she says of her sophomore year, when she dropped out. "I didn't feel like anyone knew me, like I had a connection to anyone." With little more than a single counselor per grade level, Kean adds, "it's not like you have someone to check in with who can make sure you're OK."
Kean's story is not uncommon, but her 180-degree comeback from dropout to leader of one of the state's five highest-improving schools is: ACORN Woodland scored an astonishing increase of 120 Academic Performance Index points in one year and nearly 300 in five.
Her remarkable turnaround began when she earned a high-school-equivalency diploma a year after dropping out and moved on to college. While attending the University of California at Berkeley, Kean got involved in the East Bay Asian Youth Center and cofounded REACH!, both nonprofit organizations that provide academic support to at-risk youth, and in 2004 she won a spot in New Leaders for New Schools, a training fellowship for educators primed to be principals in low-income urban districts.
"I felt like I could understand when kids weren't feeling good about themselves or about school," Kean explains. "I know firsthand how that can have such dramatic consequences for their education."
Now Kean uses that understanding to make big strides. She knows every one of her 300 students and every family by name, and she says, "Each kid needs to know that there's someone at school who cares about them."
Sara Bernard is a former staff writer and multimedia producer for Edutopia.