Project-Based Learning (PBL)
Down & Dirty: Getting a Handle on Mother Nature
From planting seeds to recycling cafeteria leftovers, students learn the cycle of life in gardens.
With the first hint of spring in the air, it's time to break out the rakes and hoes and do what kids really want: play in the dirt. Increasingly, schools have their own gardens, where students learn such key skills as mulching (laying materials such as straw on soil to protect it) and vermicomposting (using worms to convert waste to fertilizer). Their handiwork results in fresh edibles and vibrant flowers, showing them they can make an impact in the world.
Credit: Hugh D'Andrade
Gardening in the Past
Last June, kids at Paul Ecke Central School, in Encinitas, California, burst into class with armfuls of cauliflower, beans, and peas. The harvest signified the celebration of abundance and harmony with the earth -- practices of the Kumeyaay, the Native American culture of the San Diego region running south into Mexico.
The school's Friendship Garden is a fun way to bring California history lessons to life, says Julie Hinze, leader of the project. Kids dress in historical costumes and make lemonade, salsa -- with fresh cilantro and tomatoes -- and other goodies.
From its artichokes, perfect for sketching, to 12-foot sunflowers, the garden is a display of the students' passion for its growth -- and their own roots.
Credit: Hugh D'Andrade
Elementary Genetics
Luther Burbank, potato whiz and father of hundreds of plant species, conducted much of his research in northern California's Sonoma County, so it's no surprise that schools in this region stay current on the latest developments in agribusiness.
Last fall, local voters passed the GE-Free Sonoma County initiative, which places a ten-year ban on genetic engineering of crops and livestock. Before the election, sixth graders at Valley Vista Elementary School, in Petaluma, kept up with news about the measure and participated in projects on genetic engineering and natural selection and grafted antique varietal apple trees.
Behind their school lies a 5,000-square-foot sprouting ground that doubles as a place for dancing, crafting, and celebrating the change of seasons. Surplus food is donated to a homeless shelter. They also set up a free salad bar each Tuesday, where "students wait in line for veggies," says coordinator Vanessa Passarelli. Imagine.
Credit: Hugh D'Andrade
From Graph to Garden
A garden symbolizes the cycle of life, from the drop of a seed to the death of a plant. With the passing of a student in 2000 at Mary A. Wilson Elementary School, in Punxsutawney, Pennsylvania, classmates were faced with the challenge of understanding death. A living project such as a garden helps channel painful emotions into a positive force, says Joseph Kisiday, the school's reading specialist.
Math was essential in designing the garden. Fulfilling graphing and measurement lessons, the fifth graders, with the help of Kisiday and math teacher Diann Monoskey, applied the concept of scale to graph their proposed designs. From the pool of cool diagrams, the students agreed on a model, discussing ideas and problems in design and art, such as how straight lines, ubiquitous in human artifacts, are less common in nature.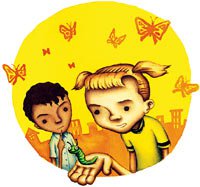 Credit: Hugh D'Andrade
Lunchbox Leftovers Become a Worm's Buffet
Reading about metamorphosis is tedious -- and spelling the word can be disastrous. Instead, science students at Hollywood Elementary School, in Stevensville, Michigan, go outside into a 19,000-square-foot garden to crawl around in the dirt and see how nature changes over time. They recognize that plants and bugs cohabitate and mature over the seasons, and that ants crawling on peony buds help open them.
Back in class, students have set up worm bins and compost buckets, whose contents -- half-eaten lunch sandwiches and old jack-o'-lanterns among them -- are redistributed into the soil after breaking down. Says coordinator Mary Anne Anselmino, "The children have established relationships with many nonhuman beings that share their garden." Just don't invite the worms over for a playdate.
Get Started