Social & Emotional Learning (SEL)
Wish List: Donated School Supplies Are Just a Click Away
The dos and don'ts of requesting supplies at DonorsChoose.org.
It's Covered: Doreen Weiss reads to her students on their donated rug.
The hardwood floor in Doreen Weiss's second-grade class was lovely to look at but uncomfortable to sit on during reading time, so Weiss covered part of it with a colorful rug decorated with a world map -- one paid for not by the school, nor by Weiss herself, but by an anonymous donor through the Web site DonorsChoose.org. "My students loved it. And they still love it. They like to sit on certain continents," Weiss notes with a laugh.
If you could use some help providing supplies or experiences for your class, you're not alone. Since 2000, more than 42,000 school projects have received funding through DonorsChoose.org, which now serves public schools in all fifty states. Donors (the site calls them citizen philanthropists) range from charitable organizations to Fortune 500 companies, but the majority of benefactors are simply individuals looking to make a difference. So far, donors have given more than $18 million to fund projects for schools in need. Yours could be next.
How It Works
To submit a proposal, you'll have to write an essay explaining which items you want and how they'll benefit your class. (Teachers have requested everything from multimedia projectors to art supplies to lab safety aprons.) Potential donors browse through thousands of proposals and may choose to contribute to, or fully pay for, the projects that interest them the most. If your project gets funded, DonorsChoose.org will purchase the items and mail them to you along with a feedback package you complete to thank your donors.
Increasing the Odds
How can you improve the chances of your proposal getting funded? Here are some helpful dos:
Do submit an essay that paints a picture of who your students are and how they will benefit by receiving your requested items.
Do give your proposal a catchy title. For example, the title "What a Knock Out!" (an actual project name) is more eye catching than, say, "Martial Arts Class Needs Free-Standing Heavy Bag."
Do try to keep the cost low. Most requests that cost less than $400 are funded within three months. If possible, consider breaking up an expensive project into multiple requests.
Do have colleagues proofread your essay, recommends Steven Slaughter, a fifth-grade teacher at Chicago's Abraham Lincoln Elementary School. Slaughter has had two projects funded through DonorsChoose.org: a rotating bookshelf filled with books, and supplies for an organic garden. "It's important to write well," he advises, but he adds that, compared to a grant proposal, the DonorsChoose.org essay is easy. Another plus is that unlike in the case of most grant-making organizations, DonorsChoose.org doesn't have specific cost or subject-matter requirements, which allows for much more flexibility in the type of items you can request. And, rather than cutting you a check, DonorsChoose.org actually purchases your items and ships them right to you.
Do mention if you have many students at a high level of poverty. Some donors prefer to give to schools where the need is greatest, whatever the project may be.
Do consider letting friends, family, and students' parents know you've submitted a request. All donations are anonymous, and the funds could start pouring in if you're comfortable spreading the word.
Do be patient. Proposals are kept on the site for a maximum of eight months, and it may take that long to get funded. Proposals not fully funded by their expiration date are removed from the site.
And, of course, here are some don'ts:
Don't be late returning your feedback package. Donor appreciation is a vital aspect of the program's success.
Don't be late returning emails from DonorsChoose.org. Again, a prompt response is key.
Don't get bogged down in academic terms. "Use layperson's language, not education lingo," suggests Linda Erlinger, the organization's vice president of teacher engagement.
Giving Back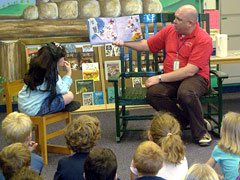 Credit: Barbara Ungar
Contributing Colleague: Teacher Kevan Truman enjoys funding other teachers' projects.
Teachers aren't just on the receiving end of DonorsChoose.org. Kevan Truman, a third-grade teacher at Central School, in Wilmette, Illinois, has donated funds to several projects on the site over the past two years. Would he ever request materials for his own class? The answer is no. "I am blessed with so much," he explains, noting the affluence of his school district.
For those who could use some assistance, DonorsChoose.org is a great resource -- so good, in fact, that some teachers are initially skeptical. "Teachers often tell us that this seems too good to be true, but it isn't," says DonorsChoose.org's Linda Erlinger. "It works."
Sara Ring is a contributing writer for Edutopia. She lives in Los Angeles.
Crafting a Proposal: The Art of Requesting Art Supplies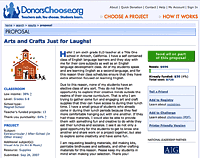 Credit: DonorsChoose.org
Arts and Crafts Just for Laughs!
This proposal for art supplies, called "Arts and Crafts Just for Laughs," was selected as an A+ idea by DonorsChoose.org:
Hello! I am a sixth-grade ELD teacher at a Title 1 school in Antioch, California. I have a self-contained class of English-language learners, and they stay with me for their core subjects as well as an English-language development class. All of my students speak and are learning English as a second language, and for this reason, their class schedules ensure that they focus extra attention on learning English.
Because of this, none of my students have an elective class of any sort. They do not have the opportunity to explore their creative minds outside the realms of their course curriculum. That is why I am trying to gather some fun and engaging arts and crafts supplies they can have access to during their lunchtime.
I have a small group of students who already come in during their lunch periods because they feel more comfortable hanging out with one another. If they had these materials, I would also be able to provide them with something fun and creative to do while they eat their lunches and socialize. I see it as a good opportunity for the students to not only get to know one another and share work on a project together but also to explore some creativity and have some fun.
I am requesting beading materials, doll-making kits, paintable birdhouses and sailboats, and other craft materials for this reason. Please keep my students in mind when making your selection. Thank you!
My project calls for fourteen arts and crafts supplies. The cost of this proposal is $726, which includes shipping for any materials requested, and fulfillment.
Classroom
Low income: 38%
Level: Grades 6-8
School type: Magnet school
Teacher's funded projects: 13
Thank-you punctuality: 64%
Project
Subject: Extracurricular/After-School (in Other Areas)
Additional subject(s): Visual Arts (in Art & Music)
Resource: Supplies
Submitted: Sep 24, 2007
Expires: May 17, 2008
Project ID: 110185
Students impacted: 20
Instructional hours (est.): 100
Used by future students? No
Project-cost report (PDF)
School
Park Middle School
Antioch, California 94509-4882
County: Contra Costa
School district: Antioch Unified School District