Administration & Leadership
What is Great Leadership?
June 12, 2015
Updated June 9, 2015
Truly great leaders are hard to come by and hard to forget. In her recent post, Elena Aguilar describes her definition of a great leader. She highlights three important qualities:
"A visionary leader is clear about what he or she believes and knows is best for children--for their academic, social, and emotional learning."
"A community builder knows that he cannot implement the school's vision alone. You'll know if you're entering a healthy community by the way you are greeted as you arrive on campus--by security guards, office staff, children and parents."
3. Emotional Intelligence
"An emotionally intelligent leader is usually calm and grounded, empathetic, and is able to deal with conflict between people. Another important quality of an emotionally intelligent leader is the ability to take care of herself--to manage her stress, health, relationships, and so on."
When Edutopia asked its community how they define leadership, the responses were wide ranging, but I found that some words stuck out: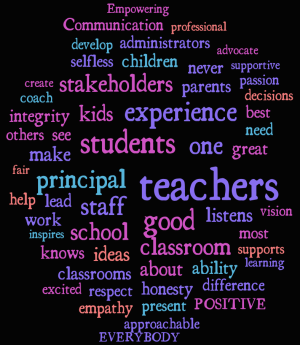 Some of these words didn't surprise me, like teachers, positive, and communcation. 
Some words jumped out at me, like integrity, supports, and students. 
And some words inspired me and changed the way I see leadership: empathy, selfless, and everybody.
A few insightful responses:
"A school leader should have their pulse on the heart of the school. He/she must be able to recognize, motivate, and inspire teachers to do their very best in order to get the very best from their students. When you have teachers excited about teaching, you have students excited about learning." - Adrianne R. via Facebook.
"Not to sound like I am speaking in epithets, but EVERY member of a school community is a leader. Everyone from the youngest student through the site team, youngest teachers, oldest teachers, administrative team and senior heads has the opportunity to lead and great heads will enable the best ideas to happen. The 'feel' of the school is most certainly not created by the head or principal by the way, but rather in how they allow the community to develop." - Faggend via Twitter.
"The ability to communicate well with staff, students and parents. The ability to deal with issues presented by parents, students, staff. The ability to treat everyone equitably and without prejudice. Making sound decisions that lead a school in the right direction." - Kim Axtell via Facebook.
This piece was originally submitted to our community forums by a reader. Due to audience interest, we've preserved it. The opinions expressed here are the writer's own.