Technology Integration
Three Great Ways for Teachers to Get Their Students to Blog
June 2, 2016
Updated May 28, 2016
I am a San Marino (CA) High School social studies teacher who has taken to heart something that Edutopia facilitator (and Kenilworth Junior High School teacher) Laura Bradley said earlier this year.
"If your students are writing" she said, "I challenge you to move that writing to blogs. And if your students aren't writing, blogging is one way to change that."
Laura added that "when students move their work from paper to blogs, they:
publish their writing to a bigger (and more significant) audience;
can easily access and read their peers' writing;
can engage in online conversations in response to their peers' writing;
learn to work online for academic purposes;
learn a variety of digital skills within a meaningful project."
With that in mind, I went to work. By year's end, I had formulated the following recommended approaches for teachers aiming to get their students blogging:
1. Create a blog that first requires students to play a learning game (preferably digital) and then have students post their results to the blog. Have students address a number of questions related to the game's subject matter. Example: The iCivics Blog: http://icivicsandusgov.blogspot.com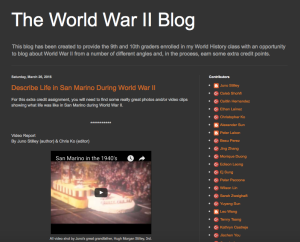 2. Create a blog that is named after some event in history and then have students blog about that event from many different angles. Example: The World War II Blog: http://worldhistoryec.blogspot.com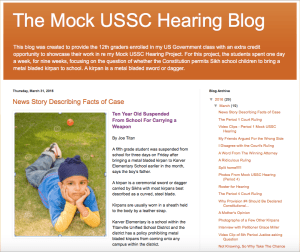 Image Credit: Peter Paccone
3. Create a blog that first requires students to engage in some kind of simulation and/or PBL and then have students (1) showcase their engagement and (2) describe any/all thoughts the students had related to the simulation and/or PBL. Example: The Mock USSC Hearing Blog: http://mockussc2016.blogspot.com
For each blog, a team of student editors was created to assure quality and consistency.
The above approaches were designed to provide students with an interesting, informative, and engaging extra credit learning opportunity, but there's no reason that they couldn't be used as primary learning activities or extensions.
I should add that I define the word "blog" as a regularly updated website or web page, typically run by an individual or small group, that consists of discrete entries (posts). I define the word "blog post" as a piece of writing or other item of content (image, video clip, iMovie, sound clip, etc.) that is intended for and otherwise appears on a blog.
Given these definitions, I believe the true beauty of a blog isn't just that it provides students with an opportunity to write, but that it also provides students with an opportunity to demonstrate proficiency when it comes to a whole host of other 21st Century skills, including collaboration, creativity, tech and media, research, public speaking, and publishing, among others.
This piece was originally submitted to our community forums by a reader. Due to audience interest, we've preserved it. The opinions expressed here are the writer's own.