New Teachers
There's No Such Thing as "Just a Teacher"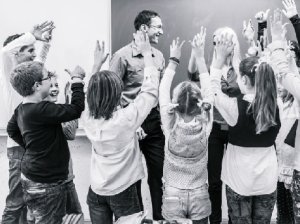 I have been an educator for almost thirty years, which means I have seen new teachers come and go. Some were never meant to be teachers. Teaching, to them, was supposed to be a cushy job with hours from 8-3 and weekends and summers off. Hello!? I am thankful that it didn't take these people twenty, ten, or even five years to figure out that teaching was not their calling.
THEN, in walks a new teacher! S/he is the real deal and brings an aura, a presence, a passion, a willingness, a direction, and a drive to reach and teach. The first three to five years will make or break this great educator.
It is our responsibility as the lions to help the cubs to mature and become masters! We can help to acclimate them, help them grow, be available when they stumble, encourage and support them, and share our valuable experiences and strategies with them--the positives more than the negatives, please and thank you.
We can champion them to their calling by acknowledging effort and offering words that soothe their souls after a long, tiring, seemingly unappreciated day. When the feeling of insecurity (as a new teacher) about whether or not they did all they could do weighs on their hearts. 
Though student teaching does help, it is not enough. The first-year teacher is hired for a specific position, given his/her own classroom (yay!), and overwhelmed with curriculum and "other assigned duties." They are asked to write lengthy lesson plans for every subject taught each day of the week, to keep student grades updated (which absolutely needs to be done), to sponsor clubs or organizations or classes, to contact parents and explain the reasons for little Johnny's failing class (which terrifies a new teacher), to go to meetings and conferences, to give state and district mandated tests! tests! tests! (so they can fret about their upcoming evaluation--no stress there), and attend an immense amount of professional development on top of it all. 
Lions & Tigers & Bears---for sure! It can be a zoo unless zookeepers show up to teach the teachers about teaching. 
Let us roll up our sleeves and support and encourage these new teachers.
Let us be a path of light when the alley looks long, dim, and dark.
Let us invigorate them when the days are long and tiring. 
Let us share simple but effective tools, so as not to overwhelm the newbies anymore than necessary.
Let us remember that once we were first-year teachers.
Let us let give them space to teach with innovative ideas, with vigor and passion.
Let us guide them and teach them survival skills with the rigor a lioness teaches her cubs because she realizes that one day they will be on their own, without her.
If they fall and scratch their knees, so be it. They will walk again. We all learn from our failures, and they will learn skills they need to survive--skills not found in any textbook or on the internet--skills that only experience can offer.
Help them to remember the successes too--they are so very sweet. 
To those novice teachers:
Welcome to the Wonderful World of Teaching! There is no more rewarding profession. Our value is not monetarily based; it is worth much more, which you will come to understand (smiling). Let it be known that after 29.5 years, I would have had it no other way. Know that you will never be "just a teacher" in the young minds that you impress. 
This piece was originally submitted to our community forums by a reader. Due to audience interest, we've preserved it. The opinions expressed here are the writer's own.