Teacher Wellness
Should Venting About Students be Banned?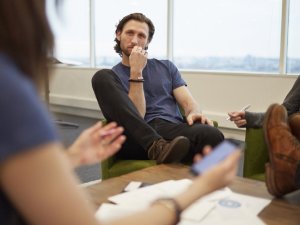 © Mint Images/500px
Recently I received a response to a blog post about shared teacher workspace. The comment, from a teacher at a private school, casually mentioned that they have a no-venting policy at their institution - that venting about a student is considered the same as talking about them behind their back.
But, getting together with peers and talking about students is a teacher staple! It's up there with drinking too much coffee and saying "Face the front!"
In all seriousness, this policy was a shocker. But, when I gave it more thought, and did some research, the idea wasn't as bizarre as it first seemed.
First, I found an article on Psychology Today. The article acknowledged that venting had healthy properties. For instance, venting is helpful in releasing pent-up negative emotions. However, the positives are counterbalanced by a number of significant concerns:
Venting gives the venter the false sense of achieving something - it feels like problem-solving, but really isn't
When you vent often, you get better and better at it and that will only lead to more anger in the future when encountering similar situations
Fortune.com has this to say about venting in the workplace:
Venting in a school environment is a sacred cow that deserves more scrutiny. The teacher who initially introduced me to the no-venting philosophy, later clarified their school's position by saying there was no actual ban on venting. But, venting was strongly linked to the concept of student respect.
And this is certainly an important point - genuinely voicing frustrations is one thing, but when it drifts into bully-like behavior, then a line has to be drawn. Having said that, I have been teaching for a long time and I have yet to encounter a teacher who crossed from venting into abject disrespect.
What is far too common is the frustration I have felt when particular students come up again and again in conversation and then nothing changes - there is never a discussion of fixes or solutions. Venting needs to be coupled with problem-solving strategies to ensure that whatever situation is generating the vexation is successfully addressed. We need to move forward and get off the ceaseless treadmill of merely complaining.
This piece was originally submitted to our community forums by a reader. Due to audience interest, we've preserved it. The opinions expressed here are the writer's own.