New Teachers
Shoes for Teachers: What's on Your Feet?
With being on your feet all day, the type of shoes you wear matters. Teachers weigh in on the best shoes for the job.
August 19, 2015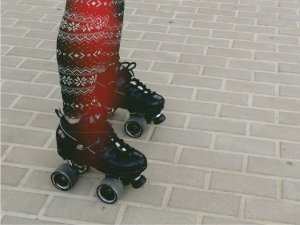 I buy two pairs of pants every two years, usually on sale from Target's 70% off rack. My shirts come from the same place. I teach third grade, so buying expensive clothes is not really worth it when I'm covered in ink, crayon, and bodily fluids on a daily basis. However, the one area not covered in super-sale items is my feet. Never have and never will. Footwear can change your life. Those things covering your piggies support your feet, your ankles, your knees, and even your back.
Teaching is physical. You're constantly moving in all directions, up and down steps, and even running to catch those kids who decide they're going home during lunch recess. You need good rubber to keep up. You need solid kicks that look professional, but feel even better for long days in the classroom. But here's the catch - everybody's different, so what works for me, might not work for you.
For the last two years, I've been wearing a pair of Dr. Marten boots. I know, very grunge of me. I am a Pearl Jam and Soundgarden fan, but that's not why I wore them. They feel good, give me great ankle support, and also give me that "I'm going to work" feeling. I'm also a fan of the New Balance Walkers. They look like shoes, but feel like sneakers. I am not a fan of Rockport Walkers. I know they are really popular, but they just didn't jive with my feet. This year, the grunge boots are being retired and I'm replacing them with the L.L. Bean Chukka Boot. I'm wearing them right now. They might be the most comfortable pair of boots I've ever worn. Lighter than the Dr. Marten and definitely breathe a bit better. And they're L.L. Bean, so if the sole wears out, I can have it replaced.
I polled my colleagues and friends over email and Facebook. There was definitely some friendly banter as to which brand reigns supreme. The debate solidified for me the fact that all feet are different, which will lead to different footwear decisions.
In his book, Minds Made for Stories, Thomas Newkirk reminds us of the limits of data. He states, "We simply cannot translate bare numbers into recognizable human reality." So, I'm not going to state the numbers or count how many times each brand was mentioned. Instead, I'm going to give you the stories, the humans behind the footwear decisions and let you make a decision.
"ALEGRIA!!! (alegriashoeshop.com) Worn by nurses, teachers, and other professionals who are on their feet all day. They come in a lot of different styles and fun colors and patterns, which is right up my artsy alley. Super comfy." 

"Skechers made these sneakers that looked dressy enough that were pretty comfy for me. Also... bare socks are a wonderful thing."

"My go-to shoes are my Michael Kors flats! They have tons of extra padding compared to other flats for being on your feet all day!"

"I am not a teacher as you know, but I can highly recommend Skechers Go Walks...most comfortable shoe I have ever owned. They make them in both mens and womens styles."

"Any time I teach (or any other time I know I'll be on my feet all day), I wear my Danskos. They are also what all of my friends in the food industry wear for serving."

"Sanuks whenever I can. Keep my feet cool on the hot days."
(Note: Apparently, Sanuks have a killer microbial system. I have a friend who wore a pair Sanuks all school year without socks and at the end of the year he was still FUNKLESS.)
"I have spent 12 hours plus working on my feet. That time was mostly spent standing in one place for hours on end. My suggestion. Keen footwear. They don't require the extended break in period that Dansko clogs need and even after that the results are hit or miss. I spent $120 on Dansko clogs and gave them away. Try Keen. Available in clogs and reg shoes."

"My advice to young teachers (especially women) is to go for comfort over cuteness. That can be a hard lesson to learn."

"After 12 years of teaching I got plantar fasciitis (aka the teacher and nurse foot ailment). Danskos have saved my life because they have a strong arch support (plus, I live 10 minutes away from the factory store). I also love my Birkenstocks. Both are expensive, yes, but they are totally worth it (and can also be totally cute)."

"Well, here's the Principal's go-to shoe for a long day with a lot of walking…The Rockport Men's Essential Wing-Tip Oxford. It has an ADIPRENE® by Adidas sport technology in the heel for shock absorption and all-day comfort…it's a great shoe!  I have two pair, black and burgundy."
Here's some advice from Edutopian, John Thomas, who has fifteen years of footwear industry experience before entering the education field:
Teachers should really try to be fit for shoes by a sit and fit shoe store. There are still some around as well as a true running shoe store or hiking boots seller like EMS or REI would be able to help an educator find better footwear.
Ground floor classrooms are typically thinly carpeted floors with no padding it can be very hard long term on joints.
Some people need highly cushioned shoes. Some need highly supportive, and some are in the middle.
If an educator has any leg, hip, or back trouble it may very well be from their footwear.  
Footwear should also be rotated and never worn two days in a row. It allows footwear to air out.
Also often times people buy the wrong size so again being fitted by qualified shop is often helpful. The more expensive shoes may be just that, but they last much longer and are far better for joints and overall health.
Looking at all of the comments and emails, it seems that Dansko and Skecher were mentioned the most. Here is a list of all the brands mentioned (not in any particular order): Dansko, Skechers, Keen, Merrell, Rockport, Clark, L.L. Bean, Toms, Crocs, Sanuks, Alegria, BZees, Dr. Marten, Aerosole, Rockport, Ecco, Kors.
So the question is: What's on your feet?
I wore the L.L. Bean Allagash Chukka Boot for ten months and…
Pros: The leather softened to butter and the boots felt like slippers. The leather aged well. I'm not one for keeping my shoes sparkly clean. I like scratches and scuffs –– the map of the roads traveled in your boots, the journey in the classroom. They look cool. 
Cons:  I do have to say that the leather laces wouldn't stay tied until I figured out that they needed a triple knot. Also, the soles are definitely on the soft side. They wore out in ten months of heavy use. I really wore the boots everyday for ten months in school and sometimes on the weekends. 
Outcome: I brought my boots to the L.L. Bean flagship store in Freeport, Maine while I was on my annual summer trip to be resoled. To my utter sadness, I found out that this boot couldn't be resoled.  Here's the exchange with the L.L. Bean representative. 
Me:  Man, there's so much more life in the upper section of the boot.
L.L. Bean: I know sir, but everything is going to be fine.
L.L. Bean: You're in L.L. Bean, sir.  We'll just replace the boot for you. The whole boot for free. 
That's how L.L. Bean rolls. Okay, so I have to break them in again.  These are hand-sewn and soft as it is.  No worries. I also purchased another pair that has pieces of material woven in between the leather for more breathability (50% off!). You might pay higher prices for L.L. Bean, but they take care of you for sure.  Well, you know the old saying.
This piece was originally submitted to our community forums by a reader. Due to audience interest, we've preserved it. The opinions expressed here are the writer's own.