Professional Learning
Securing Our Future: The Importance of Mentoring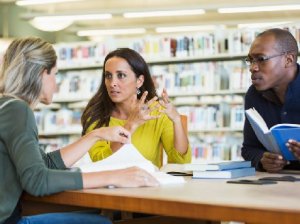 Recently, the Independent Education Union (NSW/ACT) held a conference at the University of Technology Sydney for academics and teachers to share their knowledge about mentoring with the aim of beginning a meaningful discussion. The conference was called 'Securing Our Future' because the IEU and the speakers agreed that mentoring had a vital role to play in the development of the profession. Below, I've identified some of the key themes from the conference (and the references are taken from speakers at the conference), as well as gathering some resources for further exploration.   
1. It's all in the definition.
Associate Professor Philip Riley identified that often teachers are not clear about what being a mentor actually means. He explained that too often the terms 'mentor' and 'supervisor' are used interchangeably, but they shouldn't be. According to Riley, mentoring is a series of interactions between two or even three professionals, whereas supervising (which mentoring is often conflated with) is a hierarchical approach to management of junior staff members. The crucial part in school improvement and performance, Riley explained, is for all stakeholders (principals, teachers, students, community) to feel secure. This will lead to improved student outcomes and mentoring has a role to play in the development of secure teachers, whereas supervising can sometimes lead to insecurity.
2. Mentoring keeps teachers teaching.
Unfortunately, teaching has had a reputation as a 'sink-or-swim' profession: there is a feeling amongst some educators that, if you're a good enough teacher, you'll manage to make it through the tough start to the career and if you're not good enough, you won't, regardless of any assistance offered to you. Dr. Neville Ellis, from UNSW, spoke about the way teachers view the profession after entering it: a world fraught with ill structures, insistent and emotionally loaded problems. When added to the fact that schools are places of constant change, it is easy to see why retention rates are so low. Even those early career teachers who do remain in the profession, Ellis said, are constantly faced with the choice between working (due to the number of hours required simply to keep pace with the demands of the job as a new teacher) or having some kind of work life balance. The key reasons why teachers move to other jobs are the lack of support they receive and the isolation they feel: both of which can be alleviated through mentoring. Therefore, Ellis argued, it is essential to establish a mentoring program so that teachers remain in the profession.
3. Induction and Accreditation does not equal mentoring.
Most schooling systems require teachers to undertake some form of induction when they begin teaching. This might include a lighter timetable, release days or the provision of a supervisor teacher to oversee their entry into the profession. These ideas are often also linked to the requirement for the teacher to seek accreditation during this time, and so the whole space becomes a mix of terms between induction, accreditation and mentoring.
While the processes of induction and accreditation are important, it is not the same as mentoring. Mentoring is a longer term, mutual process, based on shared goals and understandings, and not simply a top-down approach like induction programs often are. Indeed, Dr. Sean Kearney explained that sometimes teachers feel well supported in their first year of teaching, but as that support disappears and they move into the second or third year, they feel more isolated, and this is where retention can become an issue.
4. Mentors need mentoring too.
Mentoring requires a significant skill set. Despite what we might intuitively feel, just because a teacher is good in the classroom or is a good coordinator, it does not necessarily mean that he or she is a good mentor. Nor should they automatically be chosen to be the mentors for new teacher: such a decision places the mentors in the difficult position of being both a mentor and a supervisor, if they are a subject coordinator--and these roles are significantly different and can lead to a conflict of interest. Dr. Suzanne Hudson discussed the importance of supporting mentors as well as protégés. In particular, she favoured questioning to develop REFlection, a framework of questions that begins with Reflecting, then moves on to Exploring and finishes with Future directions.
Of course, any significant investment in mentoring requires a commitment to resourcing the program properly. This is often cited as one of the biggest challenges facing mentoring. However, the cost of not investing in mentoring is often larger. Kearney, from the University of Notre Dame, suggested that teacher turnover can cost more than two times the cost of the mentoring program; essentially, it's cheaper to institute a mentoring program than it is to keep advertising for new teachers to replace the one's who have left. When placed in this context, it's more cost-effective to mentor than not to.
6. It's part of wider educational reform.
Professor Peter Hudson and Dr. Suzanne Hudson spoke about some the practicalities of mentoring. One of the key points - and this was raised throughout the conference--was that in no other profession is a recent graduate expected to do the work of someone who has been in the profession for twenty years, but that's exactly what we do in teaching. Instead, educators need to find a way of making mentoring part of the national educational conversation, as well as ensuring that it is happening at the grass roots level, because if educational reform is not taking place in the classroom, then it's not really happening. Hudson argued that the role of mentors as 'enactors of education reform' was central.
7. It's vital for the profession--and education itself.
Dr. Kearney also elaborated on the idea that mentoring could potentially be directly related to improved student outcomes. His argument was based on the idea that if effective mentoring practices take place, then retention of teachers could potentially be increased by more than 20%. This would mean an improvement in quality teaching, which would then lead to improved student performance. Although Dr. Kearney was at pains to point out that this is a hypothesis, it appears to make a lot of sense.
Of course, providing meaningful mentoring experiences for teachers in Australia will not be an easy process. In particular, there are a number of specific concerns that need to be addressed in any such program, and the conference highlighted these. Casual teachers often do not have access to any particular mentoring program, as well as facing difficulties meeting their accreditation needs. This is an increasing issue as more and more teachers begin their career as casuals. Any mentoring program will need to address their requirements, too. In addition, teachers in the Early Childhood Sector often work in an isolated setting - they might be the only teacher in a centre - and so they too will find it difficult to access mentoring. A program will need to provide networks for this purpose, too.
Nevertheless, this conference proved that there is a clear need for nation-wide approach to mentoring, built on best practices, if we are going to address the challenges that the teaching profession will face in the coming years.
This piece was originally submitted to our community forums by a reader. Due to audience interest, we've preserved it. The opinions expressed here are the writer's own.