Technology Integration
Engaging Students Through Google Maps
July 28, 2016
Updated July 7, 2016
Google Maps has grown significantly over the years.  It is now so much more than a way of finding your route from A to B and because of this expansion of uses and tools, Maps is a really valuable resource to use in the classroom. 
Here are 5 effective ways to use the program to engage children in lessons:
1) Descriptive writing of scenes and settings.
A part of the program that is amazing for use in descriptive writing lessons, is the 360 degree photospheres.  Simply visit Google Maps  and search for a place of interest.  Next, look at the left panel and you will see a mixture of standard and 360 photos.  Students can look around, fuelling their creativity when writing.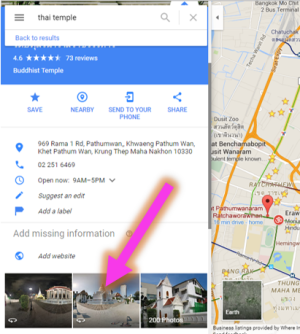 Screenshot by Neil Jarrett
An alternative is to use Google Streetview, in which students can find and view places and literally walk around them.  Choose to explore a busy city, take a boat journey down the Amazon river or even scuba dive the Great Barrier Reef.  In a recent lesson, I let the children explore the place and then asked them to write down what they had seen.  In addition, encouraging them to use the magnifier to zoom in and capture finer details of places certainly worked.  Streetview really immerses them in the map – as if they are there.  What better way to inspire children to write a descriptive piece? 
2) Mapping, creating routes and tutorials.
Mapping is a really important skill for children to learn.  However, doing it by hand can become a laborious and painstaking activity.  My Maps by Google (also available as an app) makes it simple and efficient to create maps, record routes and even add multimedia.  Recently my students, as part of their World War 2 topic work, created a map showing the actions of Japan during the conflict.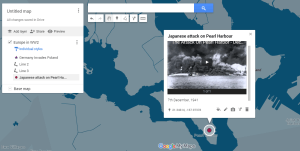 Screenshot by Neil Jarrett
It really is a great tool.  They added markers, lines and shapes to a world map and then input photos and information which popped up when clicked on.  There is even the possibility to record video tutorials about a place and upload them to the map.
Another great way the program can be used is for measuring distances, calculating areas of places and also planning routes.  Just click the ruler icon and then pick different points - My Maps will automatically calculate things for you.  I used this feature in a maths lesson in which the children had to measure and then find the sum of different journeys.  Following this, they had to draw polygons around different places and then find the total sum of the areas.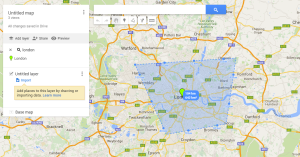 Screenshot by Neil Jarrett
3) Use it to inspire some artwork.
Millions of people, from all over the world, have uploaded images to Google Maps.  There are some really amazing photos.  Try asking your students to paint or draw one that inspires them.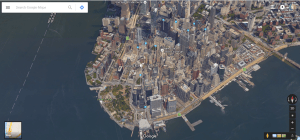 ©Neil Jarrett
How about cityscapes?  A man with autism 
famously sketched the New York skyline from memory
. Your students can do the same but they don't have to do it from memory; Google Earth has it there for them!
4) Conducting virtual field trips.
Unfortunately it is not always possible to see things in real life.  In addition, the planning to conduct a field trip is often very time consuming.  Virtual field trips are now possible by using Google Streetview.
During my class topic about land and oceans, the pupils had to contrast two different countries' coastlines. We did a real field trip to a nearby coast and then contrasted it by using Google Streetview to view the coastal region of another country.
Screenshot by Neil Jarrett
One step further to a 'real' fieldtrip is to use virtual reality to explore a place.  Google Cardboard is a headset which immerses you in a video or picture so you can see a 360-degree view.  Put on Cardboard and you are instantly inside the media - turn your head and look around to see in all directions.
Download the Google Cardboard app and then visit Street View.  Look for the Cardboard logo for places you can access.  More and more are appearing daily.
Famous monuments are also covered so maybe ask your students to find one and explore it during a history lesson.  My class explored an ancient temple.
5) Go on a scavenger hunt using Earth Picker .
This great website takes random images from Google Maps and you have to use the clues and details to guess where in the world it is.  When you think you know, click on the world map.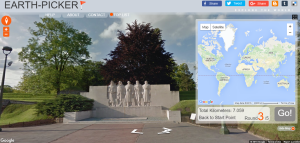 Screenshot by Neil Jarrett
After, the actual location is revealed with along with some information. This works well as a starter activity in a geography lesson!
The scope for the use of Google Maps in the classroom is vast.  My students always look forward to using it and it clearly engages them.  Have you used Google Maps in other ways?  Let me know by commenting below.
You can also check out my complete tutorial on Google My Maps here:
video
This piece was originally submitted to our community forums by a reader. Due to audience interest, we've preserved it. The opinions expressed here are the writer's own.