Literacy
Creating Characters with Music
January 14, 2015
Updated January 13, 2015
"You want to write a great story? Create a character. Make everyone fall in love in him. Then get him in trouble." -- Bruce Coville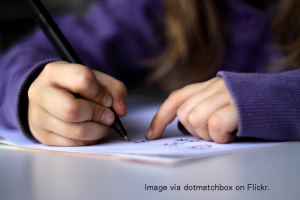 While a great story will keep an adult "with the writer," a great character is what children crave. And usually it begins with a graphic of some sort, a character sketch. That's why the illustrations are so integral to a great picture book. I've heard many authors admit that a cover can make or break the book, and most of the time the cover of the book showcases one or more of the main characters. And why not? That character, proudly displayed on the cover, was probably the reason the book was written in the first place. So, heck, why not teach kids to begin with a character when they're frantically searching for a storyline?
When I was a wee-little music fan, you could find me huddled around a record player singing about rock-n-rollin' all night and partying every day. KISS just fascinated me. And for good reason–– they are all characters. They have nicknames like Starchild and Spaceman, breathe fire, and launch rockets off the ends of their guitars (At 60+ years old, they are still doing this stuff). I would sit for hours staring at the album covers imagining painted faces singing the songs. Then the radio became my primary method of listening to music. The images disappeared and so did my visual connection with the artist. I didn't get to see them as much. Late night TV was, well… too late for me and I was too young to attend concerts. Then, BOOM!
I want my Mtv!
Videos flooded the television! I prayed for my favorite song to morph into a music video, and then waited up all night to see it through droopy eyelids. Then, "What? I had no idea that person looked like that!" I see you nodding your head. How many times have you listened to your favorite song over and over again, then one day you finally see the artist perform on TV (nowadays it's YouTube) and you say, "Huh?" The singing voice rarely matches physical characteristics, I know. I can vividly remember listening to Nirvana, then finally catching a glimpse of Curt Kobain. I had no idea that big, scratchy-screamy voice would come from a mousy-blonde-wearing-a-cardigan type of guy. Right?
Find Music
Hopefully you have a nice music library on your phone or iPod. WARNING: Remember to preview the songs before you play them. Believe me, I've done my share of running to the volume knob, slamming the door, or coughing really loud during a part of the song that I forgot was a bit "sketchy." Third graders are easily distracted. Older kids are bit more perceptive, so a nice hearty cough might not work. You want "safe" songs. Not necessarily kid songs, just "safe" songs. The artists don't have to be total characters like KISS either. Just the basic looks of a person make them characterish enough.
Teach and Model
The idea is for the students to quickly draw/name/note while the tune spins.
Draw: A quick pencil sketch of the singer (s)
Name: If a name pops in their heads, write it down!
Note: If character background info arises, write it down!
Click Play
I would play around a minute of each song, but that's negotiable. If your students are really enjoying a song, just let it play, man. I usually present my students with eight songs and do the lesson twice a year or so, each time with different songs.
Reveal
At the end of the lesson, reveal what the artists really look like. Prepare for hoots, howls, and gasps. Totally normal. Remember, this wasn't a game of who's right or wrong, just a fun activity to create some characters.
Now what?
That's up to you. Stories come from nowhere and everywhere. This is just one of a million ways to help kids find a story. Let it spin, brothers and sisters. Here's a Prezi I created to spark some interest and conversation on characters we love. This looks great on a Smartboard or projector screen. Add some music and it's a winner.
https://prezi.com/opihielixju8/characters-we-love/
This piece was originally submitted to our community forums by a reader. Due to audience interest, we've preserved it. The opinions expressed here are the writer's own.