Social & Emotional Learning (SEL)
32 Strategies for Building a Positive Learning Environment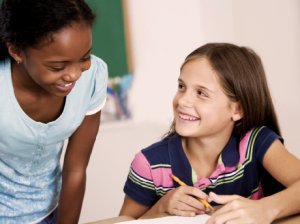 There are many ingredients that go into making a thriving learning environment. And whether it's your first year in education or your thirtieth, the first days, weeks, and months of the school year are the time to create the learning environment you want for your students.
Below, we've collected teacher-tips on creating a positive classroom from Edutopia's online community. ​They were contributed by the educators and parents of Edutopia's community in response to our Start the Year Strong campaign. There were many amazing entries, and it was a challenge narrowing them down to these 32.
Tips generally fell into three categories:
Get started early. Build positive relationships with students and parents starting with the first day of school. Let students get to know you (and each other) by preparing fun icebreakers or exchanging letters. Consider sending a letter home to parents or calling each home to establish those relationships right away.
Take your time. You may be tempted to jump right into content when the school year starts, but taking the time to build relationships will pay off later. You'll create individual relationships that last and a community for your students. 
Ask for help. Your fellow faculty and staff are your greatest resource. Reach out to the teachers next door or the thousands of teachers on Twitter. There will be someone out there who not only has an answer to your question, but wants to connect and join your professional circle.
Speak their language. Use humor, tech, or other strategies to get on their level. That extra effort will go a long way in relating to students. This strategy can be used to present traditionally "mundane" information, like classroom rules and regulations.
Start from stratch. You might know your rules backwards and forwards, but remember your students are most likely new to your teaching style and expectations. Try not to assume your students know how to do seemingly basic tasks, like collaborating or taking notes. This can be time consuming, but like building relationships, it'll pay off.
Let your students make decisions. From classroom layout to project ideas, let students have a say. Fewer decisions for you to make and fun for students to feel like they helped create their environment.
Put your trust in technology. New tech can be daunting, but find one or two ways to make your class digital. Some educators suggest making a digital newletter for parents, posting photos and updates on Instagram or Twitter, creating a class blog, or using edtech resources like GoogleForms or Remind. This is a great way to engage students when class isn't in session.
Trust yourself! Think of the beginning of each school year as filled with amazing potential, and know you don't have to get everything perfect on the first day or in the first weeks. 
You can find the complete presentation (and all 32 tips) here:
Every classroom is different, so please come back and share what you've learned and what works for you!
This piece was originally submitted to our community forums by a reader. Due to audience interest, we've preserved it. The opinions expressed here are the writer's own.