Project-Based Learning (PBL)
14 Examples of High Quality Civic Learning Opportunities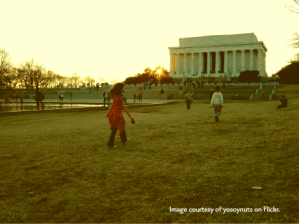 I am a San Marino High School (CA) social studies teacher who is best known for teaching the 12th grade US Government course (aka the civics course).
As the government teacher, it is my job to provide the students in my class with high quality civic learning opportunities. But what about the person who doesn't teach a civics course yet wants to provide high school students with high quality civic learning opportunities? Is there nothing that he or she can do?
The math, science, drama, language arts, or special education teacher, for example? What about them? Ir the school secretary, counselor, or PTA parent?
At first glance, theirs seems to be a lost cause, though in fact there is much that they can do.
Inform high school principals and teachers of their desire to provide high school students with civic learning opportunities. At most high schools, an expressed willingness to serve often leads to an invitation to serve.
Inform high school students, their parents, teachers, and administrators about upcoming high quality civic learning opportunities. Often, such opportunities are missed for no other reason than lack of notice.
Find someone willing to help oversee the implementation of civic learning opportunities. There are so many available today that teachers simply don't have the time to oversee their implementation.
Find someone willing to serve as a tutor/mentor/coach for students working on civic learning opportunities. In most instances, this does not have to be a teacher. The fact is that most high quality civic learning opportunities today permit someone other than a teacher to tutor/mentor/coach the students. Better yet, many of these opportunities require no in-class seat time. They are increasingly structured to permit a tutor/mentor/coach to work with students away from school, in some cases even remotely, via Google Docs.
Create an award for a teacher (other than a social studies teacher) who provides high school students with quality civic learning opportunities.
Create an award and/or scholarship for a senior who has engaged in a large number of civic learning opportunities.
HIGH QUALITY CIVIC LEARNING OPPORTUNITIES
The below describes the opportunities that I am familiar with. I'm sure there are others equally as good and I look forward to hearing from the Edutopia community about any/all that you might recommend.
CAP, according to the CRF website, "is a project-based civic learning opportunity designed to provide students with a chance to apply what they have learned to the real world and impact an issue that matters to them."
Currently CAP is being implemented in over 700 high schools nationwide.
2. The YMCA's Youth and Government Program
This program allows high school students to serve in model governments at the local, state, national, and international levels and currently operates in 38 states and Washington, DC.
The model government programs include the judicial, legislative and executive branches of government, guided by teachers, volunteers, or Youth Government staff.
3. Student Poll Worker Program
This program allows eligible high school students to serve as poll workers on Election Day. Student poll workers learn firsthand how elections are run, and provide much needed support at polling place locations. They end their day with a better understanding of the importance of voting and the vital role poll workers play in making our elections run smoothly.
County elections officials may assign up to five high school students to serve as poll workers in each election precinct. Students work under the direct supervision of appointed adult poll workers.
The Student Poll Worker Program currently operates in 33 states and Washington, DC.
To serve as a high school poll worker, a student must typically:
Be a United States citizen
Be at least 16 years old on Election Day
Attend a public or private high school
Have at least a 2.5 grade point average
Get permission from your parents and school
Attend a training session
In addition to learning firsthand how elections are run, student poll workers can be paid a stipend that generally ranges between $65 and $150, depending on the county.
To encourage high school students in California to serve as poll workers, the California Secretary of State invites students, teachers, school activities directors and others to post, email or hand out the High School Poll Worker recruitment flyer.
4. California's MyVote Student Mock Election
Designed to encourage students to become active voters once they are old enough to cast a ballot, the MyVote Student Mock Election, headed by Secretary of State Debra Bowen and Superintendent of Public Instruction Tom Torlakson, invites high school and middle school students, teachers and principals to participate in the MyVote California Student Mock Election, which this year took place on Tuesday, October 28, 2014, just one week before California's November 4 General Election.
A mock trial is a pretend or imitation trial. It is similar to a moot court, but mock trials simulate lower-court trials, while moot court simulates appellate court hearings.
CRF's Mock Trial Competition is a simulation of a criminal court case in which students portray each of the principals in the cast of courtroom characters (lawyers, witnesses, court clerks, bailiffs, etc).
To enter the mock trial competition, one need only
A coach
The case packet
Twelve students
The first order of business - finding a coach - should prove relatively easy. History suggests that once a school shows in interest in entering the competition, one ore more local attorneys will step forward to coach.
On the other hand, having an attorney-coach is not required. I'm not an attorney and have coached the San Marino High School Mock Trial Team for years. We do well enough.
As for how one should go about obtaining a copy of the annual case packet, see: http://www.crf-usa.org/materials-catalog/mock-trials-cases.html
As for finding enough students to field a team, I suggest posting a flier in the school hallways. I also suggest starting with 12 students . . . one student each to serve in the role of
Prosecution team pretrial attorney (to give the pretrial motion and to serve in the role ofwitness #1)
Prosecution team trial attorney #1 (to give the opening statement and to deliver two directs and one cross)
Prosecution team trial attorney #2 (to give the closing statement and to deliver one direct and two crosses)
Prosecution trial attorney #3 (to deliver one directand one cross)
Prosecution court clerk/unofficial timer
Prosecution team journalist/photographer
Prosecution witness #2
Prosecution witness #3
Prosecuiton witness #4
Defense team pretrial attorney (to give the pretrial motion and to serve in the role ofwitness #1)
Defense team trial attorney #1 (to give the opening statement and to deliver two directs and one cross)
Defense team trial attorney #2 (to give the closing statement and to deliver one direct and two crosses)
Defense team trial attorney #3 (to deliver one directand one cross)
Defense witness #2
Defensewitness #3
Defensewitness #4
Defense team bailiff/unofficial timer
Defense team journalist/photographer
The SMHS Civic Learning Meet and Greet Program is a program designed to provide students with an opportunity to hear and learn from individuals appearing in either the textbook or the newspaper and who are connected to the subjects of government, law, history, politics, and education.
A typical "Meet and Greet" is designed to last no more that 50 minutes. It is formatted similar to that of a television talk show with the host, sometimes a student, sometimes the editor-in-chief of our town's local newspaper, and sometimes a teacher, opening the "Meet and Greet" by asking a number of introductory questions before giving the students a chance to ask questions of their own.
Model United Nations is an authentic simulation of the UN General Assembly, UN Security Council, or other multilateral body, which introduces students to the world of diplomacy, negotiation, and decision making.
At Model UN, students step into the shoes of ambassadors of countries that are members of the UN, from Argentina to Zimbabwe. The students, better known as "delegates", debate current issues on the organization's vast agenda. They prepare draft resolutions, plot strategy, negotiate with supporters and adversaries, resolve conflicts, and navigate the UN's rules of procedure – all in the interest of resolving problems that affect the world.
Before playing out their ambassadorial roles in Model UN, students research the particular global problem to be addressed. The problems are drawn from today's headlines. Model UN delegates learn how the international community acts on its concerns about peace and security, human rights, the environment, food and hunger, economic development, and globalization.
The Constitutional Rights Foundation's Expanding Horizons Internships (EHI) is a rigorous program that places high school students as paid interns in professional environments. EHI offers students the chance to gain work experience by helping staff at corporate, nonprofit, and government job sites. Additionally, students attend interactive seminars designed to help them prepare for college, career, and civic life.
9. The Senior Project with a Civics Component
A senior project, aka a culminating project, is a project designed by a high school senior (or in some instances also a junior), which is completed at some point during the student's senior year and which seeks to challenge the student to:
Become an expert on a particular topic.
Do something related to the topic that (a) causes the student to "stretch" both personally and academically and (b) leaves the student with a memory that will not only last a lifetime, but which the student will recall throughout their lifetime as one of their great high school memories.
Share, in front of an audience (usually consisting of adults), both the knowledge acquired and the experience gained.
10. LegiSchool's Annual Essay/Photo/Visual Arts Contest
LegiSchool is a civic education collaboration between California State University, Sacramento, and the California State Legislature, and is administered by the Center for California Studies. Its mission is to engage young people in matters of public policy and state government by creating opportunities for students and state leaders to meet and share ideas on the problems affecting Californians.
Organized by the Judicial Council and Administrative Office of the California Courts, in partnership with the Constitutional Rights Foundation and the California State PTA, the National 1st Amendment Cartoon contest seeks to increase student understanding of the Bill of Rights and the United States Constitution, as well as to help educate youth about the role of the judicial branch and their role as future jurors.
Criteria for judging are based on students' understanding of the First Amendment, creativity, and artistic merit.
For the 2014 contest, there were 783 submissions.
ICivics is a web-based education project that offers an array of free interactive, high quality civic learning games and activities for students.
iCivics was founded by retired United States Supreme Court Associate Justice Sandra Day O'Connor. Justice O'Connor started the web-based education project because she was concerned that students' failing grades on civics examinations were due to inadequate information and tools required for civic participation, and that civics teachers needed better materials and support.
To date, iCivics has launched twenty-one different computer games.
In Do I Have A Right?, the player controls firm of lawyers who specialize in constitutional law. The player must decide whether potential clients have a right guaranteed by the U.S. Constitution, and if so, match them with the right lawyer. The more clients served, the faster the law firm grows.
Argument Wars is a simulation of a courtroom argument. Players test their persuasive abilities by arguing real Supreme Court cases, and must convince a judge that the law is on their side.
In Supreme Decision, the player is a Supreme Court law clerk to a fictional Justice who grabs you on her way to an oral argument in a case involving a student's right to wear a banned band t-shirt. The Court is split 4-4. The game divides the First Amendment case into four issues that are explained through the other eight Justices' conversations. The player puts together the legal analysis needed to decide the case.
At this annual competition, students are given an opportunity to simulate a congressional hearing.
The judges at the competition are history, political science,law, and education professors, members of the legal community, and others with a knowledge of the Constitution and Bill of Rights.
In preparation for the competition, entire classes of students learn about government and study the Constitution and Bill of Rights. The needed curricular materials have been developed by the Center for Civic Education.
A good place to learn more about additional high quality civic learning opportunities.
Civic learning is anything which provides students with the knowledge, skills and values they need to be informed and engaged participants in our democracy.
Research proves the efficacy of the Six Proven Practices in civic learning:
Classroom instruction in government, history, law, democracy and economics
Discussion of current events and controversial issues
Service learning tied to curriculum and instruction
Extracurricular activities linked to school, community and local government;
Student participation in school governance, and
Simulations of democratic processes.
This piece was originally submitted to our community forums by a reader. Due to audience interest, we've preserved it. The opinions expressed here are the writer's own.