Project-Based Learning (PBL)
Gadgets, Gratis: What's on Your Digital Wish List?
A nonprofit organization puts tech gear, lesson plans, and other free stuff in teachers' hands.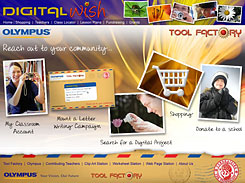 Credit: Courtesy of Heather Chirtea
Ask, and You Shall Receive: Digital Wish walks teacher-users through its online wish list process.
When the public charity Digital Wish launched a resource site for teachers in July 2007, the company set out to register a thousand users by Christmas. It reached its goal in the first month. Since then, the site, which helps educators acquire technology via an online registry and provides other classroom resources free, has attracted some 8,000 users.
"Teachers work really hard, and they really care about the curriculum, but they don't get the funding that they need to actually integrate technology," explains founder Heather Chirtea, who started Digital Wish when a grant program run by the Tool Factory and Olympus became overwhelmed by the volume of applications it received. "To be able to move to the nonprofit side, grant some of those wishes, and put some technology into classrooms is really fulfilling," she says.
Every teacher who registers with Digital Wish creates a profile that includes personal interests, school information, and a wish list of products sold by the Vermont-based organization's partner vendors. Parents, corporate interests, or other donors may log in and purchase the items for the teacher, or they can contribute money into his or her account. Although other Web sites connect teachers to benefactors, Digital Wish offers many other services, including a social network, a digital lesson-plan library, and a host of grant opportunities.
Edutopia talked with several teachers who use Digital Wish about how the site helps them acquire technology, enhance their course curriculum, and do their jobs more easily:
Fundraisers
Digital Wish offers a step-by-step guide to letter-writing campaigns that helps teachers call potential donors' attention to their online wish lists. It also provides creative fundraising ideas and flyer templates that administrators can edit to suit their school's needs.
Fifth graders in Virginia Bower's special education class at Newfane Intermediate School, in Newfane, New York, used the templates to contact local businesses, several of which contributed to her Digital Wish account at the end of the 2007-08 school year. Bower looks forward to purchasing the items on her list, such as a USB flash drive, a battery-recharging system, and a map application. "During our social studies curriculum, we work a lot on mapping, and there's some great mapping software on the site," she says. All Digital Wish vendors provide rebates that put money back into teachers' accounts whenever they buy products.
To keep teachers' costs down, Digital Wish provides schools that send out fundraising letters with postage, plus their first technology gift. After computer teacher Victoria Kozlek had her eighth-grade students at Southern Columbia Middle School, in Catawissa, Pennsylvania, write fundraising letters to local businesses, Digital Wish let her choose from dozens of software programs donated by its partner vendors. "They sent us podcasting software, which was wonderful," Kozlek reports. "I plan to incorporate it into my school publications/technology course."
Lesson Plans
Digital Wish maintains a national library of more than a hundred teacher-submitted lesson plans -- approved by a board of reviewers -- that users may search for by category or keyword. Also available for free download are the thousands of lesson plans teachers have posted on their personal pages. "You can add your own, or you can search the archives for lesson plans that other teachers have uploaded," explains Judith Miller, a science teacher for grades 7-8 at Chicago's Holden Elementary School. "I discovered a few plans I've used in teaching science that the kids have found interesting. Some were similar to things we're already doing, but they went a step or two further."
Meanwhile, Kozlek has posted two lesson plans inspired by her eighth-grade yearbook class and has borrowed other teachers' curricula as well. She says she particularly liked a digital-storytelling project created by a peer in Chatham, New Jersey, that asked students to observe their surroundings by photographing local points of interest. "I adapted this lesson for my own classroom," Kozlek says. "Students took pictures of important landmarks at our school and then created a photography portfolio."
Eye on the Prize:
Second-grade teacher Isabel Lee won an Olympus digital camera for her still-movie lesson plan, Watch Out Spielberg, Lucas!
Credit: Courtesy of Isabel Lee
Grants
Posting a lesson plan on Digital Wish isn't a random act of kindness; it can reap benefits. Every month, the organization awards computers, gadgets, and software donated by vendors to the teachers who submitted the best lesson plans (as determined by its board of reviewers). Isabel Lee, a second-grade teacher at Elysian Heights Elementary School, in Los Angeles, submitted a lesson plan for using digital cameras to create still movies. The inventive project -- with the cheeky title Watch Out Spielberg, Lucas! -- earned her an Olympus FE-310 digital camera.
"The kids were really excited when we got the camera," Lee recalls. "We had a field trip that following weekend, so we got to use it right away." The site also has links to dozens of outside grants, covering subjects from language translation to science and mathematics.
Social Networking
Just like Facebook, MySpace, and other social-networking sites, Digital Wish allows teachers to add other users as friends with whom they can share their thoughts and ideas. Some teachers connect to peers in their district, while others reach out to those further afield. Miller saw Kozlek profiled in a Digital Wish email update and felt an instant connection. Miller wrote to Kozlek through the site, and the two discovered they had a lot in common. "We have the same passion for the inclusion of technology in any classroom," Kozlek says. "Though we teach different curricula, we both understand the importance of including technology in our lessons."
Book Reviews and More
Digital Wish continues to expand its services. According to founder Heather Chirtea, by the end of 2008, users will have access to a shared book-review library, an online address book, and a rating system for lesson plans -- and the site will give monthly grant awards to teachers with the top-rated plans. Chirtea also notes that Digital Wish is in the middle of a major vendor and donor expansion, and staff members continue to involve users in development and direction of the Web site.
"We spend a ton of time chatting online with some of our favorite teachers, talking to them about how things work and how things don't work on the site. We're constantly changing and revising it to make it all function," Chirtea says. Educators appreciate the support. "It's just a fantastic site," Kozlek notes. "With all the other social-networking sites that are out there, it's nice to know there's one that recognizes teachers."
Sara Ring is a contributing writer for Edutopia.org. She lives in Los Angeles.