Professional Learning
Digital Camera: Inside the Classroom and Out
Do you use a digital camera in your classroom? I bet you have access to one, either one that the school owns, or your own. And I don't mean using it for special events like field trips or culminating activities, but really for the day-to-day. You see, I believe digital imagery in the classroom is an underused tool, and that there are some really easy and effective ways to step it up! Here, let me explain what I've been thinking.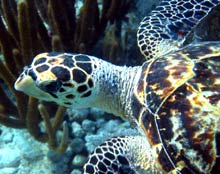 As the son of a marine biologist and a zoologist growing up along the coast of Maine, I've always been fascinated by the ocean and the life that fills it. Snorkeling in Caribbean waters and watching its life has long been a favorite experience of mine (perhaps also because of growing up in Maine and experiencing some five decades of Maine winters), and I have been attempting to capture photographs of that special ecosystem for a long time.
My only success in the film-based efforts came not with the $150 underwater 35 mm camera I once bought, but rather with single-use waterproof 35 mm cameras. I have long since misplaced the negatives from the two pictures worth printing from three trips' worth of attempts -- gorgeous shots of green turtles calmly feeding along the bottom of Salt Pond Bay on the island of St. John, U.S. Virgin Islands -- so you will just have to take my word for it.
But then I took digital below the surface! Last December, my wife and I returned to the sunny Caribbean in celebration of our twentieth wedding anniversary, and I took along an underwater case for my Canon s410. The results, if I say so myself, were stunning. In these 4-megapixel images, a green moray eel is only partially hidden by a waving purple sea fan as it peeks out of its reef home, an octopus flares opal blue-green in warning before sliding back into the safety of its nest, and turtles stroke gently toward the surface and air before more feeding on the turtle grass meadows below. Ah, the turtles . . .
I remember being told of a famous nature photographer once having been asked how he was able to get such fantastic pictures. His response was quite simple: He took many, many pictures and occasionally found a gem or two tucked away alongside the junk.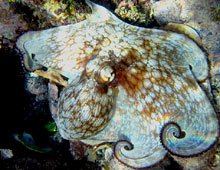 That is what underwater digital photography has done for me. It is not unusual to come back from a long snorkel with fifty or more images, and for me to sit in the relative comfort of our tent cabin and cull that number down to fifteen or so worth holding on to. Not all gems, but reasonably high quality.
So, there you have it. My advice is to first take pictures. Lots of them! And it doesn't have to be you behind the camera. How about inviting some former students back into the classroom to collect images, or asking a parent volunteer to do the same? What if you were to hand the camera to the principal and ask her or him to collect a few snappers to add to your collection? The result in every instance would be unique contributions -- focused and framed as a result of each photographer's perspective -- of life in your classroom.
I know that you will find a host of uses for the images you collect, but do carefully mine them for your own gems -- that image that just captures one child's fascination with a favorite book, the way morning light fills the science corner, or your look of humane exhaustion at the end of yet another day of exhilaration and exasperation!
Use these images as writing prompts or frame them and hang them on your walls. Insert them into the newsletter, and burn a collection of them to a CD at the end of the year and create a digital memory book that families will cherish forever. Take a look at the images I've attached, and understand that I am a persistent photographer and not a gifted one. I simply collected a bunch of images, and happened to get some good ones. Trust me, you can, too!