Social & Emotional Learning (SEL)
"She Used to Be Pretty": Schoolyard Harassment Goes Online
The wounds cyberbullies cause can run deep.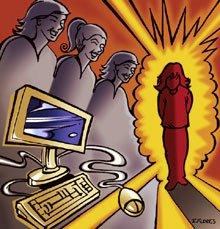 Credit: Indigo Flores
She was a little big for her age, her face still chubby and prepubescent. She pulled me aside after the cyberbullying workshop I'd just given to a room full of twenty middle school girls. She looked as though she were hiding something. "Would you help me get my MySpace page shut down?" she asked.
We pulled it up. There she was, smiling in a picture. Underneath was the caption "The biggest whore in Winslow."
An ex-friend had stolen her password and hijacked her MySpace page, posting all kinds of malicious lies about her sexuality. I asked whether her mother had seen it. She told me she wasn't that close to her foster mother. Rather than say anything, she'd just been trying to live with it.
As someone who has worked with hundreds of middle school girls over the years, I am no longer surprised by the brutal cruelty and malicious creativity kids can display when they possess sophisticated tech skills -- and zero empathy.
Most of us know empathy is the ability to identify with and understand another person's feelings or difficulties, yet it is not a concept kids often hear about in middle school. When I asked whether anyone at the workshop knew the meaning of the word, not one girl raised her hand. Then I put up a magnified picture of Britney Spears on the screen. It was taken right after she shaved her head. There are dark circles under her eyes.
I handed out pieces of paper and asked the girls to write down the first thing that came to mind, as if they were sending an instant message to their best friend. I told them I wouldn't ask them to read it out loud, but I took a peek at some of the responses left crumpled up on their desks after the workshop. Here's what they left behind:
Ewww. She is so ugly now. She used to be pretty. but now look at her.
O.M.G. guess what britney spears looks like a man with that haircut. I wouldn't want to meet her in a dark Alley!
She is on drugs O M F G !!!! lol
OMG! She looks like a naked mole rat! She looks like crap! What was she thinking?
Nancy Willard, author of An Educator's Guide to Cyberbullying and Cyberthreats, wrote that when teens operate anonymously behind screen names, they perceive themselves as invisible and untouchable. And when they don't directly experience the damage online bullying does to their victims, teens feel little empathy.
Much has been written about the "mean girl," a type of female cyberbully who engages in relational aggression for entertainment and group admiration. She was defined in Rosalind Wiseman's best-selling book Queen Bees & Wannabes and later immortalized in the teen comedy movie Mean Girls.
A 2005 study by Brigham Young University suggests this behavior in girls starts when they are as young as three years old. Another report from the same year, by the Pew Internet & American Life Project, revealed that girls are now considered the "power users" of online communication tools.
This kind of power needs to be tempered by ethics training. You wouldn't give a sixteen-year-old girl a chain saw without warning her of its dangers, yet with a keystroke, many girls are capable of carving up names, reputations, even entire lives with cheerful indifference.
Most parents are oblivious to their teens' online communications, most schools still don't have specific cyberbullying policies in place, and only a handful of states are even in the process of considering legislature to prohibit online bullying. Right now, the best way to curb these behaviors is to start with the source: Show teens the consequences of their actions.
Many of the girls at the workshop seemed to get this concept by the end, and were busy in the last remaining minutes scrubbing their social-networking pages of any sensitive information that could be used against them. Two came up to me and thanked me for giving them strategies to deal with bullies. Still, as we were closing down, my staff noticed four girls hunched around a computer with a MySpace page open; it apparently belonged to a perceived rival for a boy's attention. "Let's write that she's ugly," one of them said, giggling, before she looked up to see us looking back at her.
Credit: Indigo Flores
Kaley Noonan is the program manager of Zoey's Room, an online education community for girls ages 10-14 designed to encourage their interest in science, technology, engineering, and math.
Ceasing Cyberbullying: Resources for Halting Harassment
Visit these organizations' Web sites for advice, information, and other resources: