Education Trends
Creative Commons in K-12 Education: Using and Sharing Students' Work Safely
My friend and colleague Karen Richardson is the perfect person to give novices a quick primer on Creative Commons. Let me share Richardson's thoughts in this special guest posting.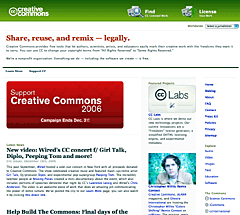 More and more teachers and students are creating multimedia projects. Often, these materials include copyright-protected items such as images, audio files, and video clips. Distributing them without the owner's permission on the Web is against the law, even for teachers and students. How can we, as educators, give our students the opportunity to publish their work to a worldwide audience while staying within the limits of copyright law?
A new movement in the world of copyright -- Creative Commons -- offers exciting possibilities for teachers and students looking for multimedia resources to use in projects. Besides taking advantage of Creative Commons for creating projects, teachers and students can use it to share their own work with the world.
Content creators who adopt Creative Commons licenses can choose to modify the usual "all rights reserved" copyright by giving up some of those rights. Under this "some rights reserved" policy, they may allow others to use or modify their materials and can choose various levels of protection and attribution. For instance, all the materials at my Web site are offered under a Creative Commons license that gives users the right to copy, modify, and distribute them. All I ask in return is attribution, and giving credit when we use someone else's stuff is certainly something we should be encouraging in our classrooms.
The Creative Commons Web site serves as a clearinghouse for materials licensed under this new policy. In addition, both Wikimedia Commons and The Internet Archive include materials licensed under Creative Commons. Part of the Wikimedia Foundation, Wikicommons, is a database of close to 1 million media files. There, students are welcome to share their own audio, video, and image files.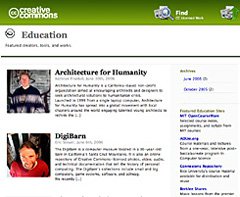 The Internet Archive's vast collection of media files is really hard to describe; you just have to visit the site. There is a live-music archive featuring concerts by both famous and not-so-famous bands. The moving-images archive includes everything from news reels to cartoons to full-length movies. And the Prelinger Archives, a collection of more than 48,000 "ephemeral" (advertising, educational, industrial, and amateur) films, is also hosted there.
Tell us about some of the ways you're using Creative Commons in the classroom. Share your knowledge!