Social & Emotional Learning (SEL)
Tech gURLs: Closing the Technological Gender Gap
How do educators engage female students in computer science?
As technology-related job opportunities in the United States continue to grow, educators are struggling to bridge the digital divide that persists between the genders. The National Center for Women and Information Technology reports that although more than 50 percent of high school Advanced Placement test takers are female, girls make up only 15 percent of those who take the AP computer science test. What's more, women fill only 26 percent of IT-related professional positions. Though girls and boys show similar attitudes toward technology as young children, their views change as they enter puberty.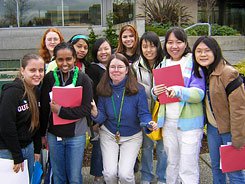 Credit: Courtesy of Roosevelt High School
Seattle Savvy: Teacher Liz MacLennan (center) takes students from Seattle's Roosevelt High School on a tour of Microsoft's campus as part of IGNITE, a technology-mentoring program for girls nationwide.
"When girls start reaching middle school age, they become very self-conscious about being smart and raising their hands and showing an interest in male-dominated fields," says Cathi Rodgveller, founder of Inspiring Girls Now in Technology Evolution (IGNITE), a Seattle organization that mentors female students in schools nationwide. "We're still really gender-role-specific in our society, whether we want to believe that or not."
Educators can work to change this attitude by taking steps to interest girls in computer science and related careers. From providing professional role models to supervising student-run clubs, teachers can undertake a variety of strategies both in and out of their classrooms to engage young women in technology.
Professional Role Models
One reason girls may be uninterested in technology is that they don't know any women who work in the industry. "Our goal is to make sure that young women have a real-life model for what these careers are really like," Rodgveller says. The IGNITE program, which costs member schools $500 per year, provides mentoring and job-shadowing programs with successful women working in various fields so that these role models will inspire girls to take more tech-related courses at school.
Before Rodgveller began the program in 1999, girls made up only 5 percent of the students in information technology classes in the Seattle School District. Since then, that number has increased to 40 percent to 60 percent, she says.
Hands-On, Service-Oriented Projects
Although boys often embrace new challenges or tools just for the sake of doing so, girls generally prefer to put what they're learning in context. Dan Norton-Middaugh teaches business education at Seattle's Roosevelt High School, an IGNITE member. When the director of Roosevelt's autism program needed help creating a page on the school's Web site, Norton-Middaugh gave the assignment to two of his female students. "They did a spectacular job," he says. "It helped that it was a real project."
Victoria Santos, who runs the TechREACH club at Langley Middle School, in Langley, Washington, has had similar experiences working with girls. "Whenever we can link technology to service projects in their community, the girls really like it," says Santos, who has students refurbishing computers to donate to low-income households. "A lot of them are still exploring how they relate to technology. This project gives them a way."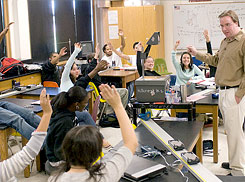 A Fair Shake: Daniel Brown, who teaches at Dallas's Hillcrest High School, works to make sure he treats all students equally -- andactively recruits girls for his Advanced Placement physics class.
Teacher Training
Before Dallas physics teacher Daniel Brown took a course on classroom sexism offered by gender-equity consultant Jo Sanders, he was sure he treated all of his students equally. So he accepted a challenge from his instructor and had a colleague observe his classroom at Hillcrest High School. Brown was shocked by the results.
"I found that I was not asking the young women in my room as many follow-up questions as I was the young men," he says when asked for an example. "I'd ask an initial question, and if I got the right answer from a girl, I'd say, 'Good!' and I'd go on. If I got the right answer from a boy, I'd say, 'Why is that?'"
So Brown worked to make sure his queries and reactions were equitable. He also began actively recruiting female students for his twelfth-grade Advanced Placement physics class, in which only two out of every ten students were girls. Now, half of the students are girls, he says, and their average grades have increased significantly, too.
Debunking Stereotypes
Another challenge to getting girls interested in technology is breaking down the stereotype of tech-related jobs, which girls often imagine to be geeky, highly technical, and isolating. Lesley Farmer, author of the book Teen Girls and Technology: What's the Problem, What's the Solution?, says educators need to be explicit in explaining what technology and engineering are.
"We have to show that it isn't just those male-dominated arenas in which digital technology comes into play," Farmer explains. Does a female student have a flair for words? She may want to become a technical writer. Is she artistic? She may enjoy trying her hand at computer animation. Showing girls how technology lets them express themselves can help break down stereotypes that prevent them from exploring it.
Student-Run Clubs
Tomorrow's Women in Science and Technology, or TWIST, is an after-school club created by female students at the Thomas Jefferson High School for Science and Technology, in Alexandria, Virginia. The girls seek out professional mentors and also run an outreach program for their middle school peers. Since the club formed in 2001, more female students have enrolled in the high school's engineering and computer science courses.
James Rose, an eleventh-grade physics teacher and faculty sponsor for the club, pushes the girls to take on challenging classes. "I try to point out that a lot of these things are fun, that they're worth the struggle," he says. "You have to encourage them to find out, 'Hey, I really can do this stuff, and I enjoy doing it.'"
Lesley Farmer adds that even clubs focused on traditional topics can incorporate technology by creating a video yearbook or having members do online reading, for example.
Beyond these suggestions, teachers can also enforce equal time at the computer among male and female students. Schools can offer tech classes beyond basic programming, such as multimedia studies and graphic design. And everyone can provide extra moral support to female students to help them overcome the challenges they face when entering a male-dominated class.
"Girls need support from the time they're in middle school all the way through college," IGNITE's Cathi Rodgveller says. "Otherwise, nothing's going to change. We'll still be talking about this in twenty years, asking, 'Gee, I wonder why women aren't going into these careers?'"
Sara Ring is a contributing writer for Edutopia.org. She lives in Los Angeles.