College Readiness
College Applications: Why Many Students Should Pass on Ivy League Schools
Teacher Esther Wojcicki explains why, for many students, lesser-known colleges are better than the best.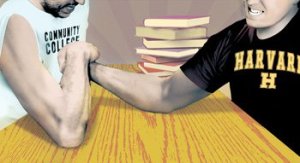 Credit: Gluekit
Every year when spring arrives, the tension of waiting for college acceptance letters permeates my school. As high school educators, we watch as some of our students become despondent after getting rejection letters from the colleges of their choice. Getting into good schools is harder than it was five years ago, and this year I expect it to be even worse. As their trusted sources in the world of education, we teachers need to help students find a balanced perspective.
To that end, every year, I give my students the lecture on a former student I call Henry. He was rejected from almost all the schools he applied to back in 1988.
Henry was on the short side, not athletic, and though he had friends, was not part of the "in" crowd. In fact, he was at an awkward stage in life both physically and socially. When the rejection letters came -- three in total -- he became depressed and dragged around the school for a couple of weeks. Finally, after realizing it wasn't the end of the world, he rallied and became his old self: hardworking and focused on his interests in writing and computers.
I consulted with him on his two remaining choices, second-tier schools that had been his backups. In the end, he picked San Jose State University, where he majored in journalism and history, while many in his class went off to Ivy League schools or other prestigious universities.
Henry did very well at San Jose State and loved his classes. He worked hard on the school paper in the summers, and he organized internships for himself. When he graduated, he had a job at a local newspaper in Gilroy, California. Within a year, he was employed at the San Jose Mercury News, and a couple of years later, he was writing for the Baltimore Sun.
Today, he is head of a bureau of an international business magazine in Asia. What mattered in Henry's life was not the name of the college on his diploma, but what he did at the college. He learned the skills he needed to excel at his job, and he felt good about himself.
Henry's story is not an isolated one. In my 25 years of teaching, I have seen hundreds of high schoolers who have not gotten into the college or university of their choice, and in the end, it didn't matter. In fact, in many cases it was a blessing.
Some of my students who have gone to schools such as Harvard or Princeton found their college experiences overly demanding and extremely stressful. Several at Ivy League schools had to switch out of their premed major because the competition was so fierce.
What's more, a 2003 article in the Harvard Crimson, citing the results of a survey released by Harvard University Health Services, reported that "nearly half of the Harvard College student body felt depressed during the last academic year, and almost 10 percent of undergraduates reported that they had considered suicide."
In comparison, another one of my students who went to nearby Foothill Community College for two years, then on to the University of California at Berkeley for the last two years, is now an assistant professor of medicine at Stanford University. Community colleges provide an excellent education and a bouncing-off point for students.
Here's the message we need to send to our students: Failure is in the eye of the beholder. Not being accepted into the college of their first choice is not the end of the world.
In fact, because all accredited colleges and universities nationwide have similar programs, students who do well in a small, lesser-known school have a better chance of getting into graduate programs than those who get mediocre grades in a well-known, highly competitive school. Grade point average is grade point average, no matter what the college, according to my husband, a Stanford University professor of physics and former head of graduate admissions in physics.
Students who hear these success stories feel much better and are able to relax and accept their college choices. Over the years, these talks have made a huge difference to many of my students, giving them the support they need from a person they respect. It's always exciting for me when many of them come back at our annual December reunion and tell me how much they love their college experience.
We need to remind students that there are many paths to achieving their dreams.
Esther Wojcicki has taught journalism at Palo Alto High School for more than 20 years and blogs regularly for the Huffington Post.