Project-Based Learning (PBL)
Monster Mash: Learning Real-World Skills in a Creature-Creating Art Class
A classroom doubles as a special effects tech studio, and students go pro.
A ferocious, drooling beast with menacing fangs and sharp claws looms over a roomful of high school students. They don't seem to notice. That is probably because the room is crowded with beasts -- life-size vampires, zombies, aliens, and other grisly creatures -- of the students' own making. And their classroom, filled with the hum of drills and dryers, drifting clouds of plaster, and low conversations about spilling intestines and blue fur, has the look and feel of a special effects studio.
In fact, it is both a classroom and a special effects studio. The Berea High School Visual Effects and Design class, in Berea, Ohio, is a place where students collaborate on masks, props, characters, and sculptures for independent films, trade shows, city spaces, businesses, and private collectors. For two hours a day, for thirty-six rigorous weeks a year, BHSFX students at all grade levels work in teams with a unique set of materials and class requirements (read: silicone, latex, and a syllabus that includes the phrases "eye fabrication" and "hair punching") to produce work of professional quality -- as professionals.
"I don't consider this class an art class," says teacher and founder Jim Bycznski, who started the program soon after he began teaching thirteen years ago. "It's far beyond just art."
Bycznski credits Arnold Goldman, owner of the Cleveland-based mask-making shop Monster Makers, for the "Eureka!" moment that led to BHSFX. An article by Goldman in Airbrush Artist Magazine helped Bycznski answer the question "How can I make art class into something real-world based and exciting for my students?" The answer, he decided, was special effects.
"When I proposed the class, there were some who said it's not an art form, it's a craft, and they weren't sure it would stick," says Bycznski. "But I looked at our curriculum and I said, 'Listen -- they're still going to draw, paint, make 3-D objects, and learn about balance and color mixing. The only thing that I'm going to do differently is. I'm going to use moviemaking as the subject matter.'"
That difference has made a huge impact. In a system where, as Bycznski notes, "art is the low man on the totem pole when it's time for budgets to be cut," the class has held its own. BHSFX has accepted collaborative projects and paid gigs that run the gamut from costuming for the high school's production of Godzilla Meets Las Vegas to dozens of hand-carved tiki masks for a local restaurant's patio decor. The longer students participate, the more advanced their project requirements become, and the vast majority stick around for multiple years. In fact, says Bycznski, "I haven't had a kid sign up for the class, take it, and not take it again if they were eligible to."
Naysayers might assume this staying power has something to do with the morbid attraction of designing electric chairs and bloody eyeballs. But the students are the first to defend their trade. Although "kids wouldn't want to join the class if we were sculpting fairies," scoffs senior Amanda See, both she and classmate Melanie Kenzig are well aware of the myriad skills involved. Taking a project from start to finish, particularly when there's more at stake than a letter grade, is no simple task. "We're definitely learning problem solving from this class," says Kenzig. "There's always a situation where you have to say, 'Well, what can I do to fix the problem?'"
Plus, this kind of stuff comes with the territory. "Visual effects is usually blood and gore," offers See. "I mean, sometimes somebody wants a bigger nose; we've done stuff like that, too."
Project Makes Perfect
The class's local notoriety stretches from holiday floats to movie theater displays (most recently to promote the movies House of Wax and X-Men III). Students have constructed props and creatures for such independent films as The Substitute Student, The Cardinal and the Wrath of the Warthog, and Crops, a recent award winner at Ohio's Broken Lamp Film Festival. Classwork also includes the simple mechanics required for animatronics (a hand drill-powered electric chair, for instance), and even filmmaking of their own (a series of shorts is available for viewing on YouTube, and one group won a Gold Key from the 2000 Scholastic Art & Writing Awards for their short film Project Cobra Strike).
Though many assignments are paid for, and the district supports the class as best it can, funding still comes largely from grants, donations, and a basic $30 yearly fee for student participants. Still, the more visibility, the better, says Bycznski, whether or not projects come with a paycheck.
"Early on, every time I said that we were a high school art class, that was the last we heard of people," he says. "But now I think that as we're starting to build some steam, we're able to get some of those projects."
The class's enhanced reputation has led to collaborations with high school students at the Polaris Career Center, an institution down the road from Berea High School where students and mid-career professionals can take credit-bearing classes in mechanical engineering or multimedia and graphic design. One of the team efforts was the Pilot Plane Project, created to celebrate the hundredth birthday of legendary artist and designer Viktor Schreckengost. BHSFX students sketched, sculpted, molded, painted, and sewed costumes for a gigantic Schreckengost caricature, along with accompanying dog and cat figures. These and an airplane Polaris students constructed were displayed for months at the Tower City Center, a commercial hub in downtown Cleveland.
Though the "high school" tag tends to keep paychecks on the slim side, what stuns many community members and clients is the caliber of the work. In a recent feature in the special effects publication Horrorshow, BHSFX accomplishments are lauded right alongside those of industry professionals. "I show the kids, I say, 'Look: They're selling this for $9,000,'" says Bycznski, flipping through Halloween catalogs. "'Look at the sculpture. Is it better than anything that's in our room right now?' I think if you look at what other people are doing, we fall pretty much in line with what it is that's going on out there."
More Than Monsters
Program alumni have gone on to attend the Art Institute of Pittsburgh, the Cleveland Institute of Art, the Savannah College of Art and Design, and the Full Sail School of Film, Art, Design, Music & Media Production. The class also has visited -- as honored guests -- the Douglas Education Center's celebrated Tom Savini Special Effects Make-Up Program, in Monessen, Pennsylvania. Still, just as a talent for visual art is not a requirement for entry to the class, it is certainly not the only goal, either.
"I tell the kids on the first day of every class, 'It doesn't matter to me whether you end up liking art, or whether you end up thinking that you're an artist,'" says Bycznski. "'My underlying goal is to make you a creative problem solver. Can you solve problems for yourself? Can you think your way out of a problem? Can you think of solutions to things that are thrown to you?'"
Bycznski's mantra, whether regarding an in-class project or a commission for a client, remains, "I'm not going to be the person who's holding your hand." Students have the responsibility to work and communicate directly with clients, he says, and gather advice about sculpture and mold making from each other.
"The tie-in to all of those other disciplines is that we're teaching them to communicate effectively," says Bycznski. "They're dealing with people from outside the building, outside their comfort zone. Many times, those people are adults who have much different demands, restrictions, and expectations than I do, and they have to deal with those people."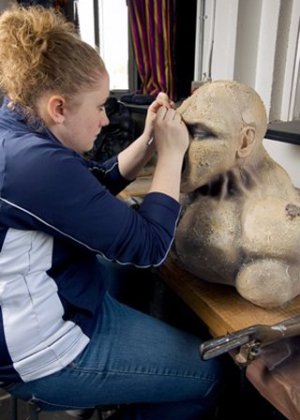 This real-world level of expectation makes the academic assessment process take care of itself, says Bycznski. Class grades are based largely on work ethic, and, typically, students are the ones doing the sniff test when it comes to the quality of a finished product, or making sure that everyone on a team pulls his or her own weight.
"Whenever I start a project, I never really think about the grade," says Amanda See. "I just get excited about a project no matter what."
Bycznski's hands-off approach is especially appealing to students who feel limited by high school's typical barrage of top-down assignments, grades, and mandates. Ask a few die-hard BHSFX inductees what their favorite aspect of the class is, and the response is unanimous: freedom.
"The longer you're in the class, the more freedom you have," says Melanie Kenzig, who has taken every art class offered at Berea High School. "In other art classes, it's always, 'Do this project. Do that one.' But here, it's like, 'Come up with your own ideas. Create something. Do something different.'"
Seasoned special effects gurus like Arnold Goldman concur. "If I had had this program when I was in high school, I would have gone nuts," he exclaims with a laugh. "I would definitely have convinced my parents that I needed to move to Berea to get into Jim Bycznski's visual arts program."
This, it turns out, has happened: After hearing about BHSFX, Melanie Kenzig pulled strings and switched high schools. "If I ever had kids, I'd force them to take this class," she says. "I'd want them to have the opportunity I had."
Sara Bernard is a former staff writer and multimedia producer for Edutopia.