Assessment
How to Increase Student Achievement
Persistence and reevaluation create change in ELL proficiency.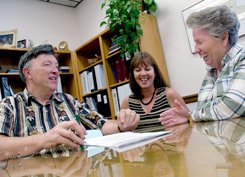 Credit: Linda Sue Scott
"We know we are a long way from bringing every student to proficiency, particularly our English-language learners," concedes Sheri Hart (center), assistant superintendent of the Central Union High School District, in El Centro, California. But when the high-poverty, high-minority district moved from Program Improvement designation to California Distinguished status over the course of a few years, it became clear that taking one step at a time -- and dogged persistence with each step -- can make a world of difference. Stakeholders in the CUHSD switchover suggest the following strategies for success:
Start with a Needs Assessment. "Look at yourself in the mirror and find out what your barriers are," says Central Union High School principal Emma Jones (above, at right). Apply for funding if necessary and begin allocating resources to the areas that need it the most. The CUHSD's performance-improvement initiatives were sustained on state and federal funds, including California's Immediate Intervention/Underperforming Schools Program (II/USP), federal Title I and Title II grants, and a 21st Century Community Learning Centers grant from the U.S. Department of Education that provides funds for after-school tutoring with certified teachers.
Use Data. To differentiate instruction for each student, it has been vital for CUHSD teachers to know the status of each student. Data-analysis tools such as DataDirector, an online data-management program, help educators use data to drive instruction. The district uses color-coded data sheets that provide at-a-glance student-performance information. A nonevaluative classroom-instruction monitoring system called Data in a Day has worked as a district professional-development and data-collection tool, and a modified version called the Teach for Success Classroom Observation Protocol is now available to other school districts through the research-and-development organization WestEd.
Employ Research. An emphasis on educational research, district staff report, has helped improve communication and collaboration between teachers, increased their focus on effective classroom assessments, and helped them better understand student culture and student needs. Because the district's English-language-learner population is so large, strategies to help those students have been at the top of its priority list.
No-prep tools often used in foreign-language classrooms such as choral response (simple repetition of new vocabulary) or AB partners (pairs of students reading aloud to each other) can make a huge difference when it comes to language acquisition and student engagement. Educational software such as Accelerated Reader and professional-development programs such as Achieve 3000 and the Write Institute help improve student literacy skills, and professional-development workshops for teachers have included the work of Rick DuFour, Kate Kinsella, Maria Montano-Harmon, Ruby K. Payne, and Rick Stiggins.
Make Time for Collaboration Between Teachers. Every other week, CUHSD schools close early to provide educators an entire afternoon of focused collaboration. Teachers compare notes and discuss academic standards, curriculum, targets, and goals. This constant communication helps create a tightly knit community districtwide, aids teachers in getting a grasp on standards-based education, and provides a forum for idea sharing and mutual support.
Create Teacher-Resource Personnel. "Don't put resources in the district office. House those resources where the kids and the teachers are," says CUHSD superintendent C. Thomas Budde (pictured at top left). Academic coaches and program-improvement resource teachers support classroom teachers personally and professionally, mentor new teachers, lead in-house professional-development workshops and initiatives, and serve as a communication liaison between teachers and administrators. To reduce potential resistance from teachers and teacher unions, fill the position with someone who can build trust quickly -- preferably someone who's been teaching in the district for many years.
Be Persistent. "Part of the success of any kind of change initiative is to be persistent enough with it and not abandon it prior to achieving some measure of success," says Budde. "I think, in education, we have a tendency to do that." Painstaking persistence and constant reevaluation and modification of the implemented strategies, say teachers and administrators, have been the real change agents in the district.
Sara Bernard is a former staff writer and multimedia producer for Edutopia.