Social & Emotional Learning (SEL)
An Inner-City Elementary School Leads the Way in Building Community
With creativity, passion, and a knack for finding resources, the principal of C.P. Squires Elementary School realizes impressive results.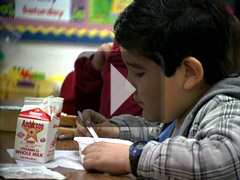 VIDEO: A Community Collaborates in Education
Running Time: 7 min.
Editor's Note: Carol Clark, principal of C.P. Squires Elementary School when this article was written, has left the Clark County School District and is now superintendent of a school district in northern Nevada.
It's 8:30 on a cold Wednesday morning in December, and Carol Lark is standing atop a play structure welcoming students to Las Vegas's C.P. Squires Elementary School. The band and chorus have just finished a lively rendition of "Feliz Navidad," and Lark is beaming as she looks out over the crowd of students in grades K-5. She's pumped up and ready to start another day.
"Good morning, C.P. Squires!" she shouts, and she receives a resounding chorus of "Good morning, Mrs. Lark!" in return. Together, students and staff recite the Pledge of Allegiance, pause for 30 seconds of silence, and then head out to their classrooms. Lark is proud of this morning ritual. It builds community, it provides an upbeat way to start each day, and, she adds, it's a great way to show off the school band.
C.P. Squires Elementary School principal Carol Lark welcomes students, staff, and parents to another day at their Clark County elementary school.
Credit: Edutopia
Lark is a study in contrasts. One minute, she's a mother hen shepherding a group of wiggly kindergartners into class. The next, she's a tough, walkie-talkie-toting CEO, troubleshooting scheduling snafus and wheeling and dealing to get the money and services she needs to keep the school of nearly 900 students humming along at a happy, efficient, productive clip. She slips effortlessly back and forth between roles, equally at ease with young children and business partners alike -- a rare and valuable trait for an elementary school principal.
Looking for a Challenge
Lark -- like nearly all of her colleagues in the school district, is a transplant to Las Vegas; only 3 percent of the staff were actually born in Clark County. She moved to the area from Montana in 1989 and taught just one year before she was promoted to vice principal. A year later, she was moved up again -- this time to principal of a brand-new school in an upscale suburban area of the district. "I stayed there seven years and enjoyed it tremendously," says Lark, adding that the school routinely boasted some of the district's top test scores.
But life in a middle class suburban school wasn't enough for this former Peace Corps volunteer. "I really wanted the challenge of seeing what we could do in an inner-city, at-risk school," says Lark. "I was granted that wish almost six years ago, and it's been fabulous. I have not had this much fun in 20 years."
Fun isn't necessarily the first word that comes to mind when you think about life as a principal in a poor school, where the challenges can easily seem overwhelming. The transciency rate is high, students typically have limited or no English skills, and many families lack basic resources, like health care, a warm jacket, or a well-stocked refrigerator. The eternal optimist, however, Lark prefers to tally up her list of blessings (an experienced, dedicated staff, supportive business partners, and a dedicated cadre of volunteers, to name a few), rather than dwell on the deficits.
Lark's also remarkably adept at finding the resources necessary to provide students, families, and staff with the resources they need to succeed. She worked with the county public health agency to open a school-based clinic in a vacant classroom.
Partnering with the neighboring middle school, she received a 21st Century Community Learning Center grant from the U.S. Department of Education to fund after-school instructional and recreational activities for students, kindergarten-readiness classes for preschoolers, and English-language classes for parents. When the weather turned cold, she solicited donations of "gently used" coats from families at a more affluent school in the district.
"All you have to do is reach out to the community," says Lark, "and they'll be there to help you."
Squires employs a variety of technology tools to assist students in becoming strong readers.
Credit: Edutopia
Every Child a Reader
At Squires and throughout Clark County, educators are focused on one primary task: getting every student to read at grade level by the end of third grade. For Lark and her colleagues, that task is made even more difficult by the fact that 97 percent of their students have only limited English skills.
An on-site literacy specialist, volunteer mentors and tutors, a full-day kindergarten program (an initiative started at Squires and soon to be replicated in schools throughout the district), and after-school tutoring have all helped improve students' reading ability. Technology has also been a huge asset, says Lark, who has pulled together grant money to buy the LeapPad Learning System (now defunct) and Plato Learning's LightSpan reading tools (running on Sony PlayStation game systems) for first-grade and second-grade classrooms. Kindergartners use the Waterford Institute's reading program, and older students use Accelerated Reader to improve reading comprehension.
Although some schools reward students for their reading progress, Lark isn't going down that road. "We don't give prizes. We don't give candy, " she explains. "I don't believe in that. I believe that children need to learn to love reading. They need to read because it feels good and is exciting."
Yearly improvement on test scores tells Lark she and her staff are on the right track. She also gets daily confirmation of their efforts as she visits classrooms or interacts with students throughout the school day. "As they progress through the grades, you can see them growing in confidence," says Lark. "When the language barrier breaks open and they start reading books, the students get so excited. You can walk down the hall, and someone will say, 'I jut moved to level six,' and I think, 'Wow. That is awesome.'"
Ongoing professional development and support for the personal and professional needs of her staff have enabled Lark to maintain a stable cadre of teachers at Squires.
Credit: Edutopia
Building a Team
Throughout the country, districts struggle to keep highly qualified teachers in their neediest schools. Aging facilities, limited resources, and the never-ending challenge of bringing struggling students up to grade level translate into high turnover rates and a preponderance of new and underqualified teachers. But Lark has managed to defy the odds, building a stable and experienced staff at Squires.
"Carol is a magnet," says Karyn Wright, director of fine arts and K-12 teacher development for the district. In her first year at Squires, Lark had 23 probationary teachers on her staff. Today, she has a list of highly qualified teachers waiting to snag a teaching spot at the school.
How did she do it?
"I treat teachers like they are the most special people in the whole world," says Lark.
In practical terms, that means providing the professional development and collaborative environment that enable teachers to learn with and from one another, as well as much-appreciated "extras," such as paying for substitutes so teachers can attend functions at their own children's schools, working with a local gas station to provide gas cards to staff who drive long distances to school, and taking time out for team-building activities. It means acknowledging the long hours and dedication of her staff. And it means having fun, despite the all the hard work.
"I don't believe in stress," says Lark matter-of-factly. "I believe you just create an environment where everyone enjoys what they do. The kids have fun. The teachers have fun. We love it."
Roberta Furger is a contributing writer for Edutopia.