Project-Based Learning (PBL)
A Week in the Life of a Build SF Student
Students like Kimmy Feng architect their futures through Build San Francisco's mentorship/apprenticeship program.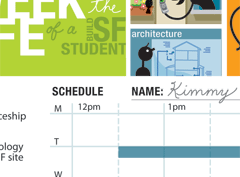 Credit: XPLANE
Click here for a visual map of a week in the life of a Build SF student.
It is early afternoon, and the Mission Street San Francisco studio/office of the Build San Francisco Institute (Build SF) seems thinly populated for the highly successful, hybrid public-private educational partnership that has enabled hundreds of local high school students to dive deeply into professional architecture and design. Part of that sparseness is due to Build SF's 8,500-square-foot loft in San Francisco's South of Market district, vastly larger than its original home. With dozens of computer stations, drawing boards, and huge south-facing windows, Build SF feels more like the studio of a mid-sized design firm than the home of a two- to five-day-a-week afternoon high school program.
Mostly, the spread-out feel comes from the fact that half of the students are at their Build SF "day jobs." These two-day-a-week mentorships enable each Build SF student to become a member of a leading San Francisco design organization -- and earn five school credits per semester in the bargain.
Each semester, every Build SF student gets the chance to work for a leading local firm, choosing from fields including architecture, engineering, interior design, landscape architecture, historic preservation, contracting, construction, and others. More than 30 local firms sponsor Build SF, which was created in 1993 by the Architectural Foundation of San Francisco, the site of its original and still-operating home. Today, Build SF receives software and equipment from companies including Adobe, Autodesk, IBM, and Apple, grants from the Hewlett Foundation, and a wide range of local support for what is a unique partnership between the San Francisco Unified School District and the city's design community.
Some Build SF students spend their nonapprenticeship afternoons at the program's studio taking two required classes, one in architecture and the other in design and urban ecology. Each class similarly earns students five credits per semester, over the course of which they work on a series of increasingly complex and demanding individual and team design projects. Each course is aimed at developing architecture and design skills. Equally, the curriculum is built to help students sharpen their writing, math, public speaking, and design skills. The design focus of the program provides an exciting environment that helps connect what might have been regarded as dry, ungrounded academics to the real world of work.
At the moment, Build SF programs director Will Fowler is touring the studio with executives from another local public/private school program. The idea, Fowler explains, "is to compare notes and see if the two programs might have some useful future links." At the same time, Build SF's new lead teacher, Julia Jones, is looking over the shoulder of a student working to complete one of Build SF's early school-year design projects, a condominium, using Autodesk Revit, a computer-aided-design (CAD) program. Mastery of the software program is a required part of the curriculum.
In this case, very little instruction seems necessary. The student, Kimmy Feng, a senior at San Francisco's Lincoln High School, clearly knows her way around the computer and seems to absorb Jones's suggestions with almost frightening ease.
"She's a pretty quick study," Jones says as the Feng adds a new roof to her design. "It's hard to believe this is only her second day on Revit."
Feng, who emigrated from Shanghai four years ago with her parents, is clearly making good use of San Francisco's alternative school programs like Build SF. In her case, this opportunity translates into demanding mornings spent at her Sunset District high school, where she is taking precalculus, American history, and two English courses, a course load is designed to prepare her for the upcoming college-application process. Feng's goal is to win acceptance at either the University of California at Berkeley or the University of California at Davis, where she wants to major in architecture and interior design because, she says, "since I was very young, I loved to draw and design."
Feng, who grew up in Shanghai during that city's unprecedented high-rise boom, suggests that her interest in architecture came, she says, in part "from seeing a lot of really big, beautiful buildings go up all around our neighborhood." Measuring her words with a precision remarkable for someone who began speaking English only in 2004, Feng explains how her school counselor suggested she try Build SF. As she noted on her application, Feng hoped Build SF "would be a great opportunity to get into a better college and get real experience in the world of architecture and interior design."
Her motivation is tested at the end of her 11:40 a.m. fourth-period class, when she hikes the half mile to the nearest public transit station for the half-hour train ride downtown. On Monday and Wednesday afternoons, following a quick lunch, Feng goes directly to her apprenticeship, which takes her deep into San Francisco's Financial District. She checks into the elegant Post Street offices of Tom Eliot Fisch, a leading local practice with a staff of 25 designers and architects specializing in public service and community-based projects. The firm has been both a sponsor of Build SF and a mentorship host since 1997.
When Feng began her mentorship, Tom Eliot Fisch principal Douglas Tom assigned her to the firm's professionals, who gave her an overview of its methodology, work, and history. Feng also works on nuts-and-bolts projects, which have included editing the firm's Wikipedia entry and transferring blueprints of a historic building the firm is renovating in San Francisco's Presidio into AutoCAD files.
A couple of weeks into that project, Tom is happily convinced, he says, that "Kimmy knows more about the Presidio project than anyone else at the firm." This praise is particularly welcome to Feng, considering that Tom will soon be filling out her Build SF evaluation -- and the apprenticeship is worth one-third of her overall program grade.
Not to worry, Tom notes during a tour of the firm's studio: "I told Kimmy on her first day that no one expected perfection -- only that she stays interested in learning about architecture and design."
Richard Rapaport is a journalist and consultant in San Francisco.