Social & Emotional Learning (SEL)
The Bronx Cheers: The Bronx Charter School for the Arts
Students make beautiful music where once the product was kosher salami.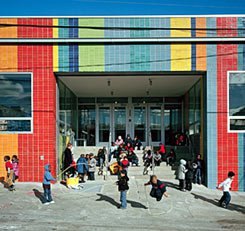 Credit: Courtesy Weisz + Yoes Architecture
Touch of Glass:
In an industrial area cluttered with warehouses, auto-repair shops, and food-distribution centers, the Bronx Charter School for the Arts stands out like a diamond in a rough neighborhood. One look tells you this isn't a place to get your muffler fixed.
Not that a sign bearing the school's name tells onlookers otherwise. The building doesn't even possess one -- evidence not of some minimalist artistic choice but of a tight budget. Still, this three-year-old public elementary school in Hunts Point, a South Bronx neighborhood of New York City, clearly announces itself as an artistic gem. A montage of bold glazed bricks painted in rainbow hues surrounds the front entrance, and stick figure drawings on the sidewalk relay messages that speak to needs not so much in evidence on Manhattan's Upper East Side: "Keep Hunts Point Clean" and "Stop Killing." Unlike nearby businesses on Longfellow Avenue, Bronx Arts serves a different purpose: to offer local kids a rigorous academic education with an arts emphasis and by doing so provide a foundation for academic and social success.
Bronx Arts is a prime example of sow's-ear-to-silk-purse renovation. When the original building was constructed in 1928, a sign outside read "Zion Kosher Salami." Some years later, the factory closed, and the place became a storage warehouse for smoked salmon, matzo, and other kosher products. So, when architect Claire Weisz was faced with the challenge of transforming this cold, dark storage space into an inspiring school several years ago, it's not surprising that her first reaction was, "Oy, vey!"
"It was so dire," she says, speaking from the Manhattan office of weisz + yoes architecture. "The building had no natural light. It was multilevel and was a structural nightmare, because it was cobbled together from two separate buildings."
The site also contained remnants of its former life: walk-in freezers, compressors on the roof and ceiling, and many layers of insulation. "There was a huge amount to clean up just to see what we had," Weisz says.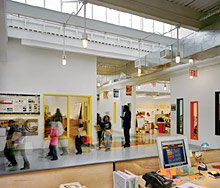 Credit: Courtesy Weisz + Yoes Architecture
Light Industry:
Extreme Makeover, School Edition
The challenges of converting the old space into a new school had begun even before the decrepit warehouse was chosen.
"We looked at what felt like a million properties," recalls Bronx Arts executive director Xanthe Jory, the visionary behind the school. "But there weren't a lot that we could consider. It needed to be in a certain place. It needed to be environmentally safe -- which is not the case with every site in Hunts Point. And we needed it to be within our budget."
Jory is responsible for managing the facility's development, which includes keeping costs down and funds up. But as she's quick to point out, no one person deserves credit for the school's creation. It took a team.
"The design process wasn't just the architect considering design challenges," says Jory. Instead, she explains, it entailed a "participatory design process." That process began in 2002 with a planning team of architects, board members, educators, parents, and community residents led by facilitators from the Sam Schwartz Company, an engineering and planning firm.
Civic Builders, a nonprofit real estate developer that finances the acquisition, design, and construction of buildings for charter schools, also played a key role. The purchase, predevelopment, and development of Bronx Arts's 30,000-square-foot space cost $4.7 million, a near-bargain price tag by New York City standards. Civic Builders bought the property and leases it to the school for roughly $500,000 a year, with an option to buy.
Eventually, Jory wants to do just that. But for now, she has her hands full; during the last fiscal year, she raised more than $600,000, one-sixth of the school's annual operating costs. The State Education Department's University of the State of New York ponies up the remainder on a per-student basis.
However, funding, or a shortage of same, isn't all that determined site selection. As always with real estate, location played a part. Simply stated, the members of the community-oriented team wanted the school to be in their neighborhood.
"Pretty much everyone on our original planning team had taught or lived within a short distance of where we ended up," explains Jory. More importantly, about half of the students live within walking distance. The school's relationship with the Point Community Development Corporation also was a factor. "We saw a lot of possibilities for a formal and informal partnership with them," Jory adds.
This relationship makes sense. The Point, founded in 1994, is committed to youth development and to revitalizing the economy and culture of Hunts Point. "They have programs for kids and adults," says Jory. "They have a gallery and a performance space, they have a dance company -- all kinds of stuff."
The Point and Bronx Arts are part of a larger movement to make one of the poorest and most polluted areas in the city more livable. Last year, a task force of local residents, city officials, and businesspeople formed by New York mayor Michael Bloomberg issued the Hunts Point Vision Plan, a twenty-year initiative with $27 million in seed money, which is aimed at improving the area as a place for homes and industry.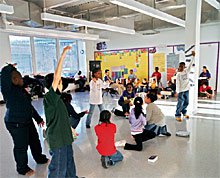 Credit: Courtesy Weisz + Yoes Architecture
School to Scale:
Let the Sun Shine
Given all the constraints the team faced regarding site selection, the pickings proved slim. Even the final choice was less than ideal for two reasons: The space is smaller than they had hoped -- the expanding student body total reached 285 this fall -- and the back of the building abuts a wall, so the only windows are in the front. You don't sense either of those drawbacks when you step inside, however. Natural light floods the entire loftlike interior, thanks to 1,675 square feet of vertical skylights, which constituted the biggest single discretionary expense of the project.
"The skylights were incredibly expensive," Jory says. "We could have easily said, 'No skylights' and really brought down the building's cost. We just had to prioritize. It was all about how we could get the most bang for our buck. We wanted to make sure the classrooms had natural light and didn't feel like a prison."
Another design goal was to create a space where students always feel oriented. "In many schools, you walk down long corridors and you don't know where you are," explains architect Claire Weisz. "We wanted to empower kids by giving them a sense of where they were in the space. When any kid gets out of his classroom, he understands where the front of the building is, where the street is."
To this end, the classrooms are built around the main reception area, which contributes to an atmosphere relaxed and informal but not chaotic, focused yet not rigid. One can't help but sense that the students, in their colorful uniform T-shirts emblazoned with their school's name, feel safe here.
As money becomes available, improvements to the building continue. A stairway, completed this fall, now leads down from the reception area to the newly renovated space below street level, which contains a multipurpose room that serves as a lunch room, a performance space, and a meeting place for the community at large. This $875,000 renovation also included installing an elevator down to the new space.
Jory says her wish list for future improvements includes building out the rest of the basement to include a medical clinic, a teachers' resource room, and an administrative office and storage space, as well as putting in a dance floor upstairs, increasing acoustical abatement, and introducing such simple amenities as storage spaces for kids' bags and coats.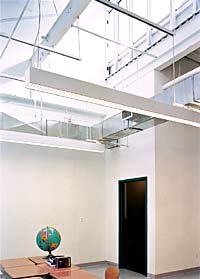 Credit: Courtesy Weisz + Yoes Architecture
High Glass:
Making Music
On a recent tour, Qiana Mickie, the school's development associate, pointed out the significance of placing the art studios and gallery at the front of the school, where they can be seen from the street, thus connecting them to the neighborhood outside. Music teacher Eric Plaks applauds the layout, though he notes that the side-by-side placement of the music and dance studios, which both often resound with exuberant music, is sometimes problematic. When recalling the design process, he says, "We were looking with our eyes, but we weren't listening with our ears."
On one of the days I was at Bronx Arts, the fourth graders in Plaks's class seemed unconcerned by such acoustical glitches. With unfettered glee, they followed his lead as they banged out complicated rhythms on steel drums and other percussive instruments and sang the chorus of an original rap: "What is the story of the real hip-hop? / Who wrote the rhymes, who let the needle drop?"
It was hard to tell who was more enthusiastic, the teacher or the students.
Evantheia Schibsted is a contributing writer to Edutopia.