Professional Learning
Broccoli Brain: Developing Enthusiastic Consumers of Nutritious Knowledge
Why force-feed students test prep when they could feast on creative teaching?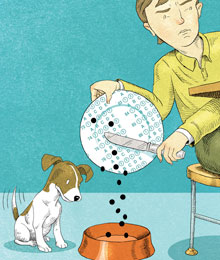 Credit: Wesley Bedrosian
If you ask your kid why she stopped eating halfway through her meal, she'll probably say, "I'm full." If you reply, "Oh, so there's no room for ice cream?" you may discover that your child has two stomachs: the broccoli stomach, which fills up quickly, and the dessert stomach, which is always ready for more.
I believe that our children also have a broccoli brain and a dessert brain. Unfortunately, it is the broccoli brain that is being fed at school, while the dessert brain stays hungry. And now, with standardized assessment defining public school curriculum, the broccoli brain is being stuffed to overflowing with drill-and-kill test prep.
Even worse, there is no room in the broccoli brain for an essential food: innovation. That doesn't mean just the Nobel Prize-winning kind but also personal innovation -- the feeling of accomplishment that comes when you put a new piece of the world together ("Aha!"). The cumulative effect of this kind of small-scale innovation is often called understanding or deep learning, and it is essential to effective education.
As New York Times columnist Thomas Friedman and so many others keep pointing out, competing in the empower-and-connect twenty-first-century world will require a highly effective and creative education system. Science and technology are not about white coats and circuit boards but about problem solving and creative thinking -- in a word, innovation. There's no point in pretending that schools teaching primarily to the broccoli brain will ever rise to the challenge Friedman describes.
But one rapidly growing group of kids is familiar with personal innovation: Gamers are enthusiastic learners who have their dessert brains fully engaged. Indeed, the results of a yearlong study by the Federation of American Scientists suggest that computer games have the power to teach analytical skills, team building, and problem solving. Other research shows that gamers make better managers because they can innovate and, not surprisingly, instinctively understand rapid decision making in changing environments. Stripped of their violent content, games can be powerful (and tasty) learning tools. But most teachers can't channel these tools into activities that boost motivation while improving test scores.
Enter Bright IDEA, a program created by the North Carolina Department of Public Instruction and Duke University's American Association for Gifted Children that helps teachers improvise and create -- from scratch -- deeply engaging curricula that meet state standards. The result is significantly improved test scores and an incredibly high percentage of economically disadvantaged K-2 students now being identified as gifted. Perhaps most important, Bright IDEA students develop identities as enthusiastic learners. They excitedly use their brains -- undivided and consuming plenty of delicious nutrition -- while confidently innovating. The teachers, also innovating as they work with an ever-increasing variety of materials, are spontaneously clamoring to add games and other creative technology to their classrooms.
All this occurs in regular public schools with minimal test preparation and no extra hours or extensive tutoring. And this is not a limited pilot program with a tiny sample size but a fully scalable program with more than 5,000 students. (Full disclosure: I've been a fan of -- and pro bono adviser to -- this program for three years.)
But can this creative approach to education be delivered on a nationwide scale? Can we lose our growing, misguided, and dangerous dedication to the broccoli brain? Absolutely. We need education decision makers to support techniques like those in Bright IDEA, which systematically deliver effective, innovative learning, and we need the foundations and philanthropists who focus on education reform to devote funding to these empower-and-connect approaches.
Credit: Wesley Bedrosian
It would be worth it if only to elicit a different answer to the perennial question "What did you do in school today?" Instead of the familiar "Nothing," we might hear "Wow! You wouldn't believe what we're doing!" We'll begin getting that kind of response when schools change from broccoli-feeding factories into places where students can get in touch with the powerful and mystical world of knowledge -- and begin to innovate with confidence.
Hugh Osborn is an education consultant and the father of three public school children in Pelham, New York.