Professional Learning
Brain Food: Nutritious Eats + Yummy Ingredients = Happy Students
The nation's largest school district eats its vegetables — with relish.
Credit: Photography by Klaus Schoenwiese
Going Greens Chef Jorge, executive chef of SchoolFood
How do you make inroads into a culture that delivers a one-two obesity punch of fast food and sedentary activity? If you are Jorge Leon Collazo, a chef charged with putting healthy food on the plates of New York City's schoolchildren, you employ stealth and rewards to change habits without rebellion.
Take his new breakfast burrito. Chef Jorge, as he is known, made sure it tastes good and meets school district nutritional specifications. (For instance, the wrap is whole wheat, and the filling adheres to low-fat, low-sodium requirements.) But, before he served it, Collazo had to find his healthy entree the right outfit: a paper wrapper "just like you might see in a fast food place," he says.
Meanwhile, he promoted his Garden Burger with a different strategy. As an incentive to try the veggie item, Collazo, executive chef of the New York City Department of Education's Office of SchoolFood, held a weeklong sweepstakes in schools where it was served, giving away iPods and other MP3 players, as well as bicycles, as prizes. Sales went up by 19 percent.
"We want to make it cool for kids to eat the food they serve in school," says David Berkowitz, executive director of SchoolFood.
The program, which employs Collazo and seven other chefs, serves about 860,000 breakfasts and lunches per day, an increase of 20,000 from two years ago. The idea is to prepare dishes with less fat, sugar, and salt but more taste and visual appeal. Though nutrition drives everything Collazo does, he also is battling stereotypes: School food has a deserved reputation for being tasteless, but it also has the stigma of being a handout.
"Some see it as welfare food," says Collazo. "And that's something we're chipping away at."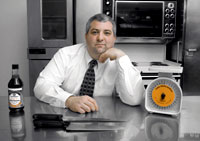 Credit: Photography by Klaus Schoenwiese
Cutting the Fat Billy Doherty, a chef with SchoolFood
No More Mystery Meat
SchoolFood is run more like a chain of restaurants than a constellation of school cafeterias. Dishes are prepared, named, and presented with an eye to what customers, as Collazo calls the students, look for in places with pricier menus. Popular dishes include a fresh salad bar, soy-based Garden Burgers, a curried-chicken-and-apple wrap, and Lo Mein Style Salad, which contains pasta, fresh red and green peppers, garlic, scallions, carrots, mushrooms, honey, and soy sauce.
When deciding on new dishes, Collazo's team asks students for suggestions. "Surveying your customers is a critical part of meeting their needs, regardless of what business you are in," he says. This has brought some ethnic diversity to school cuisine, as students call for food with ingredients such as cumin, jalapenos, and curry powder. Collazo and his fellow chefs now include dishes like Pollo Guisado -- a chicken stew inspired by Dominican flavors -- in their menu.
Vegetarian dishes are another pet project of Collazo's group. As part of a program called SchoolFood Plus (funded by a W. K. Kellogg Foundation grant), two of Collazo's chefs, Billy Doherty and Sid Grabill, are developing "plant-based" recipes built around ten specific foods, from rice and beans to corn and greens. (Collards with chickpeas and cheesy baked spinach are both hits with the kids.) SchoolFood Plus also participates in the burgeoning national Farm to School program, aimed at connecting local food growers with schools.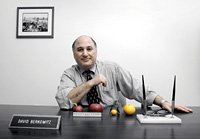 Credit: Photography by Klaus Schoenwiese
Comparing Apples and Oranges David Berkowitz, executive director of SchoolFood
Size Matters
Feeding the largest school district in the country has its drawbacks. "It's a monster to move," says Collazo. "It's not just the number of people we feed. It's the process. Getting something on the menu can take six to nine months."
The size of the district gives SchoolFood clout. With an estimated $125 million annually to spend on food, Collazo can lean on manufacturers to adjust their product recipes or create new ones to meet SchoolFood's healthier specifications. For instance, Collazo has convinced suppliers to create low-sodium sauces and leaner meat products because he uses massive amounts of both.
When the products are a hit with students, manufacturers benefit, too. Says Berkowitz, formerly a vice president for food-service giant Aramark, "Sheer volume isn't the only reason they want to do business with us. Manufacturers are anxious to sell to New York City because many school districts throughout the country are following what we're doing -- pushing the envelope to improve the nutrition of products."
SchoolFood is pushing hard. The program's nutritional standards exceed U.S. Department of Agriculture guidelines. Meals are very low in sodium and fat, and ingredients contain no artificial coloring, artificial sweeteners, or hormones. Wheat bread, not white, is served, and SchoolFood plans to eliminate whole milk from the menu, selling only low-fat and skim varieties. It also hopes to eventually to cut all products that contain trans fats (specially formulated unsaturated fats that prolong shelf life) from their grocery lists.
Collazo, who came to his post from a fiveyear stint as chef instructor at Vermont's New England Culinary Institute, obviously loves the challenge of creating delicious healthy food for palates dulled by burgers and fries. But he also is convinced that his job is closely tied to the academic fortunes of this sprawling school district. SchoolFood's slogan is "Feed your mind," and Collazo is committed to the concept. "The better fed kids are," he says, "the better they're going to learn."
Evantheia Schibsted is a contributing writer to Edutopia.