Technology Integration
Accidentally Creating a Digital Writing Workshop
As a classroom teacher, it was never my intention to integrate technology into all facets of my instruction. I knew that I would be encouraged to use such digital devices in my practice, but I hesitated to introduce a tool simply because it was flashy. After all, I thought of my traditional lessons as being flashy enough. I didn't need a device to amp up my creative curriculum.
Tech Finds Its Way
Over time, I slowly began utilizing various tools -- both digital and not -- in my classroom. As I grew in my profession, my ideas and perspectives grew. I started becoming a connected educator through Nings like English Companion, and joined Twitter chats like #NTchat. I realized that what I was learning at prestigious conferences was also being shared online. This opened up a new world for me as a new teacher. I became a sponge.
As years progressed and my comfort level with teaching became more secure, I started taking more risks and trying new ideas. My comfort level with technology also became more secure. I saw the benefits of how technology could engage my learners, encourage collaboration, and provide meaningful project ideas to spark curiosity and exploration.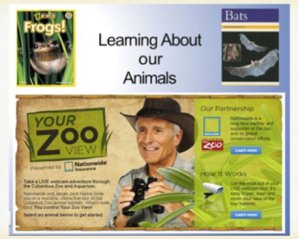 Credit: Columbus Zoo and Aquarium
Your Zoo View
Animal Magnetism
Last year, my students engaged in rich research as they worked on their animal reports. They loved being able to select their own animal. I only wished that I could have taken them to see these animals in person. I remembered a resource about a virtual zoo I'd seen on Twitter and saved on Pinterest. So I brought the virtual Columbus Zoo into our second grade classroom. The zoo had live webcams for observing the animals in their habitats. As soon as I launched the site, children began discussing the animals' skin coverings, diet, habitat and physical characteristics. Their conversations were focused and interesting. They naturally began to push each other's thinking.
Soon they were at all different stages of the writing process. Some were finishing their published books, and they craved something more -- they weren't ready to move on to the next piece. They enjoyed sharing knowledge about their animals. So I proposed that they think of an extension to work on in class.
Credit: Erin Klein
One child drew a creative poster advertisement for his animal, the monkey, on large chart paper. Then took on the job of a zookeeper and had a friend film him doing a commercial promoting the new monkey exhibit at the zoo. He spent a lot of time writing a script he was happy with. Afterward, he added that film segment as an augmented layer using the free app Aurasma. Now anyone could hold their device up to his poster and see his commercial start playing.
As a teacher, I was able to use his commercial as part of my anticipatory lesson to launch our next writing genre, persuasive writing. This student worked on several Common Core Standards without direct and explicit instruction. He found success in his own creative independence and use of technology. It couldn't have worked out more perfectly.
Another student chose to extend his project by publishing his work as an iBook. After developing each page, he took photos of his work, added annotation and shared his knowledge. He rehearsed his speaking part several times before recording his voice over. Each time he practiced, I heard his vocabulary become more specific and his confidence grow. He would also take breaks to do further research on the iPad. The more he learned, the more questions he had, and the more research he would do. His final iBook included many points that his original piece did not. He was so proud of his work and how much more he'd learned.
As more students began to complete their work, they asked to continue their learning. Several students created beautiful posters using the free web application smore. They would upload images of their animals and share important facts. The children couldn't wait to share their work with others. They found purpose in knowing their audience was authentic and that others could benefit from their research.
Creative Choice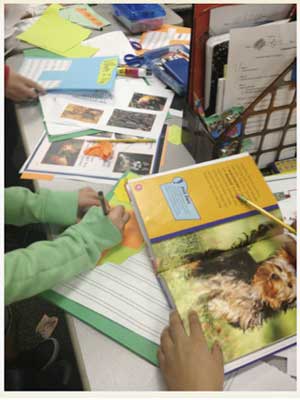 I knew that any future project would never be the same. After allowing students to have such independence and seeing how creative and responsible they were, how could I not allow them to have more ownership of their learning?
Technology was now a part of our learning -- technology to research, explore, create and share. It was natural for the children to use chart paper, markers, their voices, iPads and computers. There was never a choice to use technology or not use technology, but rather to think about what tool would support their objective. Some chose paper, some chose an iPad. I learned that introducing the students to a variety of tools allowed each child to have more creative choice.
How have you integrated technology into writing workshop – either accidentally or on purpose?