Media Literacy
The Berkeley World Language Project Connects on G+
Google+ seems like a natural social medium for world language educators to learn together, support each other, and connect globally with resources.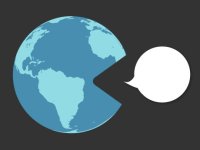 My journey as a connected educator began one day while I was stuck at home, convalescing after surgery. I picked up my iPad and decided to check out Twitter because I was curious to find out what all the fuss was about. I admit I was skeptical that 140 characters would really amount to much -- until my professional journey started expanding by leaps and bounds. I am still amazed that, in less than a couple of months, I was part of the #LangChat team, and a facilitator for Edutopia!
Now I have stepped into yet another role. After 25 years working as a teacher trainer with the Berkeley World Language Project, I serve as co-director. Our project offers ongoing professional development opportunities for teachers of other languages, including ESL, heritage languages, American Sign Language, and all world languages one might imagine, from French and Spanish to Arabic and Japanese, from Hindi and Swahili to German and Italian . . . It's a great deal of fun to work with such a diverse array of educators seeking to meet the needs of students in our service region of the greater San Francisco Bay Area.
My role as co-director includes handling the technology we use and our developing social media presence. Once a skeptic, I am now an enthusiastic proponent for using social media as professional development and collaboration tools.
In addition to offering workshops, the Berkeley WL Project seeks to support colleagues, nearby and farther afield, through social media. Our connections include Twitter, Facebook, and Google+. Each has its advantages, of course, but the Google+ platform seems to offer the most flexibility for our purposes. Here are some of the ways it helps us engage with the global language community.
1. Language Acquisition Theory
We have the unique privilege of being located at the University of California Berkeley and being part of the research and activities of the Berkeley Language Center. We've established an online presence, in part, so that we can share the wealth of information flowing through our halls at Cal, which comes from all over the world. We share information about the latest developments in language acquisition theory and best practices.
For example, there have been significant discoveries about how the human brain learns languages. We are especially keen to share this research so that we can think together about how best to design curriculum which will allow students to be successful in language acquisition. We know that we don't really learn languages through structural approaches, which have been the predominant methodologies used, especially in the U.S. How often have we heard someone say, "I took two years of French, and all I can remember is that we conjugated verbs." And of course, that's what we have done, but no one ever went into a café to conjugate a verb!
We've discovered that the brain learns languages best by imitating patterns. We hear/see/read chunks of language, and then we imitate them until we have a sense of how they function. Afterward, we begin substituting words within the patterns, adding more patterns to our repertoire, until we really own the language. We've also learned that if we teach structures on the side, we can help students improve their accuracy, particularly in writing, but only once they reach intermediate fluency, so that they have enough language to which they may apply their improved accuracy. Google+ allows enough space to post important research online and foster a conversation about these and other articles.
2. The Power of Conversation
We seek to connect with people at a deeper level beyond our workshops and tweets. Google+ allows for longer conversations, which sometimes lead to setting up a hangout for face-to-face conversations. I've had chats with language educators all over the globe, from France, Canada, and South Africa, to Hawaii, Japan, and China. It's been enriching to have these connections as we explore incorporating newer strategies for learning languages based on what we learn from the research. We're exploring what really works to help students achieve the proficiency-based the outcomes we desire.
3. Extending the Workshops
Most of our engagement with language educators has been with those who come to our workshops. Each of our programs offers 40 hours of contact per school year. However, that's often not enough time for our participants to process how to implement the new skills they are learning. We've started experimenting with discussion forums on Google+. We post an article with a few questions to support a deeper conversation about what works in the classroom. We will eventually post videos, photos, and other sorts of media as well. We think this development will serve a need that we were previously unable to meet.
4. Sharing Results
We also plan to share examples of student work with our Google+ participants. In fact, we hope our participants will also share their own examples of student work as we engage in action research together. The G+ platform allows for a lot of options to this end.
It's amazing to live in a time when things happening on the far side of the world can affect what we do in our classrooms with students. The world is indeed our classroom, and all the more in a language class, where we support students to connect globally. We have found a useful home on Google+ to support the conversation about what really works in language acquisition, and how to put these strategies into practice.
Have you also have found ways of using G+ to connect with other educators around the world? I hope you'll share your thoughts and comments below. And I look forward to learning with you as we share ideas here on Edutopia!