Education Trends
Voxer Versatility: New Ways to Communicate
Teachers are using Voxer in their classrooms, schools, and PLNs to share meaningful feedback, expand authentic communication, hold back-channel conversations, and connect across boundaries.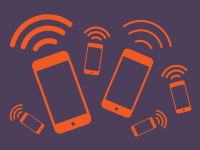 Communication, of course, is at the heart of successful relationships. In Hamlet, Shakespeare encouraged us to be active listeners when he said, "Give every man thy ear, few thy voice." Yogi Berra noticed the need for sincerity when he said, "It was impossible to get a conversation going, everybody was talking too much." Stephen Covey, the author of The 7 Habits of Highly Effective People, believes that "communication is the most important life skill."
As educators, we know it is at the heart of what we do. When we fail to communicate, isolation increases, understanding decreases, and conflicts and confusion fester.
Tom Katis knows a bit about communication breakdowns. He was a Special Forces communications sergeant in the U.S. Army stationed in Afghanistan after 9/11. During an ambush, when he needed to coordinate reinforcements in the middle of a firefight, he could not talk to everyone at once. The government-issue walkie-talkies weren't doing the trick. It led him to develop Voxer, a walkie-talkie app that allows a user to send and receive voice, photo, or text messages, all of which are saved on users' smartphones. It has been embraced by the educational community and has enabled students, teachers, and administrators to communicate broadly, easily, and instantly -- with transformative effects.
Here are four ways in which Voxer's versatility is improving communication and making a difference in classrooms and schools.
Meaningful Feedback
Michael Dunlea, a second-grade teacher in New Jersey, is using Voxer to archive his students' reading fluency at the beginning of the year, and as a basis of comparison throughout the year. Dunlea loves the ability to "forward the Vox via email to parents. If you give the child any type of guidance, the parent can then learn how to support that learning at home by repeating however you coached the child through a moment of struggle."
Jay Posick, a principal at Merton Intermediate School in Wisconsin, uses the My Notes feature to "do a voice message after I have been in a classroom, and then email it to the staff member. Most of the time it is to point out something that I saw that I think they should share with others."
Donald Gately, a principal in the Jericho, New York school district, has done the same thing for the past two years. "By using your voice, you give feedback at the lowest temperature," he explains. "It is not in writing. I think any time people see something in writing, it raises the ante somehow."
PLN Power
Voxer is different than Facebook or Twitter as a personal learning network. It is more intimate and personal. With Voxer, you hear the intonations, the pauses, and the bursts of excitement, all of which reveal authenticity, allowing more personal and genuine communication to occur. It's more mobile as well. You can listen as you go and don't need to be glued to your screen to interact with it.
As Ruth Arseneault, an English teacher in Canada, says, "It is like carrying around your dream team of colleagues, those people that you seek out to ask them to share their ideas."
The University of Pennsylvania's Graduate School of Education has compiled a list of Voxer communities.
Back-Channel Conversations
Jimmy Casas, principal of Bettendorf High School in Iowa, is constantly using Voxer with his administrative team, staff, and students. It's a convenient way for his team to stay organized throughout the day and into the evening. "We also use it with our security team to stay connected on student safety," he says. "I have my student-leadership team on Voxer as well. It is a great way for students to feel like they have a voice and are connected with their building principal."
I used it to unite my classes, turning my three AP literature sections into one Voxer group. We had conversations about Frankenstein beyond the school day. As I made my way to my car, I posed a question or shared an insight. My students would have rich conversations about the novel well into the night, creating one unified class beyond the four walls of the classroom.
Connect Across Boundaries
Michael Dunlea, who was mentioned earlier, used Voxer to teach his second grade students across time zones. "It is very abstract for seven-year olds," he admits. "They don't get that Nova Scotia is an hour ahead of us. They don't get that Ireland is having dinner when we are having breakfast. I could press a button and connect my students with the world."
I conducted all of the interviews for this post through Voxer, allowing me to connect with teachers and administrators, many of whom I've never met. But they used this communication medium to share with me the ways in which communication has become more transparent and sincere.
Are you using Voxer in your school or with your PLN? Please tell us about in in the comments section below.