Social & Emotional Learning (SEL)
The Value of a Real Apology
"Sorry" can be the easiest (and least meaningful) word when delivered without understanding or caring. Effective apologies must come from a place of integrity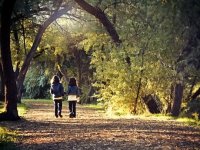 Years ago, when we first wrote Discipline with Dignity, Al Mendler and I were strongly opposed to public apologies. We included them on our list of the most ineffective methods of discipline. The first problem is that nothing academic or behavioral should ever be made public. Even if the information is positive, it must remain private. Public forms of discipline -- including writing on boards, charts, or oral interventions -- create pressure, humiliation, powerlessness, embarrassment, and unwanted attention. Even if the public attention is meant to be positive, the student does not always feel that way. I'm sure many readers had a teacher single you out in front of the class for a good thing you did, and you hated it.
These feelings lead to a drop in motivation, distrust, passive-aggressive behavior, confrontation, and negative attitudes. We never forget or forgive the teachers who humiliated us. Lots of us, even after all these years, still cringe at memories of public humiliation in school.
Words Without Meaning
But what about private apologies? After all, they are not as embarrassing as public ones. They teach the value of saying that you are sorry for hurting another. They teach respect for other people's feelings. Children need to learn the value of empathy, and apologies can be a good start. Teachers of young children can introduce the concept of feeling badly about hurting others and how to express it. However, like most classroom behavioral remedies, there can also be serious problems with private apologies. Let's look at the dark side of apologies:
1. Apologies That Solve Nothing
If the student who gives the apology doesn't think he did anything wrong, he gives a false apology. This leads to feelings of resentment and humiliation, along with a need to show his true feelings. "I'm sorry, and tomorrow when we're alone, I'll show you how sorry I really am!" The original problem often grows worse.
2. Receiving Empty Messages
Students who receive the false apology can easily tell if an apology is real or not. I hate false apologies. Students do, too. How do you feel when you hear an "I'm sorry" that is obviously insincere?
3. A Meaningless Formula
Students often learn that they can do whatever they want as long as they say, "I'm sorry." Here's an example:
This type of conversation covers the actions of older children as well, including hitting, pushing, coming in late, cheating, and a host of offensive behaviors.
The Integrity of the Words
These problems can be overcome by a change in how teachers approach apologies. Try saying one of these things, especially to young children:
When students use apologies to avoid taking responsibility:
When we teach children to apologize, we're teaching them one of the most important social skills. But it's not the words that matter. What really matters is the integrity of the words. Children need to learn that apologies have value only if they are meant, felt, and honest. In addition we must never let students think that an apology is enough when they do something wrong. Apologies are not manipulations to get kids off the hook for being irresponsible. Of course, the best way for us to teach these important values is to make sure that our own apologies have integrity.
How do you teach your students the value of a sincere apology?