Student Wellness
Making Learning a Mission
See how a school uses trimester-long missions to give students input into their learning.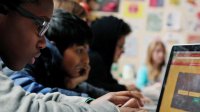 What does being healthy mean to you? How can you motivate others to make healthy choices in their lives?
These questions were on everyone's mind as a crowd of students, parents, teachers, and friends gathered at Quest to Learn for the TEDxQuestSchool conference organized by Wellness teacher Cameron Brown.
Students presented ideas to engage and inspire the audience on a range of health and wellness issues – from raising awareness of tobacco addiction ("Don't be wacko; don't smoke tobacco!"), to putting the obesity epidemic in perspective ("Terrorism vs. Donuts: What should we be more scared of?"), and advocating for a new full-body fitness routine ("Legalize dodgeball").
The Wellness program, a cornerstone of life at Quest to Learn, integrates nutrition, physical education, and social-emotional learning to help students understand that health is a complex system with many moving parts, and every choice they make has an impact on their physical, mental, and emotional well-being. A key focus of Wellness classes is making health concepts relevant to students in ways that are connected to their interests, the needs of their communities, and opportunities to succeed in the world today.
The TEDx Youth Conference offers a powerful way to make learning relevant to students' lives: it helps them develop critical presentation and persuasion skills, provides a space to share their ideas, and asks them to think creatively and critically about how to motivate people to change – helping them become agents of change in their communities and the wider world.
Cameron used the TEDx conference as the final assessment in a 13-week-long unit for his 7th grade Wellness students. While the students find out early on that their final challenge is to present a TEDx talk that inspires people to make healthy choices, they quickly learn that they have a lot of work to do before they are ready to share their ideas on stage!
Throughout the unit – which we call a Mission – students acquire essential knowledge, skills and understanding through a series of Quests that help them get closer to the TEDx talk.
Each Quest helps reinforce the relevance of health and wellness concepts to students' lives through self-directed learning and project-based activities:
Quest 1: We have a Problem
Students learn about the problem of obesity by reading articles and watching Jamie Oliver's TED talk, and use discussion-based games and activities to make connections between causes and consequences and explore potential solutions for this health problem. Then they watch more TED talks of their own choice on topics, and review the talks with a focus on identifying qualities of effective presentations. They learn that their challenge is to become motivational speakers and give their own TEDx talks, and begin brainstorming potential topics that interest them.
Quest 2: An Inside Look
Students take on the roles of nutritionists and researchers as they collect and analyze data about their eating habits and those of family and friends in order to identify TEDx topics that are important in their community. They learn nutrition vocabulary and skills like reading a food guide and measuring serving sizes, and compare the data they collected to data about nutrition habits from around the world. They apply this new knowledge and skills to design their own versions of the US Food Guide graphic to promote health and combat obesity.
Quest 3: Ultimate Fitness Design Challenge
Students turn their attention to physical fitness as they collect more data from family and friends, and play physical games to reflect on what makes exercise fun and what motivates people to do it. They learn about different components of fitness, and design a fitness challenge to improve the health of the school community. Students prototype and test their fitness challenges, and then the whole school is invited to participate.
Quest 4: Healthy Take-Out
Students learn about an obstacle to their efforts to improve health in their community: Americans eat out 4-5 times a week! Students collect and analyze restaurant menus, and then are challenged to design their own restaurants to serve healthy and appetizing food.
Quest 5: TEDx
Students are ready to prepare for their talks! They work in groups to develop 30-second elevator pitches on their chosen topics and pitch them to the teacher. Student groups with the best pitches go on to develop 5-minute TED talks with 5 key teaching points, which they later revise with feedback from peers and evaluation rubrics. Groups that are not going on to produce TED talks create experiences for the TEDx conference, such as designing games for attendees to play, producing brochures and pamphlets with health tips, or preparing and selling healthy food.
Parents, teachers and other community members are invited to the final conference, as well as guest speakers from local organizations doing relevant work. All talks are filmed and posted on TEDx Youth – you can see video and photos from Cameron's class' conference on the TEDxQuestSchool site.
Create Your Mission
For more about the TEDx Mission, Quest-by-Quest details, resources, assessment tools, and advice on how to implement an experience like this in your classroom, download the free TEDx Mission Pack.